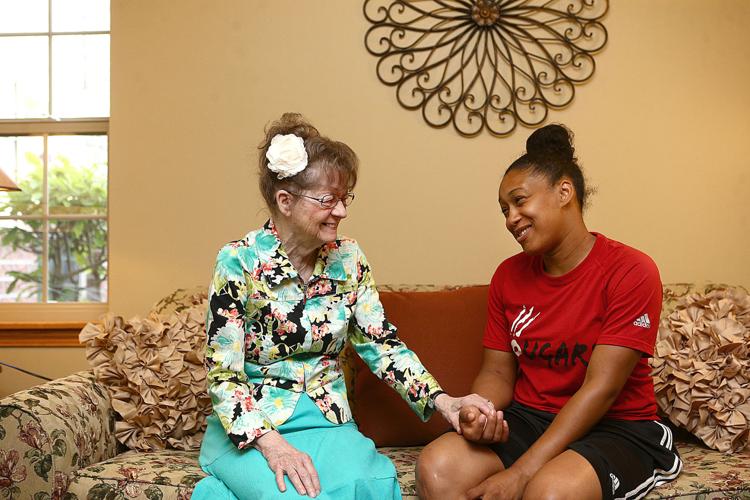 When Colie Trawick began looking for an apartment in Kokomo, she couldn't find anything she liked right away. Until she found the Primrose Retirement Community.
Trawick is the new women's basketball coach at Indiana University Kokomo, and at 30 years old, she's not anywhere near old enough to be considered a senior citizen. But Trawick's grandmother, who lives in a retirement community, told her that sometimes young people will live in retirement communities for short periods of time, and it gave her the idea to research retirement homes in Kokomo. 
When she reached out to Primrose, Executive Director Monica Martin said she would love to have Trawick stay at the retirement community until she could find a place to call her own.
"This is a really great opportunity to give back a little bit to the community as well and make somebody feel welcome when they come here," Martin said.
Trawick said the experience has been nothing but positive.
"I just lucked out," she said. "I wish I could stay."
Trawick moved into Primrose at the beginning of June, and she'll move to her new, more permanent apartment today. During her time at the retirement community, she's made new, lasting friendships.
"It's been a great experience getting to meet all the people that are here," she said. "I have best friends now."
Trawick said she's treated just like any other resident. She eats all her meals in the community dining room and can ride with the other residents to any scheduled events. She even attended the Primrose Fourth of July party. The one thing she doesn't take advantage of, she said, is their offer to do her laundry.
"It hasn't been anything but hospitality for me here, which is very different from where I'm from in new Jersey," she said. "I definitely feel welcome. I feel like I live here."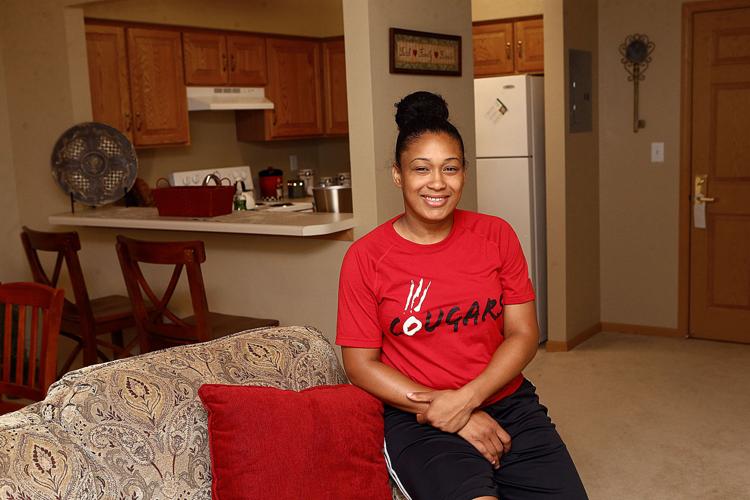 One couple at Primrose has even agreed to watch her dog while she's away on overnight trips with the basketball team.
But it hasn't just been beneficial to Trawick, Martin said. The Primrose residents are getting something out of the deal, too. Through Trawick, they're able to stay connected to the community.
Trawick said she has invited her new Primrose friends to come see basketball games at IUK, even scoring them some free tickets. She also plans to have her basketball team visit the retirement community to volunteer in any way Martin needs, Trawick said. She said she plans to reserve a section at games especially for them.
"I want my residents to stay connected to the community," Martin said. "I want them to age with purpose. That's why our saying is 'this is living.' She's bringing a lot to the community… and she's doing a lot for my residents as well."
While living at Primrose, Trawick ate every meal in the community dining room with other residents. She'd normally meet with Barb Hamilton, a resident who has been at Primrose for the last few months.
Trawick said Hamilton is like a second mother – both loving and brutally honest.
"Barb is the funniest, meanest person I've met in my life," Trawick said. "She'll tell me 'cross your legs.' She'll say 'you always wear shorts, you should wear skirts.' But she's very new-age thinking."
Hamilton said she stopped Trawick one day in the dining room and asked if Trawick would like to eat with her. Since then, they've become fast friends, but Hamilton admitted that they do have their differences.
"She's the basketball player and I'm the bowler," Hamilton said.
"Barb is who I'm going to miss the most," Trawick said.
Trawick said the residents also tend to keep an eye out for her, and some, including Barb, will even stay up to make sure she gets in safe and sound each night. Trawick said she's made it a point to get home early just to put the residents at ease.
She said she hopes more people will connect with senior citizens in the community.
"I think people see senior citizens as one thing…" Trawick said. But these are the best people. They're honest; they're real. They tell you the truth about everything."
She said she's going to miss all of the residents and the services offered by Primrose. She added that she's excited to have a place of her own, but she plans to come back and visit the residents often.
"She does feel like part of the family," Martin said.