Gabrielle Bassile stood dressed as an angel on Peru's downtown square Friday afternoon with a golden bell in one hand and a mallet in the other. With a small crowd watching, Bassile gave the bell a tap, ringing out a single, pure note.
And with that, the city's first ever Christkindlmarkt festival was officially underway to bring a taste of the German Old World to Peru.
It didn't take long for crowds to start showing up for the event, despite the cold, overcast weather. But there was plenty of food and hot drinks on hand to warm up visitors, who meandered down Court Street perusing the wares of local vendors.
It also didn't take long for families to pack into the small, synthetic ice rink set up in a parking lot to try their hand at skating.
After the kickoff, Bassile strolled the festival, dressed in her angel wings and halo, handing out Hershey Kisses to the kids.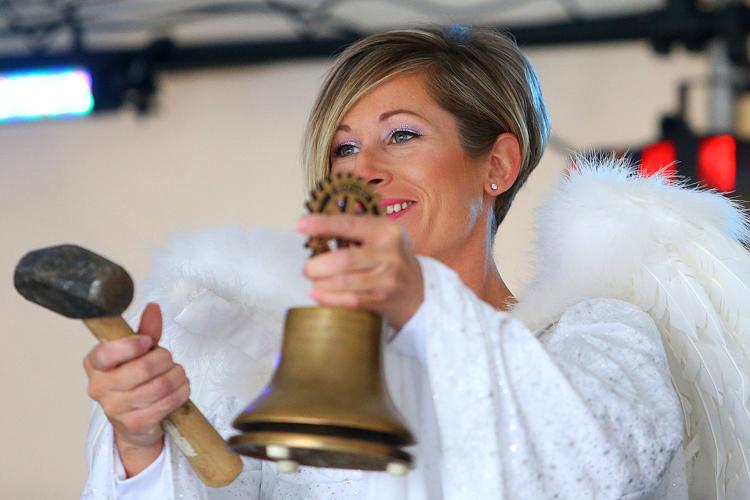 "I just love Christmas,"she said. "I'm just a big kid at heart anyways, so when they asked if I wanted to be the angel, I said sign me up. I wanted to be a part of this."
Bassile first started volunteering with the nonprofit group Rediscover Downtown Peru two years ago to help draw businesses to the city's core. Now, the Christkindlmarkt is doing just that.
"It's pretty exciting to see this," she said. "Rediscover Downtown Peru was the first group of its kind here, and now this event is a first. It's all pretty historic."
Jim Tidd, the executive director of the Miami County Economic Development Authority who dreamed up the idea of bringing a German-themed festival to Peru, said organizers started planning for the event in all the way back in January.
And the goal all along was to create something fun to get people into the downtown to see everything Peru has to offer. That's why they planned it for the weekend that's known for both Black Friday and Small Business Saturday, he said.
"That's what this festival is all about," Tidd said. "It's not just for the residents of Miami County and the city of Peru. It's also trying to bring people from out of town to our community. We're hoping that while people are in the downtown, they'll take advantage of shopping in some of our great retail shops here in the city."
And many of those shops were on hand at the festival to show off their products, including So Good Candies, Gallery 51, Redmon Chocolate Company and Z&C Farms out of Amboy, selling Christmas trees.
But arguably the most appropriate booth was Marlene's German Collectibles, which was selling ornaments that were crafted and painted by hand in Germany.
Owner Marlene Albershardt said she started her booth last year at the massive, six-week Christkindlmarkt festival in Carmel, and decided to bring her wares to Peru's first festival.
"I love Christmas in Germany," she said. "My favorite thing there is the Christkindlmarkts, so doing this is fun. It doesn't feel like work."
And if anyone knows about the traditional German festival, it's Albershardt. She said she has citizenship in both the U.S. and Germany, where she lived for three years in the 1990s and learned that Christkindlmarkts are the real deal there.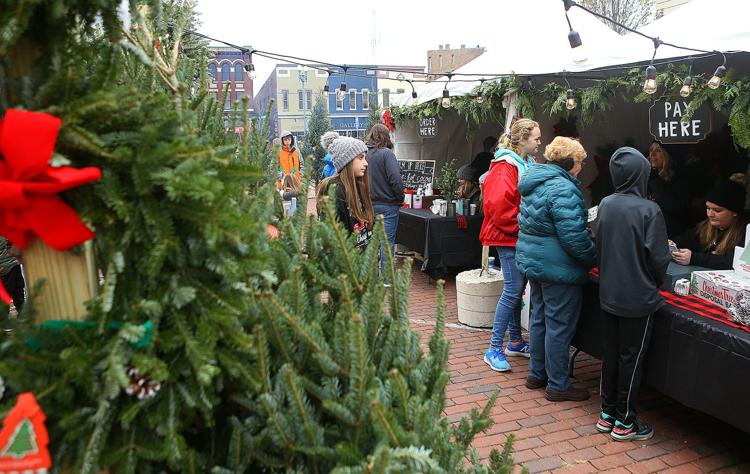 "Every single town, every tiny market square in Germany, all have their own festival," Albershardt said. "People just sit outside and congregate. People meet up with friends for a drink. It's just a tradition, but it's a beautiful one. They've been doing it for over 700 years."
Area resident Janice Hughes said it was pretty incredible to see some German flare in downtown Peru. That's why she brought her two granddaughters to see what the festival was all about.
"I thought they might enjoy it," Hughes said. "I think it's really neat. We've not had anything like this in town that I recall, ever."
Throughout the evening, visitors could also enjoy horse-drawn wagon rides around the city to look at the Christmas lights or get a photo-op with a real, live reindeer.
Market Master Vicki Draper said the three-day festival runs through Sunday, making it be the second largest event in Peru, next to the annual week-long Circus City Festival. At the same time, it's the only Christkindlmarkt in north central Indiana, and only 1 of 3 German markets in the state.
And after nearly a year of planning, she said, it was satisfying to see crowds actually showing up for what city officials hope will become an annual tradition.
"It's wonderful," Draper said. "It's such a relief to see everyone here and everything looking so nice. I want people to find all the great, little shops we have here and maybe buy some of their Christmas presents here. I hope they eat, drink and just have a really great experience."