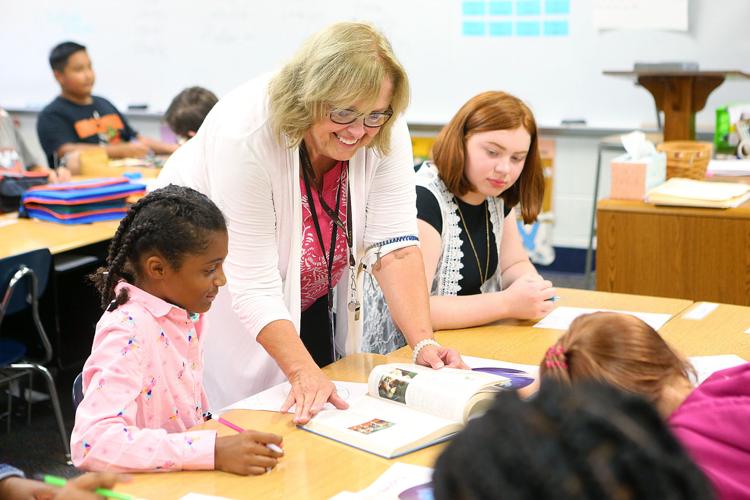 Jan Koloszar said she's a rare kind of teacher. That's because she's the kind of teacher who has always known she wanted to teach.
In fact, by the time Koloszar was in the third grade at Russiaville Elementary School in the 1960s, she'd already made up her mind she would spend her life educating others.
"It's all I ever wanted to do," she said. "When I was a kid, I would teach anybody. I would teach my dolls. I would teach the dog. I just loved playing school. I'd get out of school for summer vacation and then go home and play school."
Fast forward to today, and that passion for teaching hasn't left Koloszar.
That's why she's been doing it for 44 years.
And she's been doing it the entire time at Northwestern School Corporation. That makes her the longest serving teacher currently in the district, and one of the longest serving educators of all time at the elementary school.
Today, the 65-year-old Howard County native is a sixth-grade teacher who specializes in science. But her career at the school has taken her down a few different paths.
Koloszar was hired in 1976 as a third-grade teacher at Ervin Elementary, which closed after the district consolidated. After four years there, she switched to teaching fourth grade at Northwestern Elementary before switching back to third grade.
Then she spent around 12 years teaching gifted and talented children through a special-resource program implemented by the district.
After that, she started teaching sixth grade, and has been doing that ever since.
And on Tuesday, she was at it again during the first day of school, where her more than four decades of teaching experience were on full display.
As the class neared the end of the school day, Koloszar's students worked away on a project building an aluminum-foil boat in preparation for reading a book called "Castaway."
The room was getting noisy when Koloszar said, "Timeout." She didn't say it loud, but it was firm, and the students instantly fell silent as she further explained the directions.
After that, she made the rounds helping students who had questions, or quickly putting a stop to kids who were misbehaving.
But no matter the situation, Koloszar always wore a pleasant smile.
Her interactions with the students highlighted the classroom philosophy she's developed over the years: Teach, but don't babysit.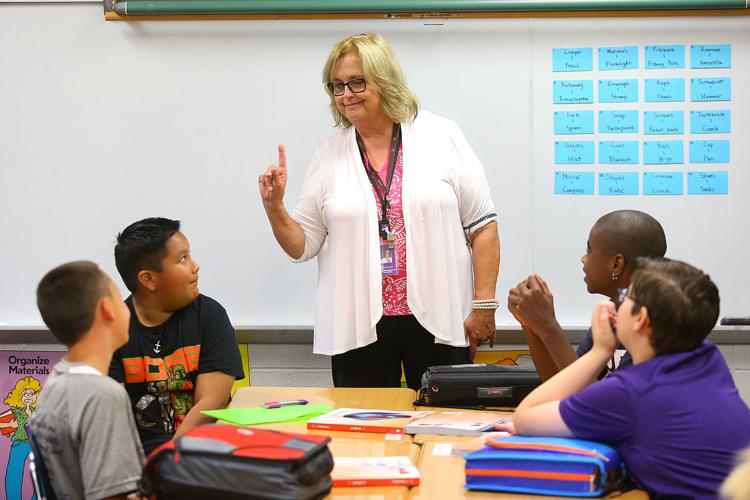 "I know I'm a good teacher," "Koloszar said. "I'm a lousy babysitter. I don't want to play games. I want to work with the kids and show them how to do something … I tell them, 'Just learn something. I don't care what it is, but just learn something.'"
Northwestern Superintendent Kristen Bilkey said that's the kind of approach that makes Koloszar such a great teacher. And it's an approach she distinctly remembers from when Koloszar was her fourth-grade math teacher.
"I remember her as organized," Bilkey said. "She was caring, yet she had very high expectations for her students. She still has those same expectations for students today."
Bilkey is just one of many administrators and teachers at Northwestern who had Koloszar as a teacher. In fact, there are currently five teachers at the elementary school who all were all taught by Koloszar at one point. Three of those teachers are in the same hallway as her.
And one of those teachers was in her third-grade class when she first started in 1976. Koloszar said she specifically remembers her, even though it was 44 years ago.
"She went home and told her mom I was the perfect teacher," Koloszar said. "I was fresh out of college, and I was tall. She liked that I was tall, because she was tall for her age, too."
On Tuesday, Koloszar was in full control of her classroom, like she has always been, and clearly enjoying interacting with the students.
"This is called 'Old Google,'" she told one student with a laugh as they flipped through an encyclopedia.
But the confidence was a bit of a façade, she said. Even after more than four decades of showing up for the first day of school, walking into the classroom for the first time with new students still makes her a little nervous.
And that's a good thing, Koloszar said.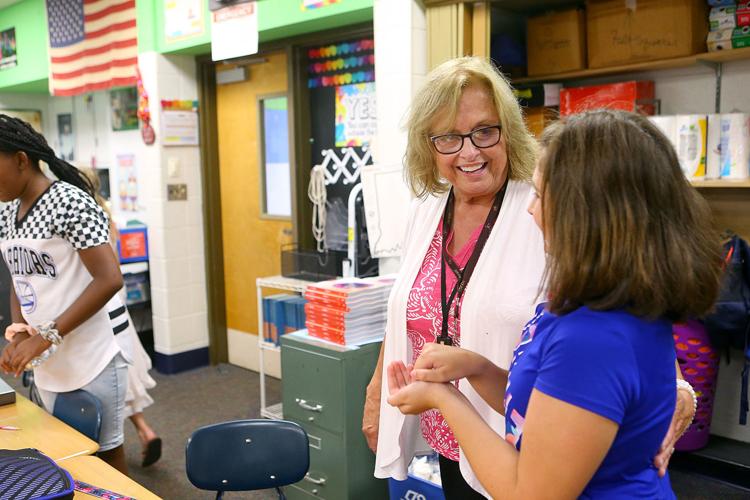 "I was scared to death my first year," she said. "Every first-year teacher is thinking, 'Please Lord, just get me through this.' But even now, I'm still apprehensive. But if you're not apprehensive before the game, then you're not prepared enough. You've got to have that edge. If you don't, it's time to get out."
Koloszar said she still has that edge, and she doesn't plan on losing it anytime soon. And as long as she keeps it, and keeps having fun, she has no intention of leaving the profession – or the school district – that has been her life's work.
"I know I'm going to stay here," Koloszar said. "The administration is good at not making me feel like I've got to leave. But the minute this stops being fun, I'll quit."
Superintendent Bilkey said the day that happens, Northwestern schools will have lost an educational titan.
"You can look at education as a job, a career or calling," Bilkey said. "For me, it's a calling. For Jan, it's a calling. She's doing what she loves and doing it well every day. We're very fortunate to have her."