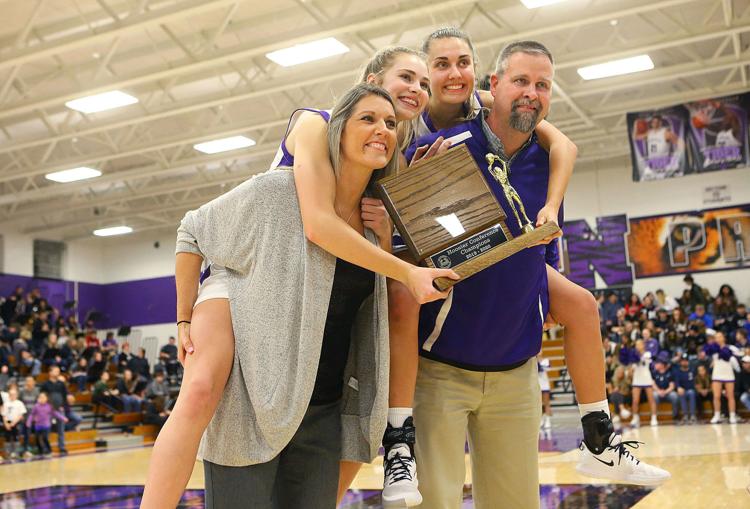 Joyce Wise doesn't just go to Northwestern High School girls basketball games to watch what the team does best: win.
And the back-to-back state champions have done a lot of winning.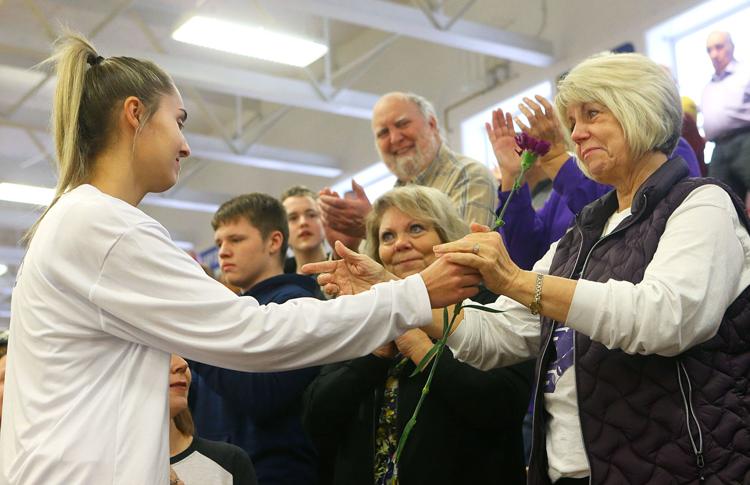 With a dynamite combination of skilled athletes and strategic game play, the Class 4A, No. 1-ranked team in the state finished their regular season undefeated with a perfect 23-0 record, typically defeating their opponents by an average of 40 points.
But with all the rankings, accolades, and winnings aside, Joyce is there for another reason: to watch her family.
Because for Joyce, going to a Northwestern girls basketball game is almost like going to a family reunion.
From her vantage point in the bleachers, about seven rows up behind Northwestern's bench, she sees her husband, daughter, son-in-law, and two granddaughters on the hardwood.
And those three generations of Joyce's family have been instrumental in making this one of the most historic basketball seasons in Howard County and the state.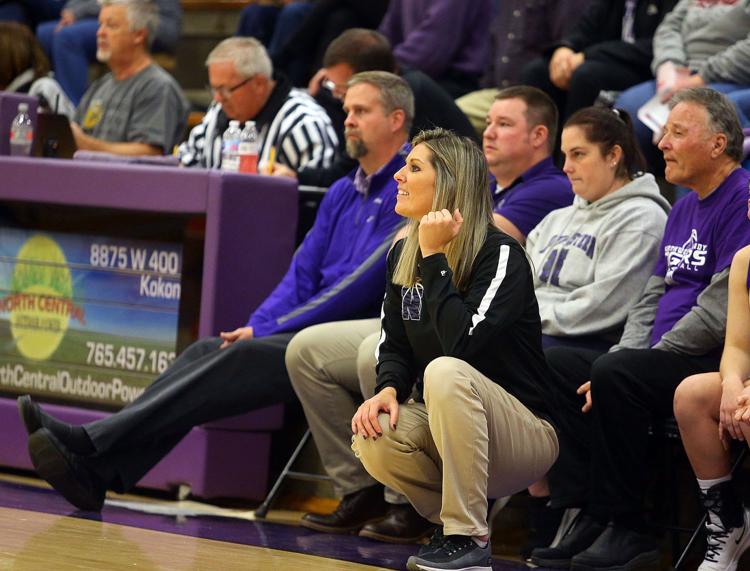 There's Dave Wise, Joyce's husband and assistant coach.
Then there's Kathie Layden, their daughter, and head coach of the team. By her side is her husband and assistant coach, Jeff.
And out on the court together are the Laydens' daughters. Madison is a senior and Howard County's all-time leading scorer. Her younger sister is freshman McKenna.
For the Layden-Wise clan, Northwestern girls basketball is a true family affair.
"I'm looking down, and I'm seeing Kathie, Jeff, Dave, they're all coaching, there's the girls out there," Joyce said. "It doesn't get any better than that."
But this family's legendary sports lineage didn't just happen overnight. It's been in motion for decades.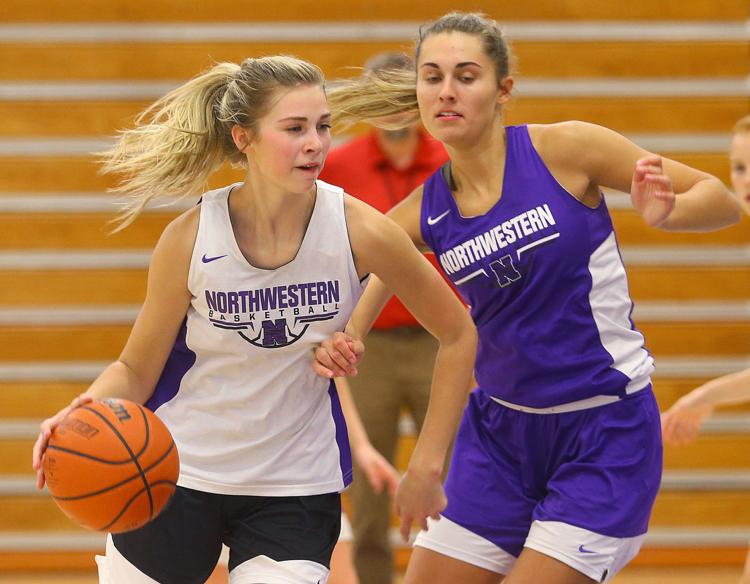 A COACHING HERITAGE                
Ever since she started playing travel basketball when she was 11 years old, Kathie Layden doesn't remember her parents ever missing a game. When she started travel softball, she could spot her parents in the stands. Whether it was tennis matches or volleyball games, she could always count on her parents being there.
When she started her freshman year at Taylor High School, about three decades ago, long-time, renowned coach Dave Wise, her dad, started the tennis program there. In doing so, he was able to coach his daughter and son, Mike, throughout their high school careers.
Then when Kathie, a three-sport standout athlete at Taylor High School in tennis, basketball and volleyball, went on to play basketball at the University of Evansville, her parents were at those games, too.
"We didn't have a ton of people at our games when I played in college, so it was kind of a running joke with our team, as we would run out for the game we would look out [in the stands] for everybody and they'd say, 'Hey Kathie, there's your parents,'" Kathie said. "And people would wave to my mom and dad as they came in because we knew they would always be there."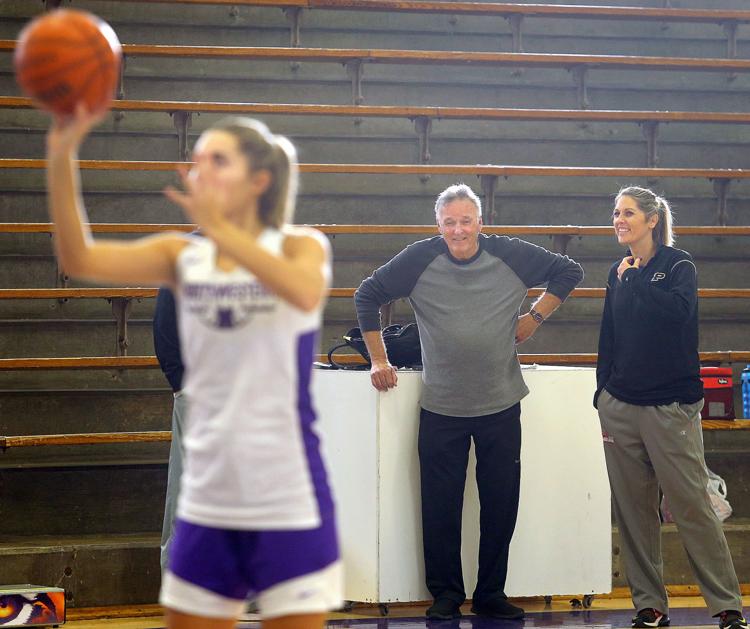 But when the team had to travel across the country for a game, her parents wouldn't always be able to make it to those since they were so far away.
"I can remember the first time having a game and them not being there and thinking, 'This is odd that they're not there,'" Kathie said. "It's easy to take that for granted because we didn't know any different."
When Kathie took over as head coach of Tri-Central High School's girls basketball team in 1999, shortly after graduating college, there was no question of who she wanted as her assistant coach: her dad. 
"As far as having an assistant coach that is easy to get along with, who is 100% supportive of the team and everything, that's my dad," Kathie said.
And when she asked Dave, who was still coaching tennis at Taylor, if he would help her coach those first few years, his answer was a no-brainer. Yes.
"I can remember the first year some of the kids at Taylor said I was a traitor for coaching at Tri-Central and I said, 'Well you just wait until you have kids and if they ask you to help or coach and see what you do, and they understood," Dave said.
That first year of helping her coach turned into another, then another. Now, all of a sudden, he's been coaching with his daughter for nearly two decades, putting over 50 years of coaching experience under Dave's belt.
When Kathie took over as Northwestern High School's girls basketball head coach in 2012, her dad joined her as an assistant coach there as well.
"That's all I've ever done is coach," Dave said. "It just gave me another avenue of coaching. I enjoyed the basketball [part] because I was getting to watch Kathie coach and be part of it. Getting to watch her coach was really something special."
Northwestern High School Athletic Director Dan Armstrong couldn't be more thankful to have Dave Wise there, bringing his half-century of coaching experience with him.
"Dave Wise is a legend," Armstrong said. "… I call him the wisdom-coach. He's that bench coach that calms the situation and gives a thoughtful response. Everybody has to have one of those people on their bench to be successful. He's that guy."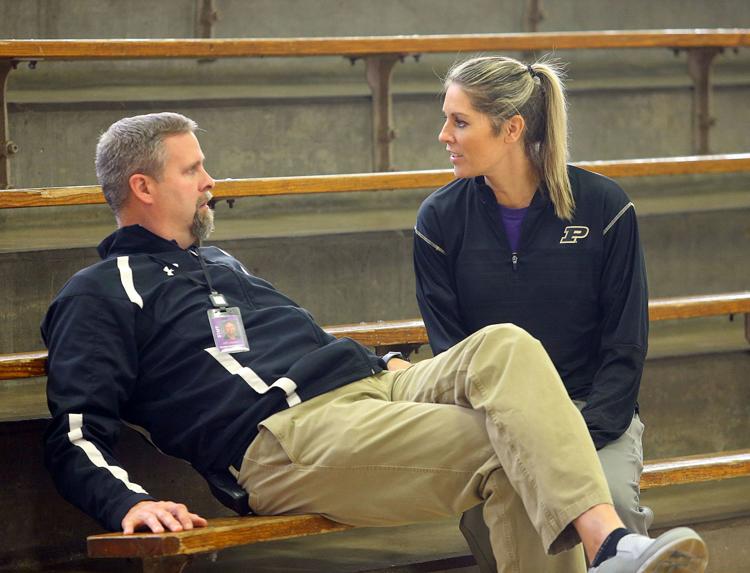 But Kathie's husband, Jeff Layden, needed a little more convincing when she asked if he would also be her assistant coach when she took over Northwestern's girls program eight years ago.
A MATCH MADE IN THE GYM
The two met in college, and when they moved to Sharpsville where Kathie served at Tri-Central's girls basketball coach, Jeff was an assistant coach on the boys team before becoming the head coach.
Coming off of a couple of rough seasons, Jeff was reluctant to get back into coaching. It would be new territory, since he had never coached a girls sport before. But Kathie knew he would be able to help the girls' program. The opportunity was there.
So he decided to give it a shot.  And for Jeff, it's been an enjoyable success.
"Sometimes it's hard going from a head coach to being an assistant coach, especially when it's your wife who's the head coach," Jeff said. "She's obviously very successful at what she does, and I've learned a lot from her in how to manage people and how to interact with people. That's something I've really enjoyed being around her is how to do that and how to manage and be successful while still having fun."
Watching the trio coach from the sidelines, they make coaching together look flawless, but they say it's not always perfect, and it's not always as easy as it looks.
"There's good days and bad," Kathie said. "But that's kind of how sports is, too. We don't always agree on everything, which I think is good. As a head coach, I don't want my assistant coaches to just agree with everything I say. I like the fact that he offers his opinion, and then I decide whether or not I take his opinion."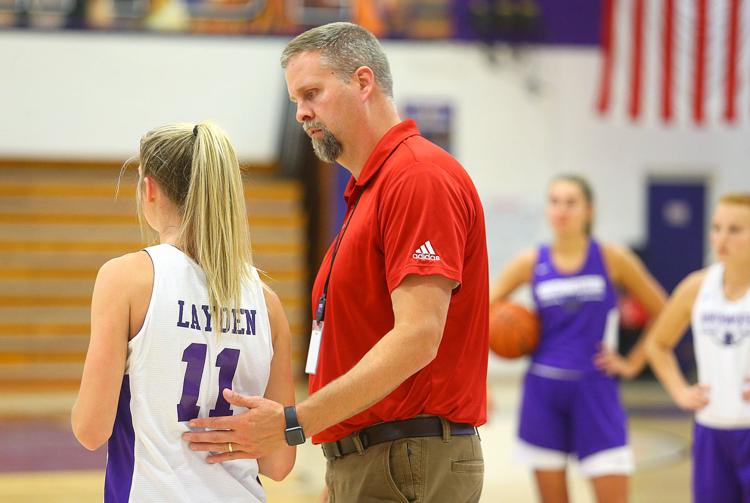 Armstrong says mutual respect has been the key to their success. And with 17-year-old Madison and 14-year-old McKenna both playing on the varsity team together this year, that statement couldn't be more true.
"They are a very close family," Armstrong said. "Family is important to them. That's why they're able to coach like they do with the family structure and there's no problem, because they are so close and they respect each other so much."
A SECOND HOME
From the time that the girls were little, the Layden family would hit the tennis ball back and forth in the driveway, or go out and shoot baskets or pass the volleyball around.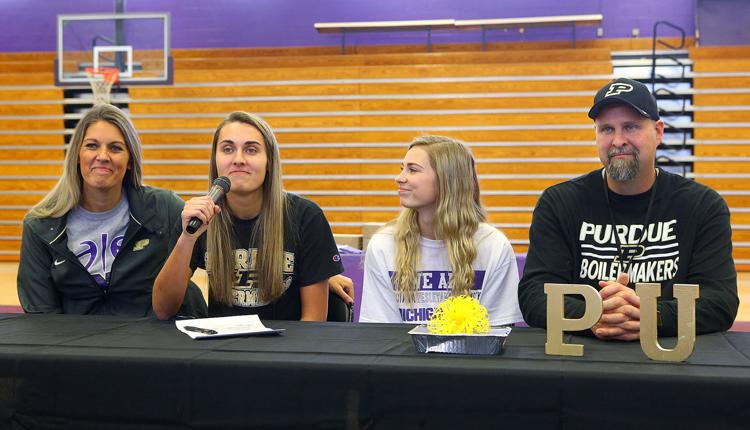 It was an early indicator that sports would always bring their family joy, and serve as a permanent bond between them. And in a way, the gym has become the family's second home.
A perfect example is when McKenna was born. Just two days later, Kathie was out of the hospital and coaching the Tri-Central team at Elwood.
"When they were babies, they used to ride the bus to the games with us and they would run around at the gyms and shoot at halftime," Kathie said. "Realistically, even though the girls weren't on the team, they've been to more practices and games than most people in their entire lives."
Dave also has lots of memories of his two granddaughters playing sports ever since they were kids. He remembers watching Madison as a preschooler, participating in the practices, running sprints and doing dribble drills.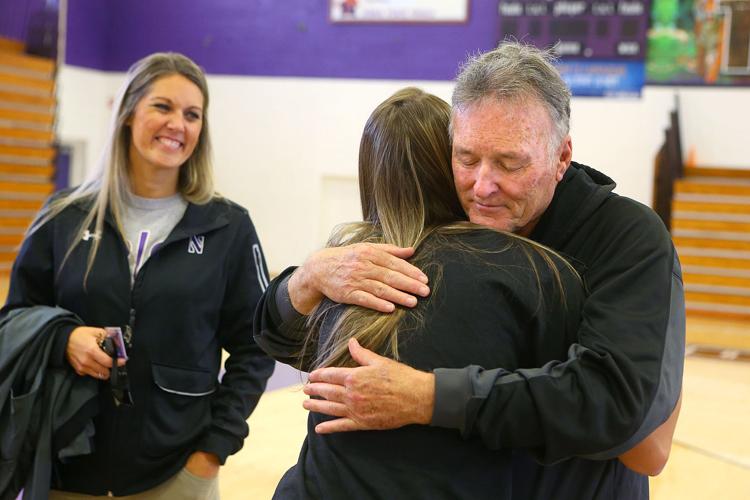 "We've played [sports] since we were born," Madison said. "It's always been there. It's always been something we've liked to do. I don't know what I would do without it because after school I always know I have practice. I can't imagine going home and not doing anything. I just love it."
Since they were kids, the sisters have played just about every sport imaginable, including baseball, softball, soccer, tennis, volleyball, and, of course, basketball.
For some siblings, playing the same sports together may cause rivalries or arguments, but that's never seemed to be an issue for the Layden sisters. Their love of the same sports has only strengthened their bond.
And with them both playing on the varsity team, this year has been the best year so far.
SISTER SISTER
That's not to say the occasional argument won't happen, like when they argue about who ran the play wrong, or who was in the wrong spot on the court.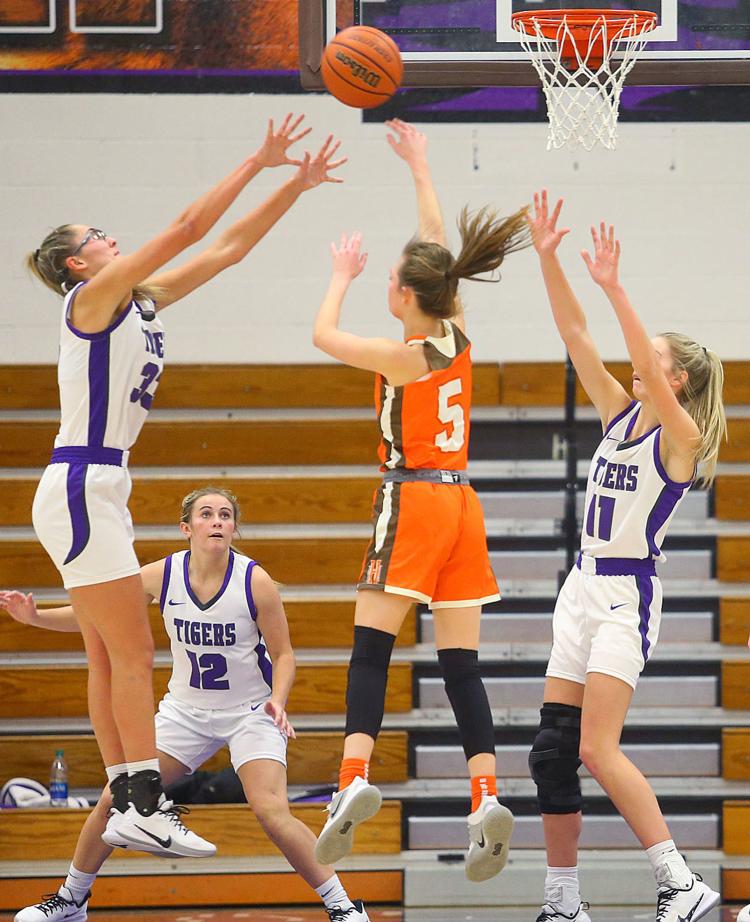 "It's good for me because she pushes me to be a better player - sometimes maybe a little too far, but it's ok," McKenna laughed.
Kathie said even though Madison and McKenna are each other's first critic, they are the first one to cheer each other on, too.
"It's fun seeing them compete together and complement each other and also make each other better," Kathie said. "They can be critical of each other, but then you also see them smile. Many times you see them running down the floor, laughing and smiling back and forth at each other. That's fun to see. It's special."
The sisters share a lot. They both stand at 6'1" and have a passion for playing sports. But that doesn't mean they share the same personality.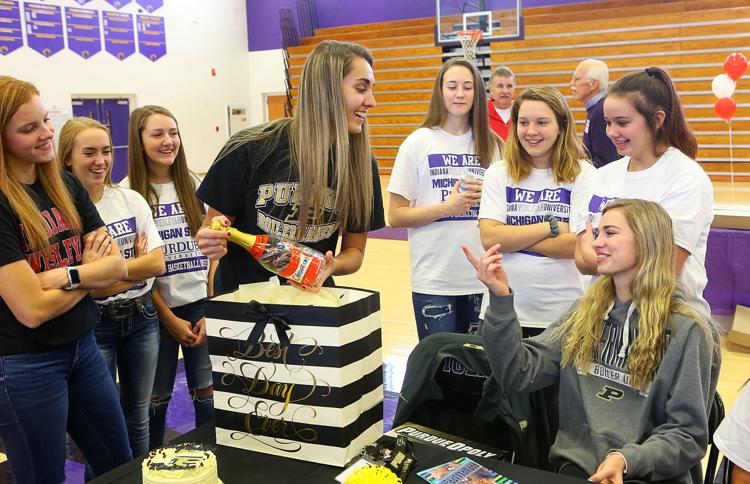 In fact, according to Kathie and Jeff, their personalities couldn't be more different, which is mirrored in their contrasting body language on the court.
Madison has a tendency to act more like her mom, appearing very serious in the way she plays. McKenna, who plays with more of a happy-go-lucky attitude, acts more like her dad.
Jeff said growing up, if the girls wanted to shoot baskets, Madison was the kind to go out and do it for a half hour straight with no interruptions.
McKenna was the exact opposite, he said. She'd shoot baskets for two minutes, go get a pogo stick and do that for three minutes, then get a hula hoop for two minutes, then shoot some baskets for another two minutes and then write her name with sidewalk chalk.
"Yeah, they're different for sure," Jeff laughed.
But Kathie and Jeff wouldn't have it any other way. They feel lucky that they've gotten to spend so much extra time with their kids over the years, both on and off the court.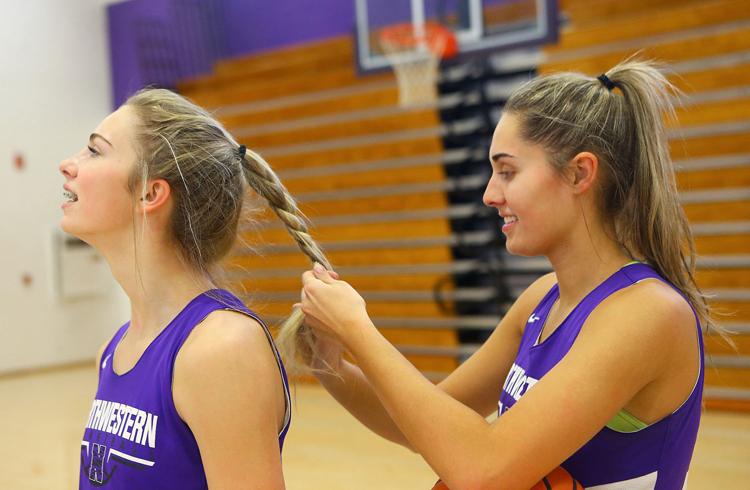 Because with all the sports Madison and McKenna played growing up, their parents were always a presence, whether it was as head coach, assistant coach or just a helper.
"It was fun because you always had your parents there, so if anything happened you could just go to them," McKenna said. "They've always been really supportive of us and it's been really nice."
ALL IN THE FAMILY
So when the girls joined the varsity basketball team at Northwestern, it was completely normal to have their mom, dad and grandfather coaching them. 
After all, it's who their family is. It's what they do.
"Our family is pretty average, nothing too crazy here," Madison said. "Except that we're playing basketball."
While some kids might not like their parents coaching them, Madison and McKenna say the love it. And they're thankful for their family's support.
"They mean everything to me," McKenna said. "We're always together. I can't imagine not having them by my side in this whole process."
"I just like being around people all the time, so who better than your family?" Madison added.
And whether they're at home or at practice, Madison and McKenna say their parents treat them the same. Sometimes, if they have a bad practice, they may have to give their parents some space when they get home, but they're so used to being together all the time, that nothing really rattles them.
"I hear some people say sometimes, 'When we got home we never talked about the sport, or when we stepped on the floor I was coach and not your dad or your mom,'" Jeff said. "I don't think that's ever really been something we've done. I know they're calling us mom and dad in practice and when we get home we watch basketball or volleyball or tennis on TV and we talk about it."
But the line between being a parent and a coach can be blurry sometimes.
Overall, it's been easy for Kathie and Jeff to coach their daughters, but one of Kathie's worries is to not be overly critical of her own kids when she's coaching them. So she strives to not just focus on critiquing what they're doing in practice and games, and to coach them like the rest of the team.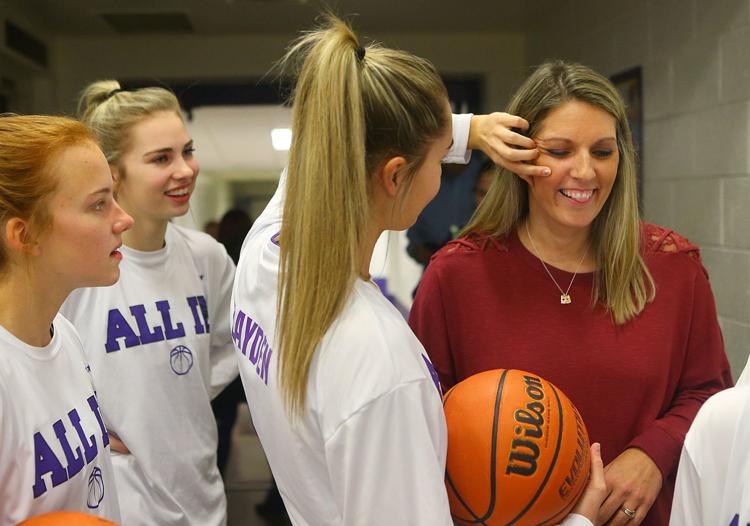 "The only difference is obviously with your own kids on the team, if I tell them something, they have more of a tendency to maybe roll their eyes or whatever because it's their mom telling them. The other girls are not going to roll their eyes at me," she said with a laugh.
Armstrong, Northwestern's AD, said it's difficult for any family to navigate the pressures that come with parents coaching their own kids, but for the Layden family, the joy outweighs any negativity that might come their way.
"I don't know of a bigger thrill than to coach your kids and watch them achieve and be successful," he said. "And that's the thing, they've been ultra-successful."
Jeff said the success has been very nice. Everybody wants to see their kids succeed. But that's not what has made this season so special. He said it's the little moments or the little exchanges that happen in the locker room, during a time out, or while they walk onto the court.
"It's more just father-daughter moments than the actual sports themselves," Jeff said. "That's the kind of stuff I remember the most and am going to probably cherish the most from all of it."
It's certainly been a season of record-breaking moments for the Northwestern Tigers. But for the Layden family, with both Layden sisters on the varsity team together, it's been a bittersweet season.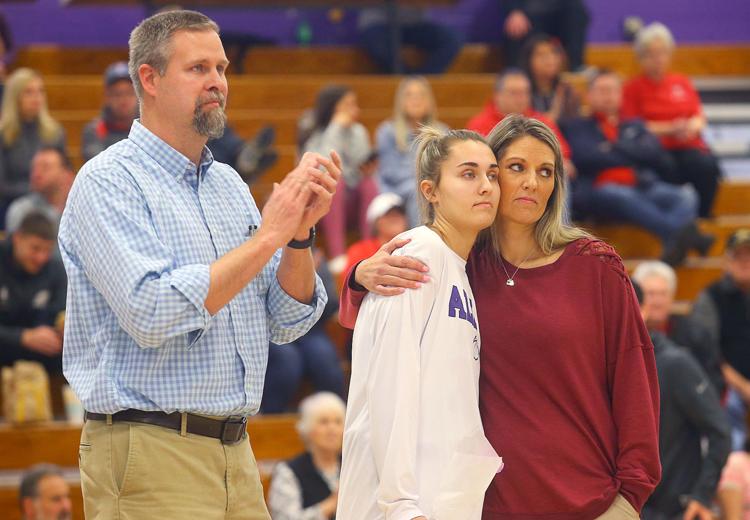 Madison, a Purdue recruit and Miss Basketball candidate, has already had a series of lasts. There's been senior night, her last home game and her last year playing at Northwestern. It's the last year with her parents and grandfather as her coaches. 
As the Northwestern Tigers vie for their fourth straight sectional title this week, and later, what they hope will be their third straight state championship, the Laydens will be focused on the game. The fact that three generations of their family get the unique opportunity of experiencing it together won't necessarily be in the forefront of their minds.
Those thoughts will come later, Armstrong said. It may be months, or it may be years, but it will come. It does for everybody, he said.
"Forget all the winning," he said. "They'll say that it was the greatest time of their lives because they got to spend it with their child, and watch their child grow and achieve. I think that's going to be something special, from my perspective. I don't think it gets any better than that."
PHOTOS: The Layden family