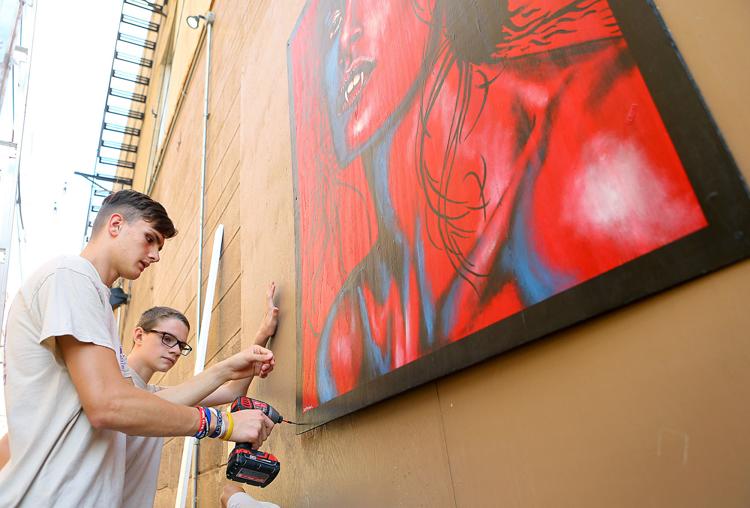 Every Eagle Scout project is unique, but it's safe to say the project Joseph Hackett finished on Thursday is one of the most public.
The 17-year-old Boy Scout from Troop 581 spent more than 40 hours over the last two weeks implementing a total overhaul of Artist Alley located between Walnut and Mulberry streets in downtown Kokomo.
Hackett organized four work days in which members of the troop cleaned out the alley, repaired and painted all the hanging boards, removed all the art works and hung up 16 new pieces from local artists – just in time for September's First Friday event.
Now, the alley has a whole new look and all-new art that will be on display for the next year.
Hackett said he had never heard of Artist Alley before he started looking around for projects to complete the requirements to become an Eagle Scout, which is the highest rank achieved in Boy Scouts.
But when he heard they needed people to revamp the alley, he decided to check it out and see what needed done.
"I looked at the alley, and I really liked the idea," Hackett said. "It's just a really cool spot. I loved the idea of being able to help with it."
And so did the Kokomo Art Association, which manages the alley. President Cheryl Sullivan said since Artist Alley opened in 2014, members of the association have helped take down and replace the art works every year.
But the person who normally volunteered to do the work recently had a stroke, and other members were getting to old to climb around on ladders handling sometimes massive art installations.
So when Hackett came along and suggested he could do it for an Eagle Scout project, Sullivan was totally on board.
"It was a God-send that they wanted to do this," she said. "It's been great."
On Wednesday, Hackett was at the alley, along with a group of other Scouts, meticulously measuring and marking the boards so each new art work would be centered and straight.
Slowly, the troop installed each piece, including a vibrantly red painting of a vampire and a shiny, abstract art piece that glittered in the evening sunlight.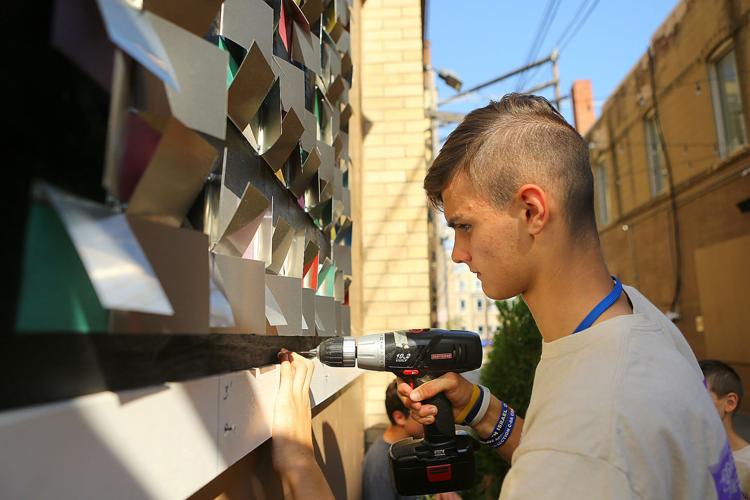 Local artist Jaetta Ferguson held her cat named Frog and watched as Hackett installed the four paintings she recently completed of the rescue cats she's helped raise from a shelter in Indianapolis. One of the portraits was of Frog.
"It's awesome watching them go up," she said. "You watch them go up and then you think, 'Oh man, I've got to leave them?'"
Ferguson said she also had a cat portrait hanging in Artist Alley last year. The piece ended up selling, and she was able to donate $50 back to the shelter. She said she plans to donate all the money again this year from the paintings if they end up selling.
But none of that would have been possible if it weren't for Hackett and his Eagle Scout project, Ferguson said.
"I'm just thankful they're here getting them hung," she said. "Now, I'm watching my babies go up."
Kokomo Art Association's Sullivan said Boy Scouts have now become an instrumental part of Artist Alley. Last year, another Scout for his Eagle Scout project built and installed seven new boards on the south side of the alley to allow even more art work to be displayed.
"This whole thing is a community project, so it's great to have the Boy Scouts involved with it," Sullivan said.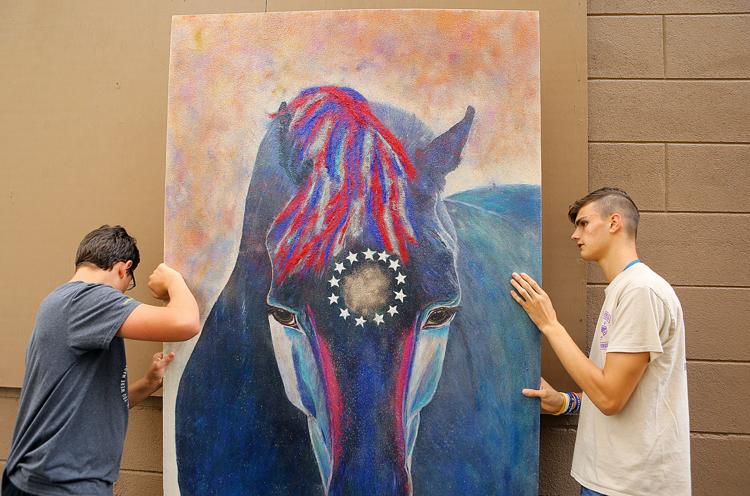 Troop 581 Scout Master David Hinton said he's been involved with a number of Eagle Scout projects over the years, but Hackett's project was special for its visibility.
"This one has a big community eye on it," he said. "I like it. It helps the city and it helps the boys. It teaches the kids the world is bigger than their backyard."
Hackett agreed. He said it's been interesting to see the new pieces he helped install and meeting some of the people behind the art works. He said he does a little drawing himself, so it's been a good experience to help promote other people's work by revamping Artist Alley.
"I had never heard of an artist alley," Hackett said. "It was a new concept for me. Now, I think it's really interesting. It's pretty cool to have this big of a role in a major community area. It's pretty exciting."