KOKOMO — Monday's eclipse will just be a preview of what is going to happen in 2024 in the City of Firsts.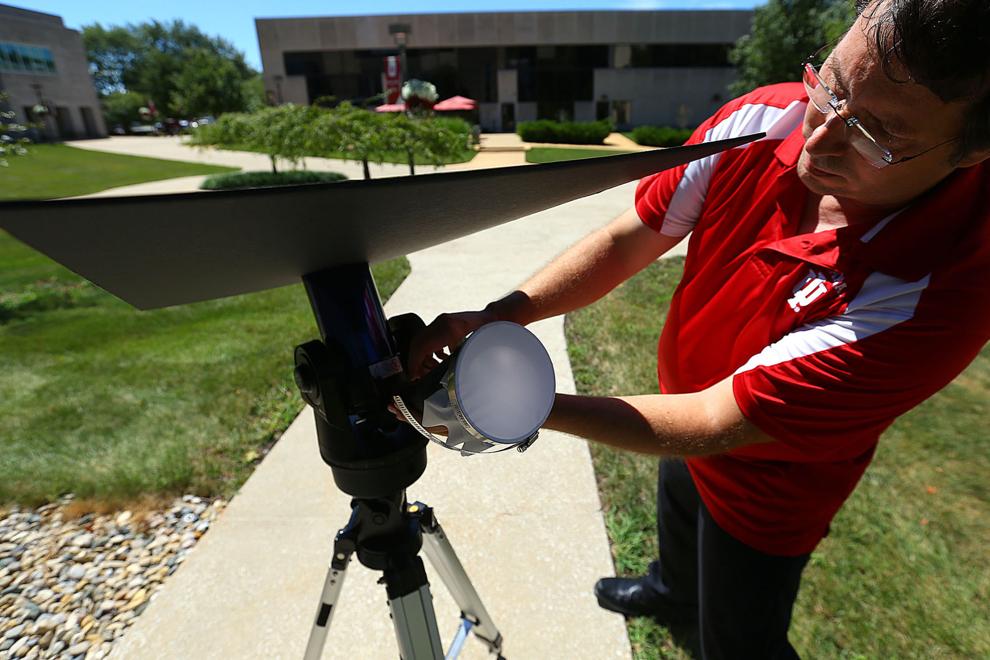 The first total solar eclipse since 1979 will be making its way across the United States on Monday, beginning in Oregon and ending in South Carolina. The last coast-to-coast total eclipse was in 1918.
Kokomo will be able to see only a partial eclipse, as about 90 percent of the sun will be covered by the moon. Cities experiencing a total eclipse — including places like Carbondale, Illinois, and Hopkinsville, Kentucky — are expecting thousands upon thousands of visitors.
In 2024, Kokomo will be one of those cities in the path of totality, said Patrick Motl, associate professor of physics at Indiana University Kokomo. About half of Kokomo, including Jackson Morrow Park and the Chrysler Transmission Plant, will be in the path of a 100 percent totality eclipse on April 8, 2024. The other half will experience around 99 percent sun coverage.
Until then, residents not traveling out of state will just have to enjoy Monday's partial coverage.
The moon will first start to cover the sun at 1 p.m. Monday and the "deepest" part of the eclipse will be visible at 2:25 p.m., Motl said. The eclipse will end at 3:50 p.m. If the weather cooperates — there's a predicted 20 percent of cloud coverage Monday — there will definitely be a notable difference in the amount of light outside.
"Imagine it's a clear day, no clouds in the sky and you go under a tree in the shade," Motl said. "The light level will be about the light level that you would experience in the shade."
Indiana University Kokomo students will start classes Monday with their campus prepared for hundreds of additional visitors to watch the eclipse.
"In addition to it being the first day of class and campus being crazy, the last time we had a transit of Venus, we had a few hundred extra people coming out to see it," Motl said. "So I'm expecting campus to be really, really busy on Monday."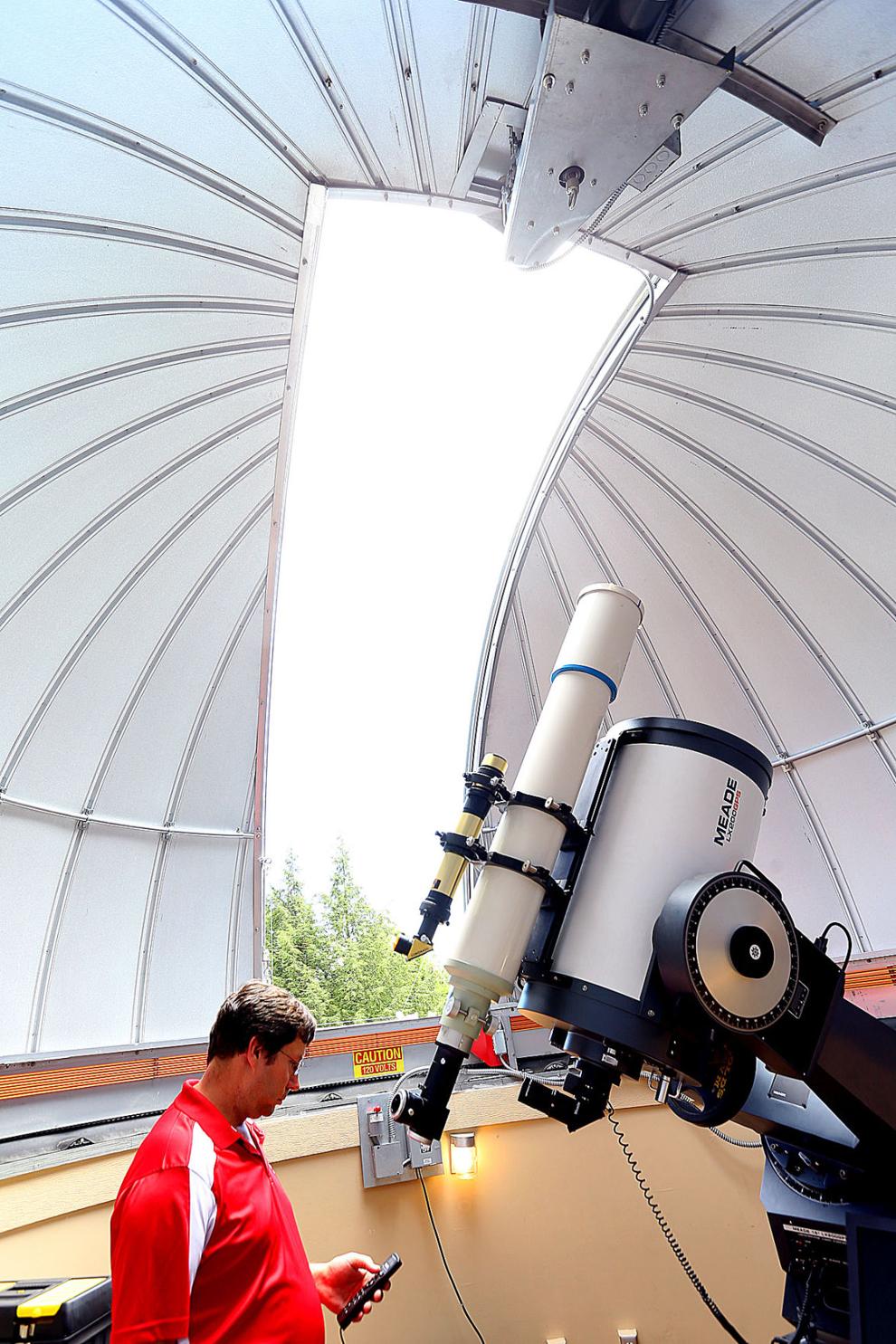 The IUK Observatory will live stream the eclipse from noon to 4 p.m. to offer safe viewing through its Takahashi telescope, which is equipped with a solar filter. The stream will be shown on campus in Kresge Auditorium, along with a live stream of NASA TV, Motl said. Those who can't come to campus can watch a live feed from the telescope at youtube.com/iukokomo/live.
Motl will discuss the eclipse from 1:30 to 2 p.m. in Havens Auditorium. All events are free and open to the public, and free parking is available on campus.
For people wanting to see the phenomena with their own eyes, Motl and other health officials are urging people to wear the appropriate safety ISO 12312-2 standard eclipse glasses.
"Unless it's totality, it's just never safe to look at the sun. The sun is always too bright," Motl said. "It focuses too much light on the back of your eye and you can permanently damage your eyes."
The fovea centralis, a small pit in the back of eyes, is responsible for sharp central vision and controls the ability to see color. Looking directly at the eclipse can cause irreversible damage to that part of the eye called solar retinopathy.
IU Kokomo will have eclipse glasses that they will hand out during the on-campus events, but there are other ways to safely view the eclipse.
For example, you can project the image of the sun with a simple pinhole projector, Motl said. By piercing a piece of cardboard or poster board with a pin-sized hole, you can let the sunlight project through the hole and onto a white piece of paper.
The south branch of the Kokomo-Howard County Public Library also will host an event Monday, distributing free glasses to participants on a first-come, first-serve basis. The Space Science Institute and NASA distributed viewing glasses, deemed safe for viewing the eclipse, to 4,800 libraries, including the KHCPL.
The KHCPL will join NASA for its live-streaming of the total eclipse and provide a variety of crafts and activities for Total Eclipse Day starting at 12:30 p.m. on Monday at KHCPL South, 1755 E. Center Road. There will also be a telescope on hand with a special filter for viewing the eclipse.
KHCPL also encourages people to participate in NASA's "Eclipse in Six." Let NASA know what the eclipse meant to you – using only six words. Submit your experience at eclipse2017.nasa.gov/eclipse-six. NASA will list it with the other entries on its eclipse website and include it in NASA's time capsule for opening on the event of the next total solar eclipse across America on April 8, 2024.
Ivy Tech Kokomo also will host a viewing party for its students in the parking lot across the street from its main building off of Morgan Street. The campus has viewing glasses available for students who attend the event.
One area school has even adjusted its schedule to accommodate the eclipse.
Tri-Central will be operating on a slightly different schedule for the eclipse. Tri-Central Community Schools will hold school from 9 a.m. to 4 p.m. Monday to keep students from traveling while the solar eclipse takes place. Students will not be dismissed before 4 p.m. without written notification from a parent or guardian.
For more information on the Aug. 21 eclipse, visit www.eclipse2017.nasa.gov.