An Indiana Appeals Court recently upheld the conviction and sentence of a Kokomo man found guilty in late 2018 of attempted murder and a severe gun charge – felonies that followed a 2016 fight at Big Daddy's Show Club.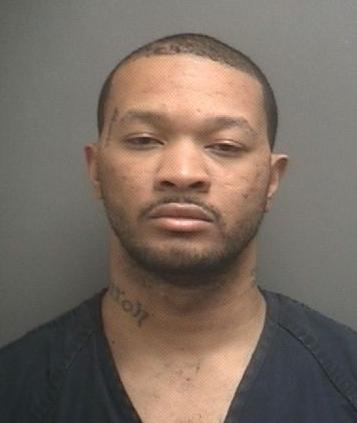 The appeals court ruled on Nov. 20 that 38-year-old Emmanuel Arrington, who appealed both his convictions and sentence, was not improperly treated throughout his case and jury trial, which ended with him being sentenced in Howard Superior Court IV to 40 years in prison.
Arrington's convictions in November 2018 – following a three-day jury trial where Arrington served as his own counsel – wrapped up a nearly three-year court battle to get the case to trial. The shooting happened at 2:30 a.m. Feb. 2, 2016, at 701 E. Mulberry St.
That's when witnesses testified Arrington came to the house and fired a single shot through a glass door that struck the victim in the stomach.
The shooting came after Arrington, the victim and others got into a fistfight at the strip club about an hour earlier. The fight broke up and everyone left. The victim traveled to the house on East Mulberry Street where he was later shot.
Prosecutors submitted body-camera footage of three officers who responded to the shooting four minutes after it happened. The footage depicted witnesses telling officers that Arrington had shot the victim.
Along with a Level 1 felony count of attempted murder, Arrington was also convicted of a Level 4 felony charge of unlawful possession of a firearm by a serious violent felon.
Then, earlier this year, Arrington appealed his conviction and sentence, raising four issues: whether he knowingly, intelligently and voluntarily waived his Sixth Amendment right to counsel; whether the trial court committed fundamental error when it did not remove the jury once a State's witness refused to testify; whether the State presented sufficient evidence to support the convictions; and whether the court abused its discretion when sentencing Arrington.
The appeals court, however, ultimately concluded there was no wrongdoing and affirmed the convictions and sentencing, which included 40 years for the attempted murder conviction and 12 years for the gun charge, to be served concurrently.
One of the most prominent parts of the appeals court's 30-page ruling had to do with Arrington's decision to represent himself.
It was on Oct. 5, 2018, when Arrington, who up to that point had been represented by multiple private attorneys, filed a motion to "proceed pro se," stating "I … feel compe[tent] to enough to represent myself" and noted he had been "researching and preparing my case since I have been incarcerated."
At first, Arrington told the court he could not afford an attorney. He was then appointed a special public defender.
But Arrington again asked to represent himself, admitting to the court he had never formally studied criminal law but acknowledging that he understood the risks and potential consequences of moving into a complex jury trial without the representation of a professional attorney.
Arrington's request to represent himself was granted by the court; Kokomo attorney David Rosselot served as standby counsel.
At one point, Arrington was told, "If you decide to represent yourself and the result turns out badly, you need to know that you will not be able to complain that you were not an effective attorney in your own defense.
"Do you understand that?"
"Yes, sir," he responded.
He was also told by Judge Doug Tate that while he had a right to decide against having an attorney he "must be aware that deciding not to have an attorney can turn out to be a very bad decision.
"Experienced lawyers almost always decide to be represented by another lawyer in a criminal case."
The trial, which included one State witness being held in contempt after refusing to testify in front of the jury, was then held in November 2018 and ended with Arrington being found guilty as charged.
Arrington then began the appeal process in January, arguing, in part, that he "did not knowingly, intelligently, and voluntarily waive his right to counsel."
But the appeals court – Arrington was represented in his appeal by Kokomo attorney Brent Dechert – ruled last week that Arrington "is an experienced criminal litigant, had standby counsel throughout his trial, and had been sufficiently warned of the dangers and disadvantages of representing himself."
The court determined his decision to represent himself was "knowing, voluntary, and intelligent."
The court, comprised of a three-judge panel, also ruled against Arrington in his arguments that the court erred in how it handled the witness who refused to testify and thus affected the jury's perception of Arrington; that there was insufficient evidence identifying him as the shooter; and that his sentence was too harsh and improperly handed down.
The three judges concluded "Arrington knowingly, intelligently, and voluntarily waived his right to counsel and the State [presented] sufficient evidence to support Arrington's convictions for attempted murder and unlawful possession of a firearm by a serious violent felon.
"We also conclude that the trial court did not commit fundamental error when it did not remove the jury from the courtroom following a State's witness' refusal to testify. Finally, the trial court did not abuse its discretion in sentencing Arrington."