Head downstairs at the main branch of the Kokomo-Howard County Public Library, and you'll find over 1,200 pieces of unique, handmade art hanging on the walls.
This isn't just any kind of art, though. Each piece is tiny – the size of a basketball or baseball card – and every one was created over the last year by local residents from just about every background.
Some were painted by young school kids. Others were made by homeless women living at the Gilead House. Others came from professional local artists or retired teachers.
But the exhibition is more than just small art pieces made by local residents. It's actually part of an international conceptual art project started 22 years ago in Switzerland called "artist trading cards."
The idea is just like it sounds. People create small pieces of art on a 2.5-by-3.5-inch card, and then trade them with other people's cards that were made in the same town – or on the other side of the world.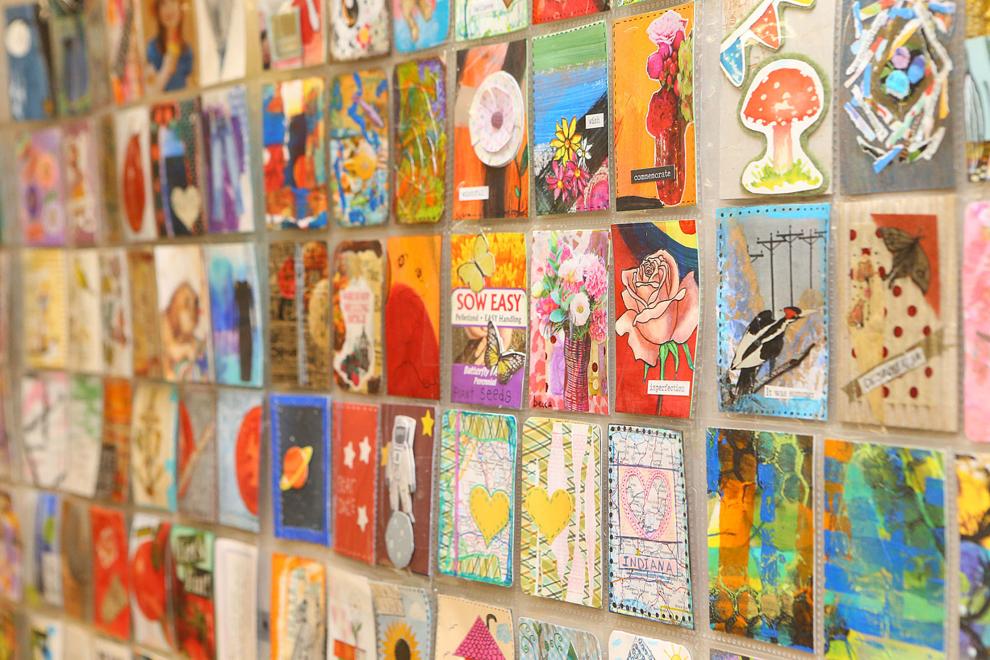 Since 1997, shows and exhibitions have taken place in cites around Europe, Canada, the U.S. and Australia where people meet up to create and trade cards.
"The idea is that everyone is a maker," said local artist Rebecca Rayls. "Everyone can create. Everyone can doodle or write a poem."
It was Rayls who spearheaded the effort to bring the art project to Kokomo. She said she came across the idea last year after retiring from Banner Flower House, and the concept instantly struck a chord for her.
"I was so fascinated by the idea," Rayls said. "I was intrigued, and I wanted to get others stirred up and excited about it."
So she decided to hold a trading-card session in November 2018 with foreign exchange students from the Kokomo School Corporation. They all had a good time, so Rayls took the idea to Susan Alexander, manager of downtown creative placemaking for the Greater Kokomo Economic Development Alliance.
Together, they formed a committee to get artist trading card sessions going all around the community. Soon, groups were meeting every month at SHAK Makerspace. Other sessions were held at the library, First Friday events and the Kokomo Art Center.
Over the next year, hundreds of people showed up to create tiny artist trading cards in a huge range of mediums. Some cards were small paintings. Others were collages made up from magazine cutouts. Other cards made by little kids had stickers plastered all over them.
Rayls said during each session, participants created three cards: one to keep, one to trade with someone else and one to donate to the exhibit at the library. How participants wanted to make their cards were completely up to them, she said.
"They are anything you want them to be," Rayls said. "Any subject, any style, any medium … The idea is to just be creative and do what you do, and someone will love it for what it is."
Lesley Wysong, a local artist who was a member of the trading-card committee, said she saw that firsthand during the session she led at the library.
She said one participant was a young man with autism who struggled to communicate verbally, but had no trouble speaking through his art.
"He did some tremendously beautiful cards," Wysong said. "You learn so much from the people who create these cards."
Another time, a woman came, who was living at a local shelter, and enjoyed the event so much she decided to start trading-card sessions with the other women living there.
"She saw that it's a way to get together and create and get your mind off whatever stresses you have in your life," Wysong said.
When it was all said and done, hundreds of people had participated in the creation sessions and made in total 1,251 artist trading cards. Now, all those cards are hanging together downstairs at the library.
Rayls said it was tough to get the project going at first, but as more people realized what the movement was all about, it started rolling. Today, she said, she's blown away by how many people actually participated.
"After all this time with the project, I can look at the cards and tell you who did them just from the fact that we all set around and created these together," Rayls said. "We were sitting around a table and chatting, or saying nothing, but we got to know each other."
Rayls has also personally taken the concept to the next level. Once she came across the idea a year ago, she started actually making and trading artist cards with people from all over the world through websites and social media pages dedicated to the concept.
Today, she has a binder full of cards she's traded with people from places as far away as Spain, Brazil, the Czech Republic and Canada.
The exhibit at the library is set to run through the end of January. After that, all the artist trading cards will be put into a giant bowl so anyone can grab a tiny piece of art to take with them.
But once the exhibit is over, Rayls said, she hopes the idea of artist trading cards continues on in Kokomo as a way to create and share art with the community, and the entire world.
"We're all makers," she said. "Through this project, we're all doing the same thing and using our creative energy."