As campaign season heats up, Kokomo's two leading mayoral candidates have embraced with open arms endorsements that range from labor leaders to the city's police union.
Republican Tyler Moore and Democrat Abbie Smith, with roughly two months until Election Day, have entered the final stretch of what will be a mad dash toward the third floor of City Hall in their efforts to replace the longest-tenured mayor in Kokomo's history.
Both Moore and Smith received major endorsements last week: the Republican from the Kokomo Fraternal Order of Police and the Democrat from the Howard-Tipton chapter of the AFL-CIO.
Moore's FOP endorsement was decided by the police union during a Sept. 5 meeting, when the group "held a vote to determine if our union should endorse a candidate for mayor during this year's election," according to a post on its Facebook page.
"After the vote, it was determined that we had a majority of voting members that wished to endorse a candidate." Moore then became the unanimous choice to receive the endorsement.
Kokomo FOP President Jeramie Dodd did not return a request for comment about the decision.
The endorsement comes in the midst of a campaign by Moore that has focused heavily on public safety and what he believes is a need to significantly boost employment levels in the city's police and fire departments.
His positions have sparked controversy as well as support, with prominent city officials like Mayor Greg Goodnight and Deputy Mayor David Tharp calling Moore a liar for what city-employment data showed were inaccurate statements about police and fire work hours.
He also caught flak this spring for embracing an online report that city and police officials say drastically misrepresented Kokomo crime levels and was inappropriately used as a fear-mongering campaign tool.
Nonetheless, his vocal support of increased hiring and resources has struck the right chord with many in public safety circles.
"I am honored to receive the FOP's endorsement and look forward to working closely with its members, as Mayor, to allocate the resources they need to safely, effectively perform their jobs," said Moore in a statement.
"I am grateful for the selfless work these brave men and women do for us everyday (sic). The City of Kokomo is fortunate to have such dedicated officers protecting our families and businesses – and making our city a safer place for everyone."
In keeping with the police theme, Moore has been endorsed by Howard County Sheriff Jerry Asher and former sheriff Steve Rogers, who both credited him for keeping an open ear to issues facing the sheriff's department during his decade as a Howard County commissioner.
"I truly believe he has a servant heart, he's a man of faith. Any problems I've gone to him, especially with public safety issues, that he has been able to stand up and help out with any of those issues, so public safety is definitely on his mind," said Asher.
Adder Rogers: "I can tell you that Tyler has great respect for the men and women in law enforcement and sees the importance of public safety. Tyler is a man of integrity and he was the go-to guy when I needed him."
Tom DiNardo, a former Kokomo police chief, gave his own endorsement to Moore, calling him a "very, very straight-shooter" who has "good, old-fashioned common sense."
Smith, meanwhile, has in recent days promoted an endorsement from the local AFL-CIO, or the American Federation of Labor and Congress of Industrial Organizations.
"I whole-heartedly support workers' right to organize, and I will fight to protect it. There is no doubt in my mind that working people win when they have the right and ability to organize. Union members are empowered to earn higher wages, have better benefits and safer working conditions," said Smith.
She added: "Union apprenticeship programs are proven pathways to good-paying jobs. As we mobilize to adapt and skilling up our workforce for the future, unions are the obvious strategic partner to get that done."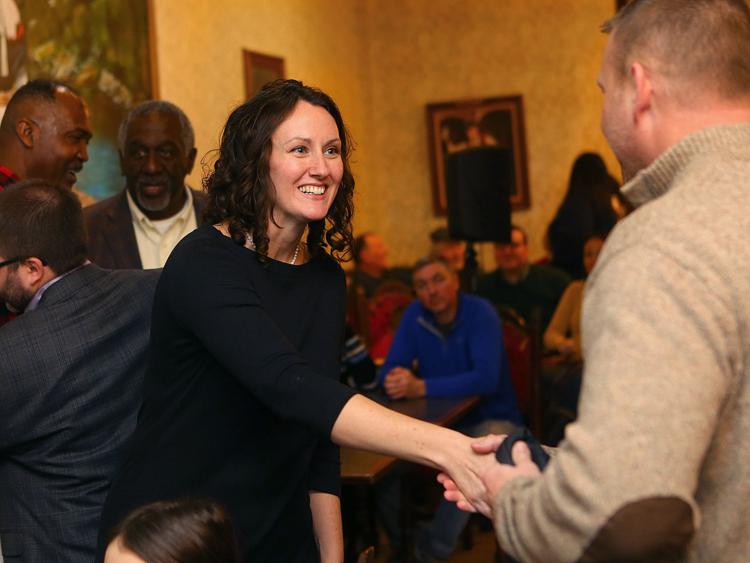 While Smith has received the backing of various labor unions, she would be tasked as mayor with the uphill battle of repairing relationships with Kokomo's police and fire unions, which have both publicly chastised the current Democratic administration and slammed city officials for what they say are poor working conditions.
With contracts set to expire at the end of next year, the two unions will enter contract negotiations with the new administration in 2020.
It's a point acknowledged by Pam Jones, president of the National Association of Letter Carriers branch 533 and a Smith supporter who believes she's the best choice when it comes to both public safety and economic issues like diversification and worker rights.
Smith, in addition, has been endorsed by former Kokomo mayor Steve Daily, who called her "a proven leader with a broad vision," Howard County Councilwoman Leslie Fatum, downtown business owner DeAndra Beard and others.
"We need to bring companies in who actually will help our community, whereas providing wages that will sustain [residents] in our community," said Jones in an interview, citing Smith's experience as Howard County's United Way leader as a checkmark in her favor.
"I don't think you will find Abbie Smith a one-track minded person, where she'll work only on safety or only on roads. … You have to have a broad spectrum."
But despite the city's efforts to squash crime concerns, and despite calls from others in the community to focus on what they see as more pressing problems, public safety has taken center stage in this year's election.
Jones said Smith "has a very good insight on what it's going to take as far as our police protection, our firefighters."
"As you know, Kokomo is a safe city but in order to maintain that as we grow, we need more police, we need more fire. And I believe she'll be able to get it done," she added.
Jones, meanwhile, is confident Smith would reestablish relationships with the police and fire unions, even citing some of the same arguments centered on workloads and compensation that have been embraced by Moore and disputed by the city.
"She knows that in order for the community to be successful in keeping safety a priority, she knows that it's going to take wages, it's going to take benefits for firefighters and for police officers, and she's going to make it reasonable work hours and workloads for them," she said.
"Let's face it: We don't want firefighters or police officers who are just overworked, underpaid. How does that help your city? It doesn't."
Smith herself has called for more city police officers, citing a barrage of upcoming retirements and issues like officer burnout and a "mindset of response" that can become the norm – in lieu of proactive community policing – within a department with too few officers.
Moore has faced pushback from labor unions in the past, specifically for his role in a 2018 decision by the Howard County Board of Commissioners to not allow county workers to vote on whether to start the process toward collective bargaining and union representation.
The commissioners were given a sample ordinance by labor leaders that would have given members of all Howard County labor unions the "right to bargain collectively with the Howard County Government."
The commissioners ultimately chose not to pursue the measure, saying county employees themselves had not expressed an interest in unionizing. Union leaders said private conversations with employees proved otherwise.
"If you can't support the people who were working for you then, how are you going to be a big supporter of people (in city government)?" asked Jones on Monday.