The installation last month of a large black spiral staircase behind the future site of Kokomo's hotel and conference center may not have caught much attention – but in terms of symbolism, it meant a lot for a multi-year riverwalk project that has gradually reshaped a significant portion of downtown.
City officials have long planned and worked to execute a revamping of the downtown stretch of Wildcat Creek, bringing everything from a 4,000-seat baseball stadium and incentives for a luxury apartment complex, to a bike-share program, to what is now one of the most heavily-developed parts of Kokomo.
Within that project was a significant amount of trail work that has bolstered the Walk of Excellence and improved a stretch of trail that now runs along both sides of the creek from Washington Street to Apperson Way.
"The project's goals included improving a natural area within the most urban portion of the city, connecting the neighborhoods south of the Wildcat Creek, and improving the flood capacity of the creek," said Kokomo city engineer Carey Stranahan.
"Considering the redevelopment along the creek, both before and after this project, we feel like the project has met those goals."
The project, in many ways, represents the finishing touches of former mayor Greg Goodnight's vision for the downtown span of Kokomo's Wildcat Creek and has also sparked interest in Mayor Tyler Moore's goals for a biking and walking system that has evolved into one of the city's primary amenities.
'Reconnect to riverfronts'Officials within the Goodnight administration often talked about what they saw as the need to better utilize a natural amenity like Wildcat Creek that runs through the city's center.
With that in mind, plans were drawn to bolster the city's trail system and run it along both the north and south banks of the creek between Apperson Way and Washington Street – work that in large part has now been completed.
That portion of the trail, as Stranahan noted, runs along a stretch that includes some of the city's most vital developments and attractions, including Kokomo Municipal Stadium, 306 Riverfront District, the home of Koko-Go Free Ride (the city's bikeshare program), an intersection with the Industrial Heritage Trail, Silver Birch of Kokomo, a downtown dog park, a pedestrian bridge and more.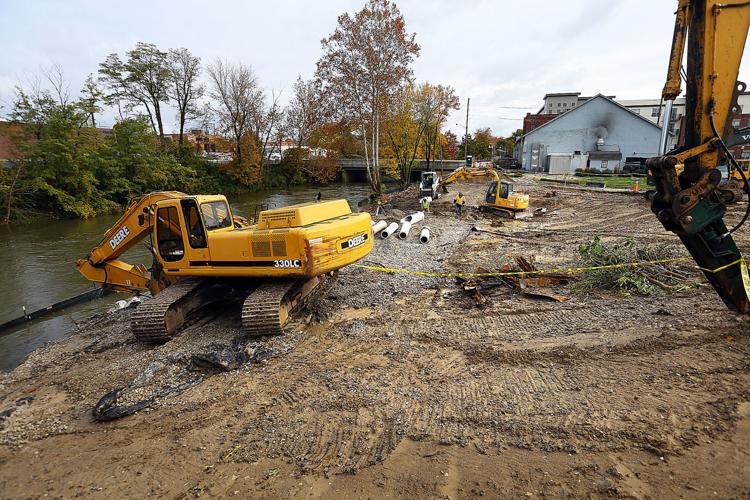 Most important, however, is the incoming hotel/conference project slated for the block between Main and Union streets, bordered by Superior Street to the north and Wildcat Creek to the south.
It's an initiative that will bring a six-story, 121-room Hilton Garden Inn and a conference center to what is now an open downtown block prepped for construction.
Crews, in fact, have already installed landscaping in the area and in recent weeks placed a large, black spiral staircase leading from Union Street down to the Walk of Excellence, a new product meant to further connect and merge the bolstered trail with the much-anticipated development.
"The entirety of the Downtown Riverwalk project is complete except for some minor work at the spiral ramp," noted Stranahan in a late January email.
"The additional spiral ramp work includes some lighting and reinforcement. The work to connect the hotel and conference to the Riverwalk has not been designed. It will likely connect at Main and at Union via streetscape (sidewalk) improvements."
The city also plans to install a storm sewer on Union Street, from the Wildcat Creek to Syamore Street, something Stranahan said is necessary to facilitate the parking garage being built across from the hotel/conference center project.
Work on the storm sewer is expected to begin in late March, during spring break "so as to not conflict with Kokomo School operations," he explained.
The importance of developing along Wildcat Creek, meanwhile, was prominently addressed during a 2016 speech by best-selling author and city planner Jeff Speck, a person whose philosophies have often been mirrored in Kokomo's city-planning decisions.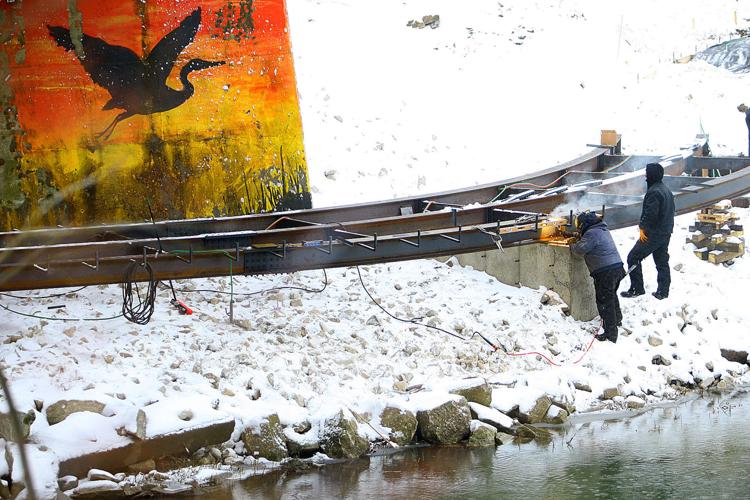 Speck told a crowd at Indiana University Kokomo's Kresge Auditorium that he considered the creek an underutilized asset in the city, saying there was an opportunity for Kokomo to create an urban waterfront experience that could lead to downtown entertainment options.
"The great kind of evolution that we have seen in a lot of American cities has been to reconnect to their riverfronts," he said. "And not just in recreational ways, but actually place making, mixed use urban place making, around water."
Goodnight agreed, saying he'd "always thought we don't take advantage of [Wildcat Creek]" and pointing to the way Broad Ripple utilizes its canal.
"Most communities our size don't have water running through the middle of their cities. … I think it is a good idea and is something we as a community need to think about over the next few months," said Goodnight at the time.
In subsequent years, the city worked hard to improve the land that runs along Wildcat Creek, sprinkling pavilions, swings, lighting, benches, trees, landscaping and other upgrades along the Walk of Excellence – efforts that tied in with the walkability and downtown-growth philosophies embraced by local officials.
Funding for at least some of that work was approved by the Kokomo Common Council last summer, when members OK'd $9.48 million for what was referred to on council documents as "creek enhancement/flood mitigation."
It was described as the final phase of the multi-year, three-phase project affecting portions of Wildcat Creek running through downtown Kokomo.
For trails, what's ahead?With that phase now largely completed, attention has shifted toward Moore's vision for Kokomo's trail system, something for which the new mayor had no shortage of ideas during an interview with the Tribune.
Talks – and that's as far as things have progressed so far – include ideas like extending a part of the trail system that now ends along Markland Avenue, near the Howard County Jail, to Russiaville, and furthering the Industrial Heritage Trail south, past its ending point near Kokomo Creek and Ind. 931.
Moore sees the value in Kokomo's trail system as both an avenue for economic development and something that can help improve the health of the local population.
"With everything that's been done downtown, especially along the Wildcat Creek, has been a great addition to the walkability," he said, referencing the ability for people to park in one place and use the trail to reach their destination.
"The hope is to continue to find opportunities with the system that's in place in the downtown area as we continue to develop downtown, but then we're continuing to identify opportunities to extend the current trail system outside of the downtown area."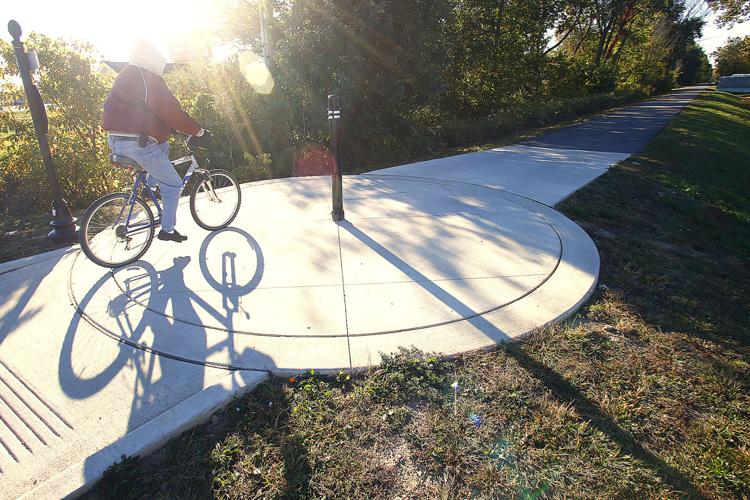 Regarding a potential expansion of the trail system, including what's now behind the jail, Moore cited some challenges, like a small bridge, but also pointed to the hope of connecting Kokomo's system with others in the county.
"Having the potential for increased activity with the soccer fields, we're hoping that will find a safe way to connect across Markland there, but then also to continue to the southwest part of town," he noted, also referencing "activity or exercise pockets" he'd like to add along the trail system.
"There are obviously some issue down through there that they've been looking at for years, but I think being able to continue that system ... with the hopes of maybe connecting up with Russiaville."
About the system, he added: "There's been recent discussions with Clinton County about the possibility of even connecting Howard County and Clinton County along that rail line, and continuing the trail through Russiaville, through Michigantown, and into Frankfort."
Included, as well, are discussions about extending the Industrial Heritage Trail and "looking at what have been some of the hurdles in continuing the [trail]," noted Moore, whose administration is also expected to add security cameras at spots along the trail system by spring.
"To be able to connect that trail to the Indian Heights area and down through there, maybe even out toward Taylor Schools, that would be great to see happen."
Moore's hopes for the local trail system, meanwhile, come in conjunction with a focus by the state government to increase trail connectivity, and Kokomo's mayor said his administration would look for any available grants to help bolster its own work.