It took all of 10 seconds for Mother Nature to blow away 31 years of history and memories for Ted and Juanita Ringeisen.
Ted Ringeisen still remembers vividly hitting the floor inside his home on South Bell Street as glass began to break around him the afternoon of Nov. 17, 2013. He heard the screams of neighbors and the howling of wind that sounded like a locomotive as it wiped out the home where he and Juanita had raised their three daughters.
When the tornado had made its way through the block, six of the neighborhood homes had been wiped out, including the roof and back end of the Ringeisens'.
"You have to take a second and look when you're driving through," Ted said, making a visit to the old neighborhood in early November. "It's not the same as it was. It never will be.
---
"It's not the same as it was. It never will be."
---
"You think about it every day," he added. "It's hard for me to believe it's been a year already."
For Juanita, trips over to South Bell Street still give her chills. Now she sees new homes being put up in a neighborhood that meant so much to her.
"Every so often, I'll come by and check on the neighborhood just to see how things are going," she said. "It's a lot different. It's strange, knowing that we had been there for that many years, and then everyone is gone. All of the kids grew up in this neighborhood."
Remembering that Sunday afternoon a year later isn't difficult for the Ringeisens, who were inside the home with their daughter, Autumn, and two of the family's dogs.
Ted can still recall watching the Chicago Bears game on TV as he heard the report of a storm hitting the Chicago area during the broadcast.
When reception to the satellite TV was lost, Ted turned on the radio to find out the storm was headed their way.
"I'm a big Bears fan and they delayed the game there because of a big storm in Chicago," he said. "Then the satellite went out, so we were listening to the radio and the radio said there was a [tornado] spotted 7 miles east in Russiaville headed toward Kokomo."
---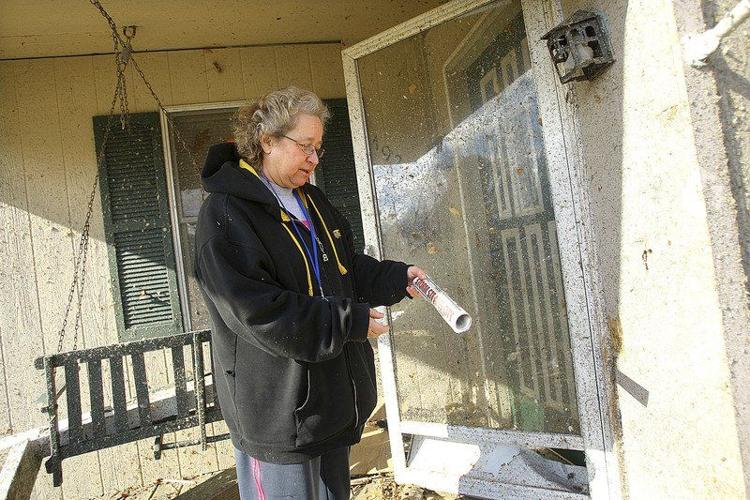 The day after two tornadoes tore through her Bell Street neighborhood, Juanita Ringeisen stands on her front porch. (Tim Bath | Kokomo Tribune)
---
Meanwhile, in the rear of the home, Juanita and Autumn took cover as reacting quickly to the news.
"We didn't have any time," Juanita said. "My daughter and I were at the back of the house by the washer and dryer. It blew both of the doors off of the frames and left them out in the hallway."
While Ted and Juanita speak fondly of the old home at 1921 S. Bell St., they were faced with the tough decision of what to do with it after it was severely damaged.
Rather than attempt to rebuild the home, the couple lived in a temporary residence provided by a friend on Hoffer and Purdum streets for six months until they found a new home on Alta Lane in May.
"It's strange to not be in the neighborhood anymore," Juanita said. "I guess Mother Nature had different plans for us. We've got a bigger and better house now, but I'm really glad we can give this house to someone that deserves it now."
---
"It's strange to not be in the neighborhood anymore," Juanita said. "I guess Mother Nature had different plans for us."
---
Ted Ringeisen contacted Habitat for Humanity of the Kokomo Community, informing the organization the couple did not plan to rebuild and offering the land up.
Habitat Executive Director Mark Sloss said the location and offer was too good for the charitable organization to pass up.
"They had gotten insurance money for their home and so they gave it to us as part of the demolition," he said. "We liked that part of the city because its location is nice and convenient for a lot of things. Our Habitat homes are about the same size as a lot of the homes in that area."
Sloss said Habitat has received donations of three properties in the area of South Bell Street where it eventually will rebuild or is in the process of rebuilding.
The Ringeisens' home will go to Kokomo resident Rachel Lisby as part of Habitat's Apostles Build, which brings together area churches to build a house in partnership with a local family.
Ground broke on the home on May 1, while the framing went up on July 12. Sloss expects the home to be ready for Lisby and her three children to live in by Christmas.
Lisby said she was ecstatic to be approved for her own home after working on four Habitat houses as part of the application process.
Altogether, Lisby has contributed 325 hours of volunteer work and "sweat equity" to Habitat as part of the program's mission.
"It really touched my heart," said Lisby, who works at Bona Vista Head Start. "I've never had a place to call home. To have that for my family is really touching.
"I know it will be life-changing to have our own roots and our own traditions and know our home is not moving," she added.
Being able to see another family move into the neighborhood that brought them so much happiness through the years has been the biggest positive to come from the tornado, Ted said.
A year later, he's ready to move on.
"I think it's wonderful that [Lisby] gets to move in," he said. "I'm very grateful that not only she gets a new place, but we do as well."