A civil rights activist brought a message of nonviolence to Kokomo this week as she spoke to students and community members in honor of Martin Luther King Jr.'s legacy.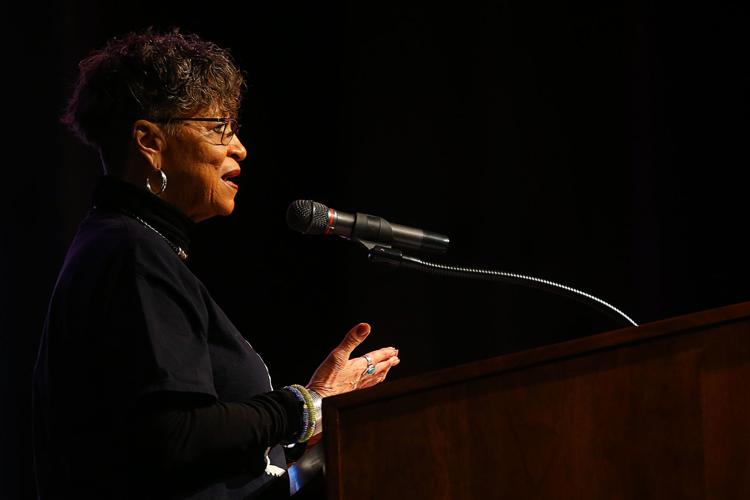 Peggy Trotter Dammond Preacely, an activist who was arrested in the 1960s for fighting in the civil rights movement, spoke at Ivy Tech Kokomo's "Doing the Dream" event, which honors the legacy of Martin Luther King Jr.
Preacely grew up in Harlem, N.Y., where she learned from influential activists and became involved in her community. Her family had a long history of activism and fighting for social change, starting with her great-grandparents, who escaped slavery in the 1800s. Her uncle protested against a film glorifying the Ku Klux Klan, and her parents were also involved in community activism.
"It was simply in my blood to be an activist," she said.
As a young girl, Preacely was involved in the Student Nonviolent Coordinating Committee in Harlem, where she picketed Woolworths stores for denying service to black people in the South. She decided to move to the South and become more entrenched with the movement following the death of Emmett Till, a young black man from Chicago who was killed in 1955 while visiting Mississippi.
"It was a turning point where I realized I couldn't just picket Woolworths anymore in the North," she said. "I had to bear witness with my body to see how things had changed."
She moved to Georgia and lived with a sharecropper, affectionately known as "Mama Dolly," who opened her home to activists in the 1950s and '60s. Preacely and the other activists would sleep on the floor because Klan members would often shoot through the windows, and the activists were afraid if they were sleeping too high off the ground they'd be shot.
She worked in fields during the day, helping black residents so they'd have an opportunity to attend literacy classes at night. The overall goal, she said, was to help them register to vote.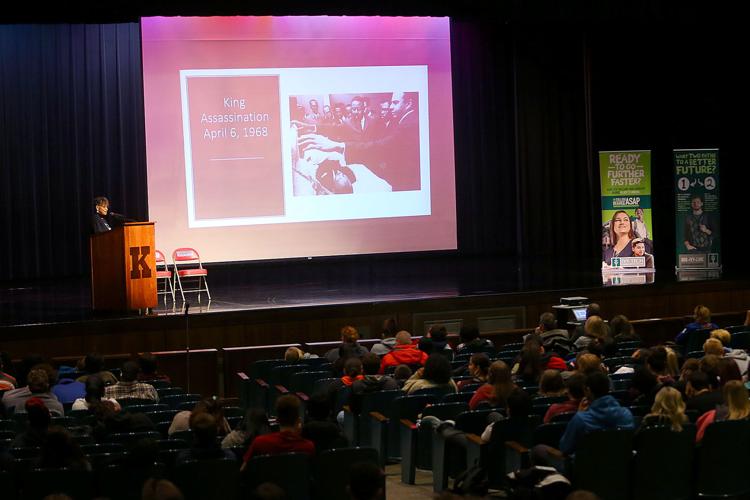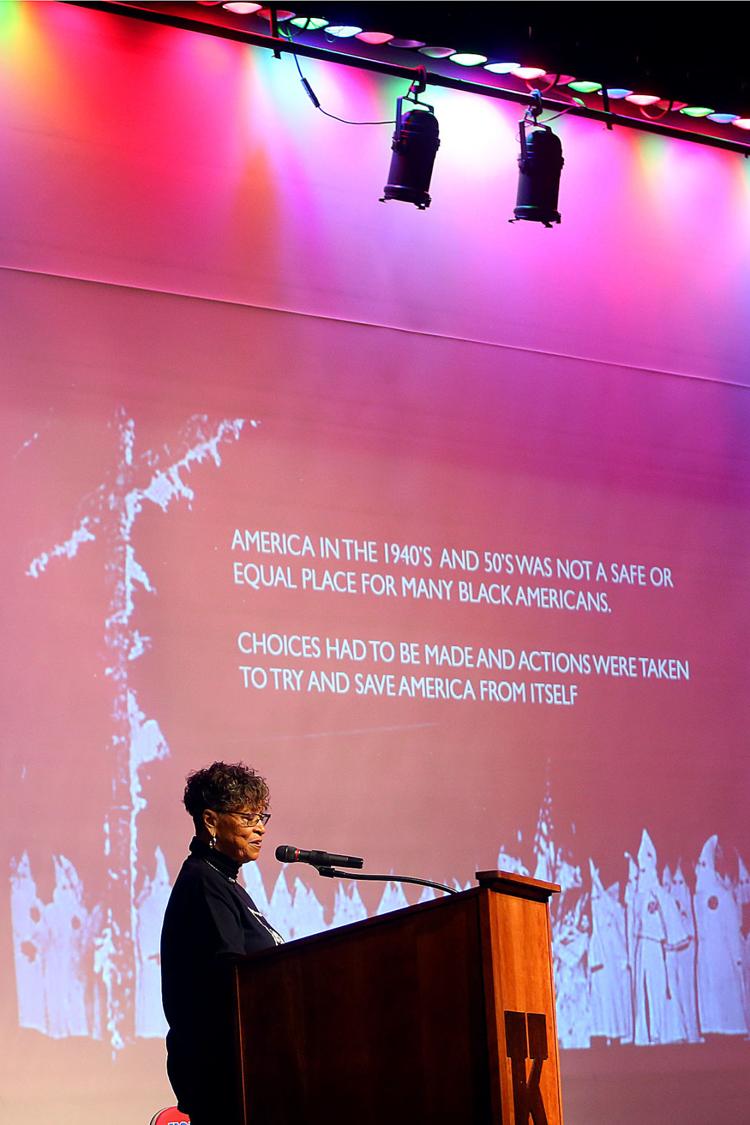 Preacely was arrested multiple times for her activism, including in Maryland, where she and other activists staged a sit-in just before Christmas. They spent five days in jail.
Once, when she had been arrested, she was visited by King, who brought her a toothbrush and told her to make sure to always keep one in her back pocket in case she didn't make it home on any given day.
She continuously faced violence and fear during her time in the South. Before going out to protest or march, she and the other nonviolent activists would prepare by pushing, spitting on and yelling at each other, all things she did face while protesting peacefully.
Peace was a major component of her activism, she said. She studied the nonviolent teachings of King and, by extension, Gandhi, and to this day she advocates for nonviolent protests.
"I think that nonviolence is a very powerful tool and it transforms you personally, and it can transform society," she said. " … I do believe that if more people around the world participated in that kind of social, direct action, that maybe we wouldn't lose so many lives and we wouldn't have so much bloodshed."
During her time in the South, she didn't think much about whether her parents were fully on board with her protesting and being arrested. But as it turned out, her mother had been a secret activist for many years, traveling to Mississippi for secret meetings. During these meetings, black and white women worked together to set up Head Start programs, free lunch programs and other social services.
"So my mom was an activist, too, but she did it in a quieter way than I did," Preacely said. "I am so proud of her, and I think she was just wonderful."
Preacely said while many things have changed since the civil rights era, society still isn't where it needs to be.
"We're never where we should be, but we're on a journey, and we've made a lot of progress and we still have much to make," she said.
She's met with Black Lives Matter activists, and she said she encouraged them to consider the same nonviolent principles she followed in the 1960s. This movement in particular, she said, is important in today's society.
"We believe all lives matter, of course, but Black Lives Matter is such an important movement because police brutality has been unequally brought against those of us and particularly young men of color," she said. " … The good thing about Black Lives Matter is that it's a movement of more than just black people. It's white and brown, women and men and children and older people who understand why we have to have that banner of Black Lives Matter."
Today, she is actively involved in fighting against homelessness, sex trafficking and suicide, among other causes.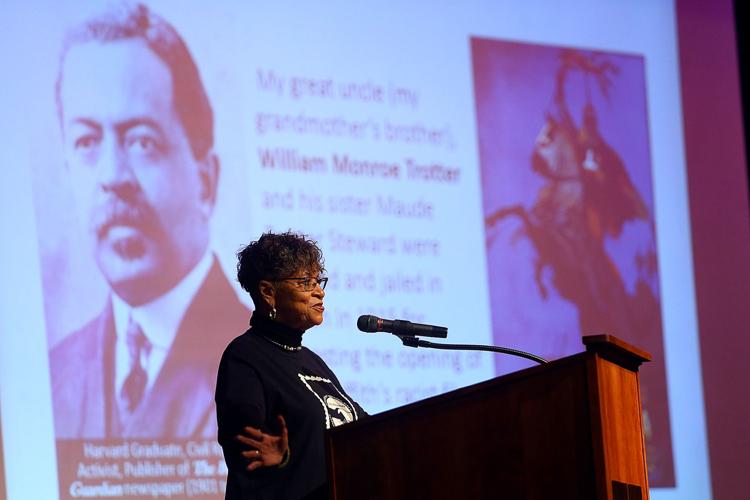 "I have nine grandchildren and two great-grandchildren, and I want to make sure they have a better world to live in," Preacely said. 
Alice Vaughn-Motley, who listened to Preacely's speech Thursday night, applauded Preacely for her work and said she even benefited from the work of activists like Preacely when she was able to go to Woolworths in the late 1960s, sit at the counter and order lunch.
"I just want to applaud you," Vaughn-Motley said. "I get goose bumps."