An ordinance allowing nearly $19 million in spending was passed Monday by the Kokomo Common Council, but not before ardent opposition from people who believe government investment in a downtown hotel and conference center project creates an uneven playing field.
The specific target of opponents' frustration was $6.5 million in cash the city has said it will spend on a public parking garage to complement the hotel, conference center development and provide additional, needed downtown parking.
Denouncing the ordinance were business owners like Vernon Graves, who runs the Kokomo Event and Conference Center on Indiana 931 and thinks the government's role in helping fund the downtown project and boosting it with a parking garage creates improper advantages for an out-of-town developer.
City officials announced in early June a four-level parking garage, which will be the second parking garage in downtown Kokomo, had become part of the development.
The announcement corresponded with the reveal of the hotel and conference center project's new developer, Fishers-based Dora Hospitality Group, which took over after the original developer, Dora Hotel Co., stepped away from the project.
The parking garage, which will include retail space, was not part of the initial plans revealed last summer.
The garage will be located at the northwest corner of Superior and Union streets and will have a Superior Street entrance. A parking lot is currently located on the corner.
Kokomo Mayor Greg Goodnight has said the city will pay cash for the garage, which it will own and develop. The garage will be open to the general public.
Another person to express concerns about the city's investment was Tom Trine, who owns Windmill Grill and Elite Banquet and Conference Center.
"My family and I have invested $1 million, no taxpayer dollars. Not one single penny of taxpayer dollars. So I have a dog in this hunt," said Trine.
"So my question to each of you, as council members, is when did it become right to take funds from one taxpaying entity and give it to another taxpaying entity to compete against the one that you're taking it from in the first place?"
Trine added: "And I know that [the conference center is] going to compete against my business. … And now the government is going to enable a competing business to come to town that's never paid a penny in property taxes in Howard County, hasn't done any business in Howard County and now [that] business is going to compete directly against me."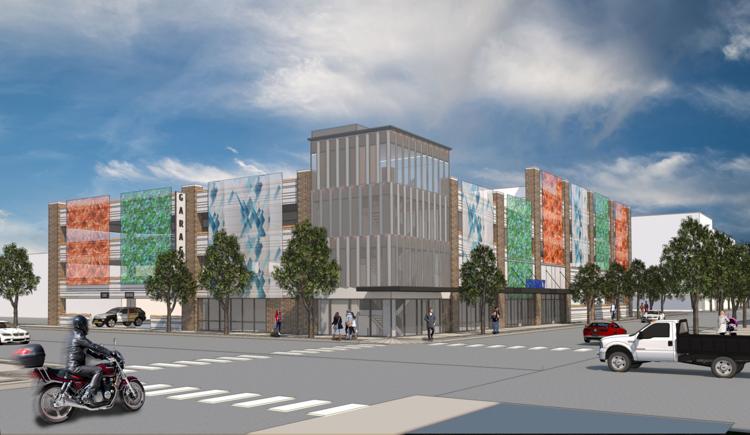 Graves, whose family also owns the La Quinta Inn & Suites, criticized the government's involvement in the project as the opposite of free enterprise.
The project includes four major partners – Kokomo and Howard County governments, the developer and the Greater Kokomo Visitors Board – and has been supported by the Greater Kokomo Economic Development Alliance.
"I'm getting hit both, twice with this project. And I have an event center that's got 550-plus parking places already. So, I'm definitely against the city spending another $6.5 million or however much it is," said Graves.
"You're taking business from people that has paid for their own hotel and let this guy have the property free. I pay $200-and-some-thousand worth of property tax alone on my businesses in Kokomo. … This is not free enterprise, what I thought America was."
Kokomo Common Council member Tom Miklik responded to concerns by saying he is looking at the big picture.
"We're trying to grow the downtown, and get people to come eat, live, socialize. … As a city councilman, my job is to represent the entire city, and I'm trying to look at what that future is," said Miklik.
Still, Trine and Graves both expressed opposition to the city spending millions on a parking garage they believe wouldn't exist if it wasn't for the hotel and conference center they're worried will take business from their own companies with the help of government investments.
Graves did note in a January interview with the Tribune his belief the Kokomo Event and Conference Center would not overlap with the downtown development, saying: "They're going to have their events, and we'll still have our events."
On Monday, though, he expressed worries about his family's hotel and noted his philosophical opposition to the public funding portion of the immense public-private partnership that is the downtown hotel and conference center.
"I'm against the parking garage. … I don't approve of the stuff that the city is doing with building a parking garage so a hotel, event center can go in downtown and be in competition with private enterprise, which I thought was free enterprise in America, but it's not," said Graves.
"You're taking our taxpayer money and using it in competition with us. How can that be free enterprise? It's not. I'm paying taxes. … If it's a viable hotel, event center, why couldn't he pay for all the money, pay for the parking garage, event center and the hotel, bar and restaurant himself?"
Common Council President Bob Hayes, meanwhile, noted during the meeting that without the parking garage the downtown development "wouldn't be able to operate in an efficient manner," raising questions about why it wasn't part of the development's initial plans and whether the project would have moved forward without it.
Kokomo City Controller Randy Morris, however, said the parking garage was not a requirement from the new developer.
"This will be a public parking garage, available for all to use," said Morris. "The new mixed-use parking garage will allow the conference center to be marketed for more events while providing additional parking opportunities for visitors to high school sporting events, Jackrabbits games, concerts in the park, the Automotive Museum, and our downtown businesses.  
"It was not a requirement from a developer, rather an important public development to leverage other assets to their fullest potential."
Also speaking in favor of the project as a whole, as well as the parking garage, was Howard County Commissioner Paul Wyman, who cited a 2014 study that said Kokomo could support a downtown hotel and conference center.  
"And with that, it's a conference center with a hotel attached, is a very different product than anything we have in our community right now," said Wyman.
"This is not unique what we are doing. Communities that are growing and that are on the move do public-private partnerships every single day," he added, citing examples in Indianapolis, Bloomington and Columbus.
In an interview, Hayes bristled at the notion local officials are overstepping their bounds in the downtown development.
"Every government in the state of Indiana, every city government of the size of Kokomo or bigger is looking for these kind of developments," said Hayes.
"You don't want to discourage developers from coming in, you want to encourage them."
Hayes added later: "Free enterprise is not just for one, it's for all. It's for the greater good of the community. I'm not wanting any one of those businesses to go out. I think you provide a good service, you provide a niche for people that have a need, you're going to survive.
"I sort of heard on one hand, 'I'm for free enterprise, but only for me. But not for anybody else coming in from the outside.' That's what I kind of heard tonight, and that's not free enterprise. We live in a free enterprise system where anybody can come to the table and work with the government, as they could have, to do some great things and some good things."
About whether government is in this instance helping create unfair competition, Hayes said: "It would only be unfair if they didn't have an opportunity to come and make those same redresses or same requests or same arguments to government."