Clashing at times Thursday were incumbent Democrat Bob Cameron and Republican Lynn Rudolph, two candidates who have made public safety staffing and violent crime prominent parts of their campaigns.
Those issues, unsurprisingly, took up much of their time on the Havens Auditorium stage, but the Second District Common Council candidates also snuck in topics ranging from transparency in city government to the district's infrastructure concerns.
Here are some highlights:
Crime
Both candidates have adopted platforms focused heavily on limiting violent crime.
"Somewhere we've got to stop the violence in this city. … I do believe the violence has started. It's been going on for quite a while, just not in one area," remarked Cameron, referencing a recent rally he attended that showed him people are "scared."
He also highlighted Studebaker Park, the site of a shooting last month that led to five arrests and was caught on camera and posted on Facebook.
That shooting – which included the arrests of two people from Kokomo and three from Chicago – has been cited by candidates and others in Kokomo who believe the city has problems with crime, police staffing and an undue burden caused by out-of-town influences.
"What I've found out, the majority of it is not Kokomo people that have done this," said Cameron, referencing violent crime in the city. He did not present any evidence showing out-of-towners commit the majority of violent crime inside Kokomo.
Added Rudolph, a former police chief: "We have a culture of violence that's starting to grow in Kokomo that we cannot tolerate and we cannot put up with." He claimed the Second District and nearby areas are "predominantly" where shootings have occurred.
While the city does not maintain district-by-district crime data, available figures do not indicate a citywide rise in violent crime.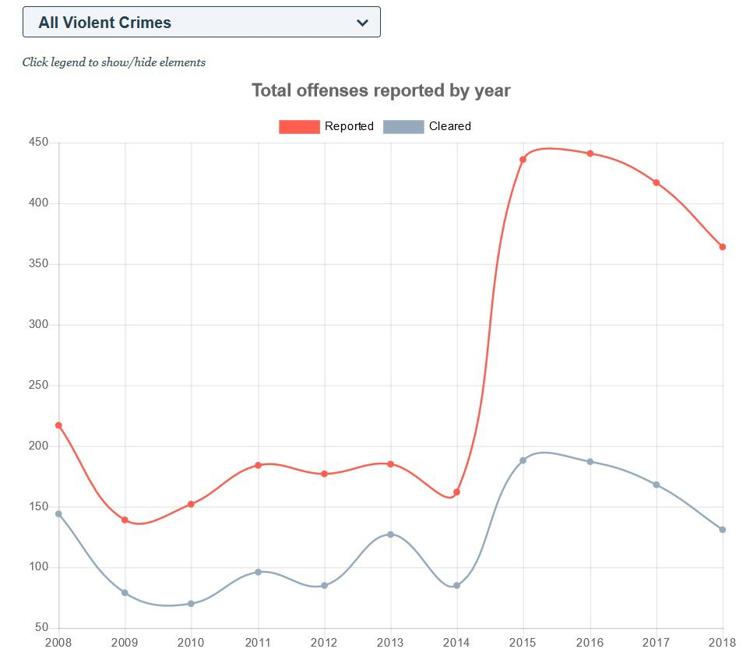 FBI Uniform Crime Reporting statistics show 441 reported violent crime offenses in 2016, compared to 364 in 2018. Meanwhile, property crime offenses dropped from 1,760 in 2016 to 1,426 in 2018, according to data released by city officials and found on the FBI's Crime Data Explorer website.
Kokomo experienced its fourth homicide last week; it had four in 2018 and six in 2017.
KPD budget, police staffing
In conjunction with the conversation about crime was a separate back-and-forth about how public safety departments are staffed and funded.
Rudolph dismissed recent comments made by council members pointing out the administration is the group hiring police officers and firefighters, not the council. He said council members, despite that fact, have not done enough to boost staffing levels.
"I understand that this council does not hire and fire, but they do appropriate the money to hire folks," Rudolph said, calling the KPD "severely understaffed." It has in recent months hovered around 80 officers.
"Do I want to hire more people? Absolutely. That will be a slow process because if you can hire five police officers in a year, you would be lucky to get them through all the testing and training and the academy and everything that they have to go through. So it's going to be a long-term process that should never been allowed to drop this low … both fire and police."
Cameron agreed, saying the council has put in the city budget enough money for both firefighters and police officers.
Council documents show just over $13 million in the police line item within the 2019 Kokomo general fund budget. Police funding, specifically, and whether it is being used correctly has emerged as a leading campaign issue for many running this fall.
The Tribune has requested a copy of the 2019 KPD budget broken down by line item, along with a copy of an updated budget showing how much has been spent out of each line.
The request has not yet been filled.
"We cannot bully the mayor or anybody else outside of our jurisdiction. We can put the money in and hope it gets used, but it's very difficult to do that," said Cameron. "Because as a councilman I know what my job description is. You can … say we need this. But sometimes it goes on deaf ears."
Rudolph didn't buy Cameron's explanation, saying council members can leverage their positions to force spending on public safety by withholding appropriations from other projects.
"[The mayor] has got to work with you as much as you have to work with him," he said.
Transparency
Rudolph, who mentioned the need for more transparency in city government during his opening statement, said he believes information and explanations have been kept from the public.
"I believe that there's a lot of information that has not made it to the media that should have made it to the media. There's always a choice to look good. Now, there's a difference between looking good and being good, and I know that there's been issues that have not come to the media that should have gotten there, and we need to address that," he said.
"If we're going to say that we're going to hire so many policemen, and it's in the budget, then we need to be transparent enough to say, 'Do that. If you're going to say it, do it.' If you think the police department needs to be smaller, OK? Then what you would do is declare that to the public, that we're going to reduce the size, and then do what you say."
Cameron, meanwhile, said he believes transparency has "slowly" improved during his time on the council, although he acknowledged "there still is stuff we never did know."
"Bumpouts and stuff like that, we weren't aware that that was going to be coming. Yes, we appropriated the money but didn't know how far they were going to go," said Cameron.
He went on to criticize some of Kokomo's streets, saying they are "dangerous" and will need to be altered by whoever is elected mayor.
"Overall, though, I think the city looks good from where it was when I first went on [the council]," he said.
Other challenges
Rudolph, in fact, said the issue he hears most about from Second District constituents "is the streets and the bumpouts." He claims somewhere between 50-70% of people bring them up.
"Now do I think that's number one? I think it's something that we're going to have to pay attention to, we're going to have to make some adjustments, if we need to. I'm not in favor of tearing them all out and starting again. That would be foolish, it wouldn't be fiscally responsible," he said, also mentioning the need for more walkable streets in the Second District.
Cameron pointed to the need to continue blight elimination efforts.
"That's been very prevalent in the Second District," he said. "We have used the [city's urban infill program], utilized the funds for that, we've taken out homes that were once crack houses, whatever you want to call them."
In conjunction, he referenced the construction of six urban-infill homes he says are inhabited by people who want to live in the neighborhood and created a domino effect of residential cleanup efforts.