Brandon Driscoll was outside when it started hailing.
He and his wife, Michelle, arrived to their Buick Lane home Nov. 17, 2013, minutes before the storm swept through.
"I like storms," Driscoll said. "I turned to my wife and said, 'a tornado is coming.' Our ears popped and we took cover in the bathroom."
Fortunately, the Driscolls' two daughters, Alexis, 12, and Lauren, 8, were not at home. Driscoll said a tree limb came flying through the house.
"The windows blew out, the walls buckled in, causing water damage throughout the whole house," Driscoll recalled. "We had debris flying everywhere. I thought our neighbors' house was going to topple over on our house."
---
"We had debris flying everywhere. I thought our neighbors' house was going to topple over on our house."
---
The tornado ripped the Driscoll home apart, causing extensive damage to the roof, ceilings and the family's two cars.
They lost all their furniture, their clothes and their cars, but no one was hurt. Driscoll said the storm caused $200,000 in damage.
"It wouldn't have been so hard, but we had a bad winter," he said.
A stump on the south side of his yard is a constant reminder of that day. The tree fell on the house.
Driscoll said after the storm, the twister's path through his grass was visible. He could see where it jumped over his neighbors' house to the east then hit again on the other side of Goyer Road.
"There was a line in the grass where you could see where the tornado went back up," he said.
"I'm still digging up fence posts and I'm still finding stuff in the yard – shingles, kids' toys. The grass is finally growing back."
He said while insurance covered most of the renovations, it would not pay for landscaping or removing trees and stumps unless they landed on his house.
"It's been a pain."
Two lots to the south now sit empty.
---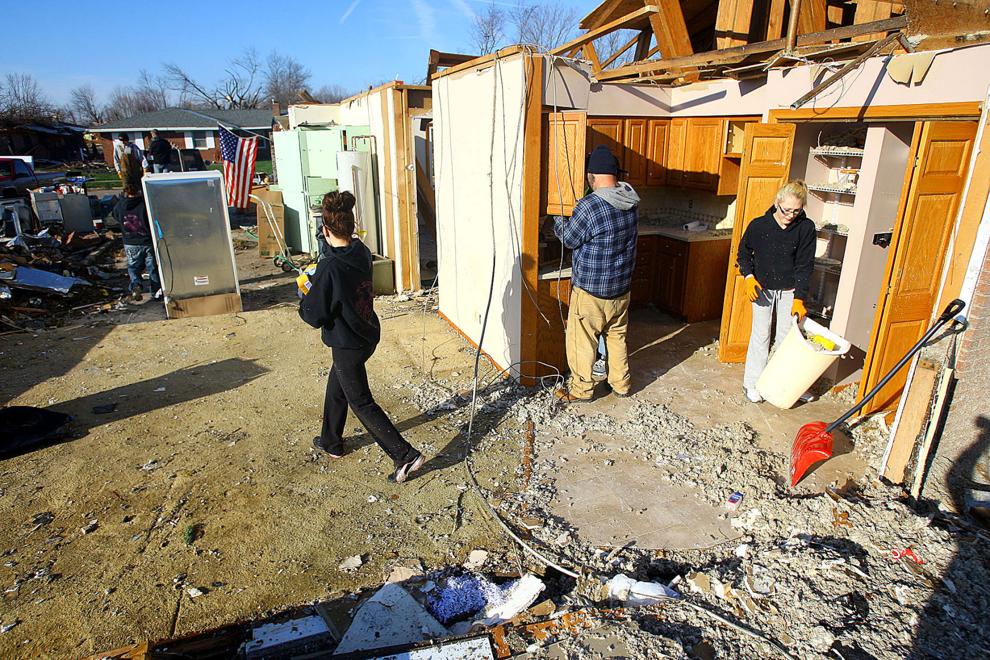 Volunteers Tiffany Corbit and Kirsten Wade help clear debris from Sue Lytle's home on Pontiac Drive Nov. 19, 2013, after a tornado ripped through the Cedar Crest subdivision. (Tim Bath | Kokomo Tribune)
---
Remnants of the tornado can still be seen throughout the neighborhood. Fences are new, roofs have been replaced, but empty lots dot the area where some residents decided against rebuilding.
Driscoll said he decided to rebuild because he enjoys the neighborhood and the odds of it happening again are pretty slim.
"I've never heard of anyone getting hit by a tornado twice," he said.
After the storm, Driscoll, his wife and two daughters moved into an apartment for eight months before moving back into their home in July.
Picking up the pieces
Sue Lytle, who lives nearby in the 1600 block of Pontiac Drive, is also still picking up the pieces from the devastating day.
"I lost everything I had," the 76-year-old said.
"They bulldozed my house and started from scratch. It was totally destroyed."
Lytle, who was injured in the tornado, was sitting in her chair in her family room when she heard a noise.
"It didn't sound like a train or anything," she recalled. "I just heard a noise. Something told me to get up and go to the bathroom. I made it halfway in the hallway. I couldn't see the tub or the toilet. All the windows got knocked out. It blew the walls in. Rain and hail came blowing in. I got knocked out. I had a knot on my head and black and blue eyes."
The twister tore off her garage door, wrapping it around her car, she said.
"The news said it was headed towards Kokomo, but they say that all the time," she said of the tornado warnings.
After the storm blew through, Lytle said she heard her neighbors calling for her. Seconds later, her nephew, who lived nearby, pulled her out.
With her home in ruins, Lytle moved in with her son and daughter-in-law in Marion until her house was rebuilt. She just recently moved back.
"I'm still unpacking boxes and trying to get everything put back together," she said. "I was 75, I hope I never, ever have to go through that again."
Hanging on
Across the way on Meadowbrook Drive, Mark Greengard and Monica Rockey Wentzel huddled in their hallway when the tornado blew through Cedar Crest neighborhood.
"We were in the hallway," Rockey Wentzel said. "We don't have a basement so went there. It sucked us up to the ceiling.
"When they say it sounds like a freight train, they are not kidding," she said. "It smelled like a wet farm mixed with insulation. We had glass come through our front picture window and embed in the walls."
---
"When they say it sounds like a freight train, they are not kidding."
---
Rockey Wentzel said her husband had just returned from deer hunting and said, "The air felt funny."
"We had a tree go through the window, plus a mailbox and it took out the front part of the roof. A sycamore tree in our neighbor's yard came down on part of the house," she recalled.
"My brother, Chuck, took almost two hours to get to us. We put our dog in a backpack and started walking out over live wires and downed trees and [I was] counting my blessings as I walked out."
After the storm, the couple lived at the Hampton Inn while their house was rebuilt. They moved back in in June.
"The neighborhood has started getting back to normal, but there are families in this neighborhood who are still displaced," said Rockey Wentzel. "I just wish they would have allowed federal funding. We needed monetary help."
One of the worst things was the looting after the storm, she said.
"Twenty minutes after it hit, we were still reeling and looters came through our front window," she said. "Each one had three backpacks and they were pushing a wheelbarrow. It was the same ones who were arrested at Soupley's. Mark lived here with no heat for a while because of the looters."
As for the cleanup, she said they are still trying to get back to normal.
"We're still trying to fix some things on our house that we couldn't get done during the winter," she said.
While dealing with insurance companies and contractors was a hassle, Rockey Wentzel said she's blessed they got they help they did.
"I'm thankful we had a community that stood behind us," she said. "I wouldn't have had any clue of what to do. The firemen and police officers were a godsend, they truly were.
"It's a humbling experience because you hear about the tornado of '65. My neighbor said one of the funnels that went through here followed the same path as that one.
"I'm very humbled and thankful," she went on. "Everybody went far and above in what they did. I'm so grateful for my church family, who came out and helped."
Rockey Wentzel also said Feightner Excavating did a great job in helping out some of her neighbors.
"They helped people cover their roofs so the rain wouldn't get in and they were helping the elderly neighbors pull things out of their yard."