Indiana University Kokomo is fighting accusations that it censored two student-made sculptures, including one resembling female genitalia created by a student who says the artwork was an attempt to heal from a past sexual assault.
FIRE, the Foundation for Individual Rights in Education, has accused the university of improperly removing the sculptures from its campus earlier this year and then providing "conflicting excuses for censoring the art."
IUK Chancellor Susan Sciame-Giesecke has denied FIRE's claims, saying in a statement provided to the Tribune Friday that the sculptures, which have returned to their campus displays, were not properly approved before their initial installation.
A professor, however, has contradicted the university's public stance, saying he was told privately by an IUK administration official that the statues were removed following community complaints.
FIRE, a Philadelphia-based organization focused on free expression rights at colleges and universities, partnered with PEN America this week to send a detailed telling of its version of events to local media.
PEN America, headquartered in New York City, "stands at the intersection of literature and human expression in the United States and worldwide," according to its website.
The organizations have also sent two letters – one in October and another Thursday – to IUK administrators critiquing their handling of the controversy, which they believe "raises serious concerns about academic freedom at the university."
The situation began, according to FIRE and PEN America, when IUK fine arts professor Gregory Steel contacted a university office in summer 2017 to request "placement of several concrete pads for his students' sculptures."
Steel, who could not be reached for comment, has said that faculty members took identical steps in the past to procure approval for displays.
In response to the request, concrete pads were placed on campus this summer to hold artwork fashioned by students in Steel's summer sculpture class.
The class's large-scale metal sculptures were then created in July, after which Steel and another professor selected two student-made pieces to be displayed "on the grassy area outside of IUK's arts building," according to FIRE and PEN America.
The organizations described the sculptures, installed in late July, in a letter: "One was crafted from metal pipes and materials, the other was a neon pink structure vaguely resembling female genitalia."
The sculpture resembling female genitalia was created by IUK senior Mary Ade, who told the Kokomo Perspective that the artwork was meant as a way for her to heal from a past sexual assault.
Her quote was included in this week's media release.
"That experience really changed my relationship with my body," said Ade.
"So a lot of the work I've done, and this sculpture specifically, is about coming to terms with that after sexual trauma and that sort of thing. It really is deeply personal to me, and it matters to me. And I think it should matter to other people too because I know I'm not the only one who has gone through that experience."
Roughly one week later, the statues were removed from their prominent place on the university's campus.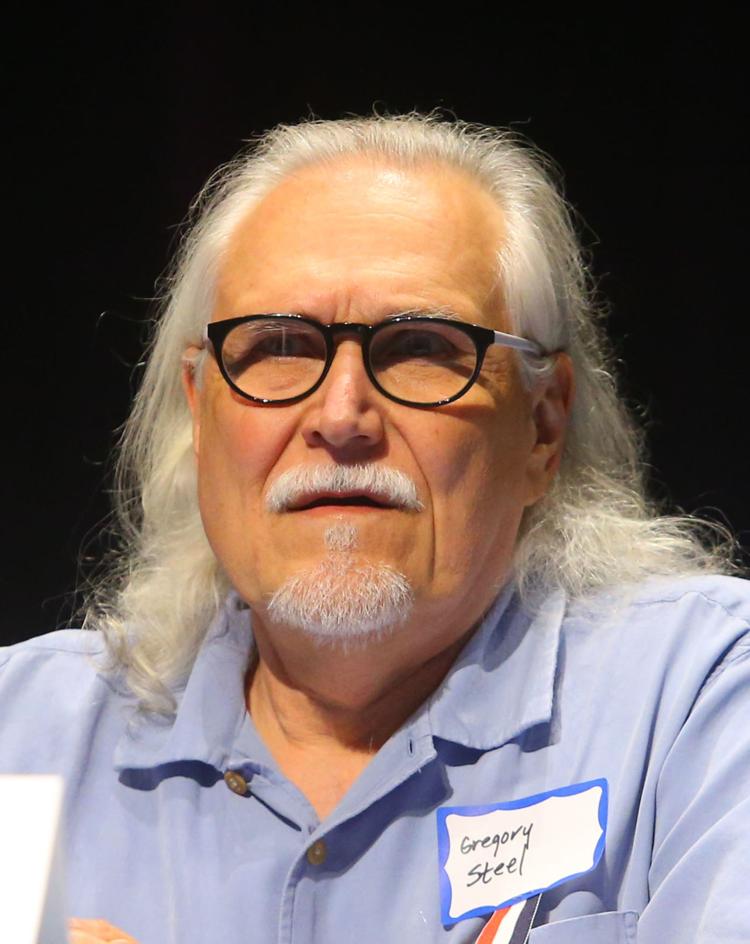 "Without providing Steel warning or a justification, IUK removed the sculptures about a week after they had been posted and placed them on the landing dock outside the arts building," reads Thursday's letter.
"Steel then met with IUK Executive Vice Chancellor for Academic Affairs Mark Canada concerning the artwork's removal. Canada acknowledged that the sculptures were removed in response to complaints received by the office of Executive Vice President for Academic Affairs John Applegate, but did not provide information on the content of the complaints."
The organizations also cite an Oct. 16 email sent by Canada warning that IUK's administration "wants to make sure that IU Kokomo is a 'good neighbor'" and may again "reconsider [the statues'] placement" based on "concerns from the community."
Canada added that IUK will draft a policy so that everyone will "be on the same page" regarding future decisions about artwork installations.
In an email sent to the Tribune Saturday, Canada said confirmed he had heard secondhand of community complaints, adding that IUK's policy calls on the campus to consult "community neighbors" who are located near where a piece of art is to be placed.
But he denied complaints factored into the removal of the statues.
"The comments, however, had no impact on any decisions regarding the sculptures," Canada wrote.
FIRE and PEN America sent their first letter to IUK on Oct. 22, accusing Canada of also suggesting to Steel that the sculptures be moved to "a more appropriate location" away from the arts building.
Afterwards, the organizations filed an open records request with the university in an attempt to see the complaints, but "the scant records produced by the university contained no trace of any complaints at all."
FIRE and PEN America acknowledge that "who initially complained about the sculptures, and the nature of their complaint, remains unclear."
Meanwhile, Sciame-Giesecke said in her statement that the sculptures were returned to their initial locations on Oct. 11, a timeline disputed by the organizations.   
"At the end of Summer Session 2018, the art faculty chose two student sculptures by IU Kokomo students Mary Ade and Jonathon Reshkus for installation, and they were placed on concrete pads designed to display outdoor art," she recounted.
"However, upon discovery that neither installation had been approved as required by a long-standing policy of the IU Board of Trustees, both were temporarily removed."
Sciame-Giesecke noted the sculptures will stay on display until the end of the 2018-2019 academic year.
"Indiana University and IU Kokomo are fully committed to academic freedom and freedom of expression," she said.
"The faculty member's selections were honored, and the student sculptures were installed promptly upon the acquisition of approvals which were not premised in any way on content."
In a letter sent to the two organizations this week, Sciame-Giesecke also included text from an email sent by Steel in mid-August, which she believes shows that Steel knew the controversy was about the approval process.
"Yes, it's fine only wish we knew we had to do it [get approval from university administration] before we put them up," wrote Steel.
"The students were very excited: even brought their families with them. Maybe we can streamline this in the future. Thanks for checking with us."
Nonetheless, Steel has maintained in his conversations with FIRE and PEN America that he was told about complaints that targeted the sculptures. 
In conjunction, FIRE and PEN America have continuously cited Steel's meeting with Canada, when the professor was reportedly told the statues were removed because of those complaints, and Canada's own October email nodding to "concerns from the community."
"When complainers become curators, student expression is sacrificed to the most sensitive members of the community," said Sarah McLaughlin, FIRE's senior program officer.
"Freedom of speech doesn't exist to protect only expression that everyone agrees with — it protects unpopular, raw, or uncomfortable expression that's too often threatened by censorship."
She continued: "We're relieved that the university restored the art, but we can't rest easy knowing that the university failed to make real assurances that they'll protect student expression over alleged community complaints. Beauty is in the eye of the beholder. But freedom of expression is not."