A major development slated for Kokomo's east side that mixes an eight-field baseball and softball complex with dozens of acres of commercial space jumped its first hurdle Tuesday evening.
The Kokomo City Plan Commission gave a unanimous favorable recommendation to a needed rezoning measure for land just northwest of where Markland Avenue, or Indiana 22, crosses under U.S. 31, an area expected to soon be home to Championship Park of Kokomo.
The rezoning – which would transition six parcels from a mix of residential classifications to a medium- to large-scale general commercial classification – will next be heard by the Kokomo Common Council, likely at its next meeting, at 6 p.m. July 29 in City Hall.
Following the anticipated rezoning approval, the project's developer, Henke Development Group, would require development plan approval from the Plan Commission later this year.
Also provided Tuesday was a timeline for the project. A full timeline was not included when it was announced early last week.
Henke Development Group CEO Steve Henke told the Tribune he hopes to start work on the project, weather permitting, before the end of 2019.
"The fields and everything would be completed and ready to play by sometime late next summer," said Henke.
"Certainly next year."
Work on the commercial portion of the project, he noted, is also expected to start this year. He expects at least four or five tenants to be in operation by 2020.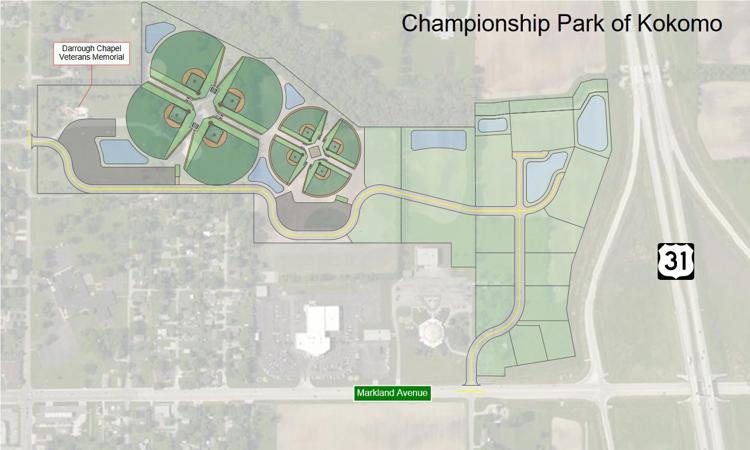 Plans for the $86 million development were unveiled July 2.
The project includes two clusters of multi-purpose athletic fields. The artificial-turf fields, according to a rendering, will be arranged in two quad-plex diamond-shaped setups with concessions and other amenities positioned in the middle of the arrangement.
In coordination with the fields, Henke Development Group, which worked on the enormous Grand Park Sports Complex in Westfield, plans to invest an estimated $77 million to develop 16 out-lots on land east of Darrough Chapel Park.
The development is expected to include new business, office, retail and restaurant space. Also mentioned in the announcement was space for new hotels.
Henke, who has worked on projects involving Cambria Suites and SpringHill Suites, said Tuesday exact plans remain fluid for how the commercial space will be populated.
"I suspect there would probably be a couple of hotels and multiple restaurants and other service-type industry business going with it," he remarked.
Henke said he has acquired all of the property needed for the project.
The city, meanwhile, plans to contribute an estimated $9 million to create the eight new multi-purpose fields, comprised of four high-school-sized and four youth-league-sized fields at Darrough Chapel Park.
All facilities will be outdoors and are meant to also support soccer and other sports.
To pay for its end, the city will establish a TIF, or Tax Increment Finance, district in the project area, according to Kokomo Mayor Greg Goodnight.
Parts of Darrough Chapel Park – like the Veteran's Memorial, which includes multiple dedications to veterans and their families, along with bricks and engravings honoring specific local veterans – will remain intact near the park's entrance.
The rest of the park – the project includes plans for multiple ponds – will be completely revamped.
Ken Kocher, who heads Bullpen Tournaments, which handles Grand Park's baseball tournaments, on Tuesday spoke in favor of the project.
"The beauty of Kokomo investing in this property is it's going to be – the need and demand is already there for bringing outside teams, not just local teams, I'm talking about during the summer now," noted Kocher.
"So those out-lots with gas stations and hotels and restaurants will pretty much immediately be full, in the summer months for sure."
Kocher believes Championship Park will be a "hot spot" for baseball tournaments and said it is "well-needed" and could even bolster Kokomo's Little League programs.
Following Kocher was former Major Leaguer and Kokomo native Joe Thatcher.
"A project like this I think would be an outstanding addition to our community. I don't think it's any secret that the baseball and softball landscape in Kokomo has decreased dramatically over the last decade or two," said Thatcher.
"Our beloved city tournament has less than half the teams that it used to have. But you can still see the excitement every year when the city tournament rolls around; you see the residents of Kokomo go out to the local parks and support our kids. And I just can't imagine what that excitement would be throughout the community if we had a place like Championship Park."
Thatcher said he has started discussions with "a lot of influential local people" in the sports community about what would be best for Kokomo and "how can we give our kids the best experience that they need and that they deserve."
Plan Commission Executive Director Greg Sheline said he played as a kid in the now-defunct Optimist Little League, which he called "a horrible place to play Little League baseball."
"I would've loved to play on a field like that," he said, gesturing toward a PowerPoint presentation of Championship Park.
Henke, meanwhile, called the project's location "ideal," citing its proximity to U.S. 31.
Not only will it allow easy access for baseball teams and parents and local residents, he believes, it will also pull in drivers looking for a place to eat or stay.
"And it's not only a matter of tournaments, but you have kids' practices, so now you've got a destination where they're all coming … so afterwards you want to get something to eat or you want get a soft drink, or you want an ice cream cone or whatever, all those type things," he said.
"It just brings activity to an area."
Similar to his presentation, Henke also discussed the possibility the development could allure multi-family and senior housing.
"It could attract that, yes," he said. "When we set these up, we set them up for your commercial, as well as it could be day care, it could be senior living or assisted living. There is all those type uses.
"The market then determines what all is going to go. But you at least have that flexibility so that when a good high-quality use that you want comes along, you're ready for that."
The Plan Commission on Tuesday also amended the Kokomo Zoning Ordinance and Map to ensure each of the project's parcels fall under the same regional center overlay, giving members one set of standards to consider during development plan approval.