If you build it, they will come.
That's the motto officials are adopting for Championship Park, a soon to be built baseball and softball complex that is expected to host travel sport leagues on the weekends at what is now Darrough Chapel Park.
City officials, council members, project developer Steve Henke and former Major League Baseball pitcher and Kokomo native Joe Thatcher spoke Wednesday morning at the project's groundbreaking.
Those who spoke say the complex will not only attract the dozens of travel teams who find themselves on the waitlist to play at Westfield's similar but much larger 31 multi-purpose field Grand Park complex, but also the out-of-town families who will spend their money at area restaurants and hotels.
"It [Grand Park] has paid off immensely for them [Westfield]," Henke, CEO of Henke Development Group which also developed Grand Park, said. "I think there was something like 200,000 hotel room nights last year as a result of Grand Park. This brought a tremendous economic development for restaurants, services, barber shops and grocery stores with people coming to town."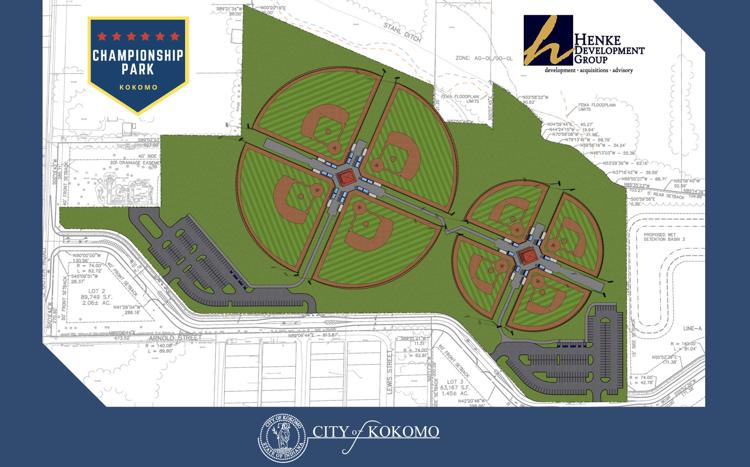 City officials are hoping for a similar residual effect when Championship Park opens. The $11.4 million complex will include four high-school-sized and four youth-league-sized fields, concessions, parking and restrooms. All the fields will be outdoors and are meant to also support soccer and other sports. The city will own the fields but will contract out the daily management of them.
Construction – led by Henke Development Group – is set to begin next month with completion currently planned for November and play beginning in spring 2021.
Directly east of the complex, Henke is planning on developing commercial property, including multiple restaurants and service industry businesses and possibly a few hotels. Henke told the Tribune earlier this month he hopes to begin selling commercial leases later this year. The property taxes from the commercial development will go toward paying the $10.6 million bond the city is selling to pay for the complex's construction.
Looming large over the development is the effect it will have on the city's youth baseball and softball leagues, which have seen declining membership over the past several years. It's a topic that has been brought up every time the project has been discussed in public meetings.
Wednesday was no different, with officials believing the leagues will benefit and possibly see a revival due to Championship Park giving the kids state-of-the-art fields to play on.
The Eastside, Southside, Northside and UCT youth baseball, Babe Ruth and local softball leagues will consolidate into one league in 2021 as the newly formed Kokomo United Baseball and Softball Organization (KUBS) and is expected to play games at Championship Park during the weekdays while also maintaining and utilizing their current ballparks for practices.
"This Championship Park is really going to give us an opportunity to move baseball and softball into the next phase, into the future," Thatcher, chairman of KUBS, said. "Traditionally ... the kids stayed locally and played with their friends, but now with the KUBS organization and having a citywide league, kids are going to have the opportunity to play with other kids from all different parts of our community. In these days and these times, it's important to have that diversity."