The Kokomo Common Council Monday unanimously approved nearly $19 million in spending that will be spread across a variety of city projects, including Wildcat Creek work and a new parking garage.
Much of the additional appropriations – totaling exactly $18.99 million – are slated to come from the city's general fund, while the remaining money will be pulled from the park fund.
Following Monday's approval a public hearing about the additional appropriations will be held at 6 p.m. June 24 at City Hall. The appropriations, contained in an ordinance, require a second approval from council members.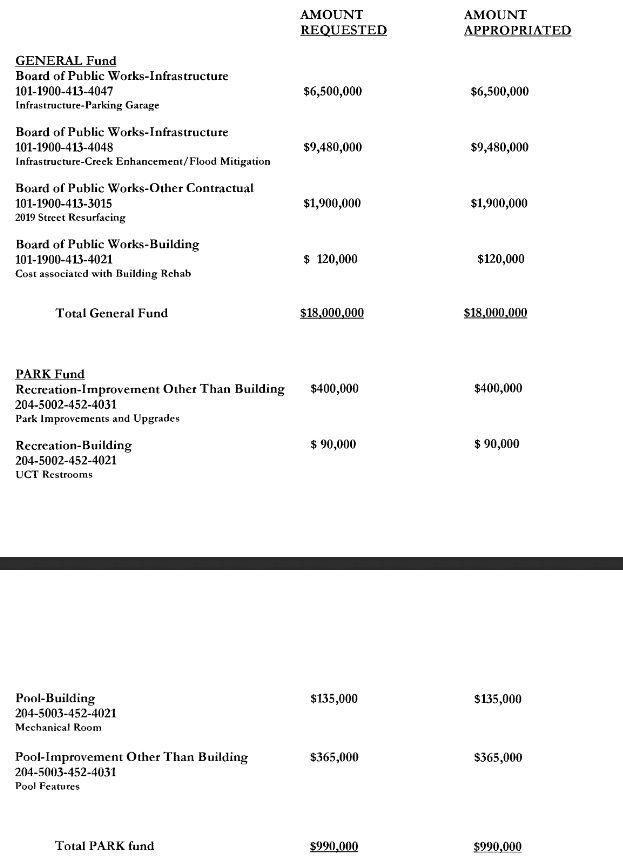 "The parking garage part I thought was important. I'm always hearing comments that there is no parking downtown, so this would certainly ease that situation," said Common Council Vice President Mike Kennedy, who sponsored the spending ordinance.
"The infrastructure improvements we need, as well as any other improvements through the parks department and [its] activity is going to be important as well."
General fund
The largest individual amount approved by the council was $9.48 million for what was referred to on council documents as "creek enhancement/flood mitigation."
A further explanation provided to the Tribune by Kokomo Deputy Mayor David Tharp described a multi-year, three-phase project affecting portions of Wildcat Creek that run through downtown Kokomo. The spending approved Monday is for the project's third phase.
"The project eliminated one [Combined Sewer Overflow] and reduced the chances another would activate," he said.
"All of that work was in impacted soil, which was required to be taken to a landfill. Overall, the project itself reduces the base flood elevation as well as the impacts of flooding on nearby properties."
In conjunction, Kennedy said recent outbursts of rain have highlighted the need for continued flood mitigation efforts and therefore called the Wildcat Creek spending a "plus."
The funding approved Monday, said Tharp, "will allow [the project] to be completed." Work is expected to be finished by the end of the year.
"This funding is for the rest of the work, which goes between Washington and Apperson on both sides [of the creek]," said Tharp.
The project's first phase included stretches of the creek between Main and Union streets on the south side, while its second phase was on the south side between Washington and Main streets, according to Kokomo city engineer Carey Stranahan, who previously noted  the project includes trail improvements.
Tharp, meanwhile, added: "Wildcat Creek is not only an important natural and environmental asset to our community, it is also a recreational and economic catalyst. This project protects the environmental resilience of the Wildcat, enabling our community [to] enjoy it for generations to come."
He said the project creates a loop on both sides of Wildcat Creek from Washington Street to Apperson Way, providing "pedestrian and bicycle access to several private developments, as well as connectivity via the Walk of Excellence and the Industrial Heritage Trail to main neighborhoods through the city and, connecting to the Nickel Plate Trail, to points north in Miami and Fulton [counties].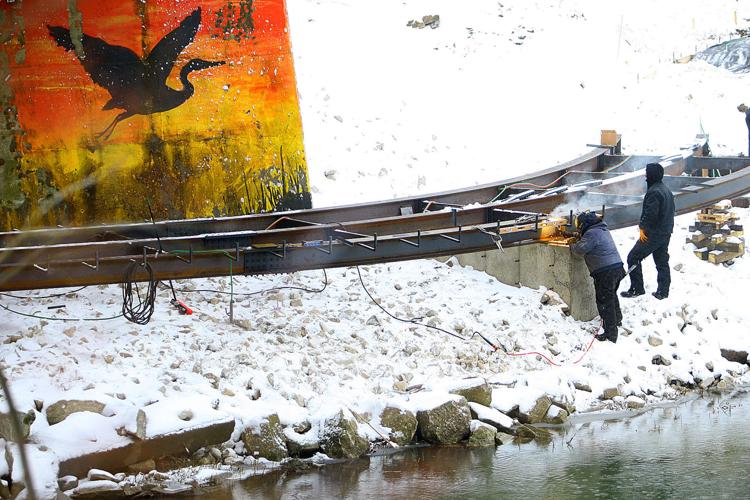 Council members also approved $6.5 million for a public parking garage that has been added to the downtown hotel and conference center project.
Officials announced last week the four-level parking garage, which will be the second parking garage in downtown Kokomo, had become part of the development. The garage will be located at the northwest corner of Superior and Union streets and will have a Superior Street entrance.
A parking lot is currently located on the corner.
Kokomo Mayor Greg Goodnight has said the city will pay cash for the garage, which it will own and develop.
"Due to the city's strong financial shape and cash reserves, there will be no bonding required for this mixed use garage," noted Goodnight in a statement, saying it "will be available for visitors to the hotel, conference center, auto museum and for the general public for daily and event use."
An additional $1.9 million was approved for this year's street resurfacing efforts, a total Tharp called "similar to last year and in line with our annual needs." In response to a question about where money will be spent, he said: "Projects are still being finalized."
Lastly, the council approved $120,000 for "cost associated with building rehab," which will go to SHAK Makerspace for exterior and infrastructure improvements.
Park fund
Approved from the city's park fund, meanwhile, was a total of $990,000.
That includes $365,000 in spending toward an aquatic playground including slides, dumping buckets, water cannons and mesh tubes that is part of a new pool area at Kokomo Beach.
The new amenity has not yet opened, although Tharp said its anticipated opening will come "soon."
Also approved was $135,000 toward Kokomo Beach's mechanical room.
A new skate park is coming to Foster Park "later this summer," city officials announced today.
Kokomo Parks Superintendent Torrey Roe wrote in a memorandum earlier this year the parks department "needs to construct a new mechanical room to house the circulation system and pump equipment for our new play feature."
In addition, $90,000 was OK'd for restrooms slated to be rebuilt at UCT Park.
The biggest chunk of park fund money approved by council members, however, was $400,000 "for park improvements and upgrades."
City officials announced Tuesday a new Foster Park skate park will be included within that chunk of money.