Editor's note: The article has been updated with the new hours of operation.
A forgotten fun park on Kokomo's south side will soon be resurrected when City of Firsts Adventure Park opens this month, breathing new life into the site previously occupied by Kokomo Raceway, a once-lively Indian Heights spot that had become a dilapidated eyesore in recent years.
Jesse Gonzales and his parents, Danny and Robyn, purchased the property last September and have been renovating the space, which will feature a 1,000-foot go-kart track, 36 holes of miniature golf, six batting cages and an arcade room when complete.
"I live right off off 26," said Jesse, "and every day I drove by this place and it was one of those things where so many people had told me they thought about buying the place, but nobody ever did.
"One day, and I figured the number would probably be way out of my league, but I just decided to call and find out."
He was happy that he did, as he got the property for under $160,000.
That's when the real work began.
"It was an extreme challenge to rehabilitate this place," Jesse said. "Every last nook and cranny in this place, something was going on with it."
In the arcade area, all of the redemption ticket games have been removed. An air hockey table, pinball machines and arcade games now occupy the space along with an expanded party room that can host larger groups than Kokomo Raceway did.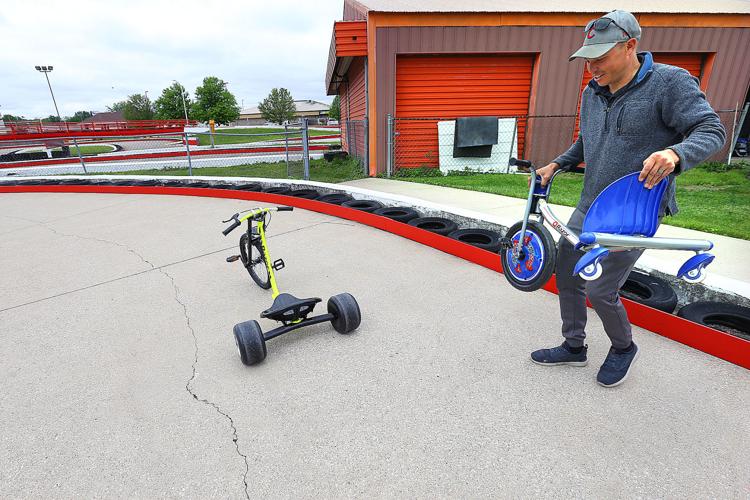 "This place looked like you took a step back into the 1970s," Jesse said of the arcade area. "It was covered in duct tape everywhere."
"All the redemption games, we didn't want to compete with Chuck E. Cheese, I figured I could go retro style and buy some games used, just trying to get something in here to fill the floor, and that's kind of the direction we're going with the inside."
Outside, past patrons will definitely notice a new look. Many of the fences are gone, offering a more open and movable space, and the landscaping, courtesy of local landscaper Dave Landin and Dave's Landscaping will incorporate a variety of river rock, mulch and plants to offer a pleasing and more maintainable atmosphere.
Giant Jenga and Connect Four games will occupy another outdoor space, which could also feature an ice skating rink in the winter months, and there will also be a pedal cart area for both adults and youth.
New carpeting has been installed on each of the 18-hole golf courses that wrap around the complex. Fresh paint is everywhere, and batting cages – three for softball and three for baseball – feature recalibrated machines and refurbished netting.
"I think the most challenging thing was to learn about each individual entity," Jesse said. "Learning to work on batting cages and how the machine itself operates. How to diagnose the problems, how to twine netting all the way through on that entire thing. What I thought was going to be a one-week job turned into four or five weeks."
The go-kart track has also seen plenty of work with fresh paint, new concrete poured on the bridge area and additional landscaping as well as go-karts that promise a better ride.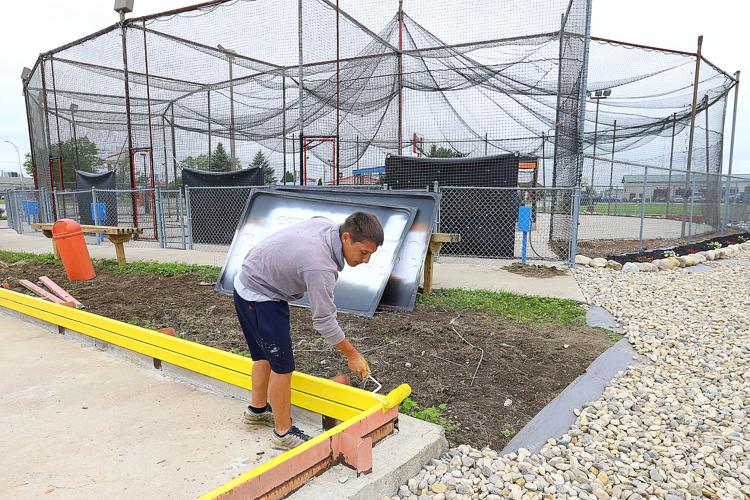 "All the go-karts have been rebuilt," Jesse said. "I used to own a body shop so I painted most of them. New steering columns, new brakes, new tires, new engines, complete overhaul.
"People won't be saying there were only three or four go-karts operable. We're going to start the beginning of the season with 10 solid, operable go-karts. And then as we expand through the season, we'll offer 21 go-karts total. The idea is to keep swapping them out and they don't wear out as fast."
The facility will also offer an adult night with corn hole leagues and tournaments, along with five faster "adult" go-karts, as well as an RC radio car night. Jesse and Danny noted that Tin Man Brewery will work with them on the events.
"The idea is working with local businesses outside of us," Jesse said. "We're investing into Kokomo. Not ourselves."
Jesse and Danny said they are also hoping to work local businesses into the mix through car sponsorship. Rates are available by calling 765-239-3366 or emailing cofadventurepark@gmail.com. Clifford signs, another local business and huge asset in the process according to Danny, has been doing the body wrapping on the go-karts.
The location at 409 Arrow St. suffered for years before being closed indefinitely in 2016. The idea of renaming the park fell in line with the idea of a fresh start.
"I think a big thing that I want to make people aware of is that we're going to be constantly growing and expanding into new adventures and ideas," Jesse said.
The arcade will utilize a free play concept, which will be included in the facility charge, with miniature golf and go-karting separate. There will be full-package options as well as add on options, though final prices are not yet set.
"It will be very affordable," Danny said. "We're going to make it public friendly. It's not going to be an extreme amount where the average person can't afford it.
"We see a need," Danny added. "We want to make it as attractive as possible with the funds that we have and that's why we're encouraging the community to support us so we can keep reinvesting."
The adventure park will be closed Mondays. For opening day on Tuesday, July 2, it will be open from 5-10 p.m. The closing time is set for 10 p.m. Tuesday through Thursday and also Sunday and midnight on Friday and Saturday.
For more information, visit cityoffirstsadventurepark.com or call 765-239-3366.