In two to three years, believes developer Scott Pitcher, the College Building in downtown Kokomo would have been beyond repair, a likely candidate for demolition, a lost opportunity.
Instead, that chance is not lost — and Pitcher is on his way toward injecting youth into a piece of Kokomo history.
The College Building, which was built in the early 20th century and once housed the Indiana Business College, is located at the intersection of Main and Taylor streets and is a beehive of activity as workers prepare the structure for what will be 14 apartment units and 3,500 square feet of commercial space.
Pitcher, who property records show acquired the building in September 2017, expects the project to be completed by the end of 2019 and maintain "as much of the historical integrity as we can," including its prominent brick facade. 
The building's first floor will have four two-bedroom apartments with their own outer entrances. The second floor, protected by a new roof, will include 10 one-bedroom apartments. 
Pitcher, who heads Fortune Companies, said the building is in a strong enough downtown location to also accommodate roughly half of the first floor as commercial space. It's undecided, yet, whether the commercial space will hold one or two tenants.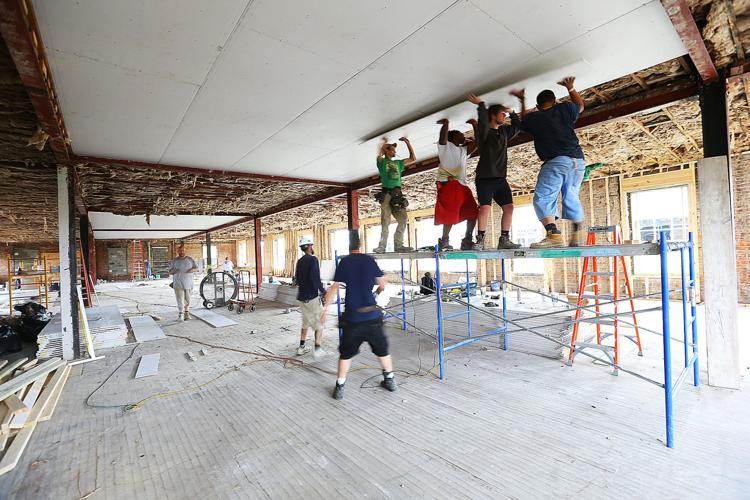 Pitcher said he is open to ideas about how the space is utilized.
"I think when people see how nice the building's going to look we should get a professional client downtown," he said. "Good clean professional space in downtown is becoming more valuable. Without a doubt."
Included in the project — which is being constructed in part by people from Howard County's work release center and financed by First Farmers Bank & Trust — will be its own parking lot.
About why he wanted to take on the College Building, which has for years sat empty, Pitcher's answer was succinct: "Well, I've worked on 100 buildings downtown. That was just the next one in line."
Pitcher, meanwhile, said the College Building apartments will target millennial workers, a group he believes is in need of additional housing options inside Kokomo's center. 
"The more of this product you add downtown, the more people move in, the more other people want to," he said.
"Anything that you read about urban renewal today, one of the top deals is: How do you get millennials downtown? You have to have this product. Coming out of the Great Recession a lot of millennials do not want to own a home."
The previously ingrained goal of owning a home, he noted, has been altered as millennials, who in many cases saw their parents lose their home or business during the depths of the recession, become more comfortable renting than previous generations. 
An article published by Vox in October 2018 cited a Bank of America study showing that while 72 percent of millennials still consider owning a home a "top priority," a host of factors — including high rent prices, student loan debt and the Great Recession's psychological effects — keep them from doing it.
So Pitcher is now hoping to present a market-rate, cost-effective housing option for millennials wanting to live in Kokomo's downtown. The College Building apartments will cost between $700 and $950 a month.
He also shot down the criticism of people who say too many apartments are being built in and around downtown Kokomo.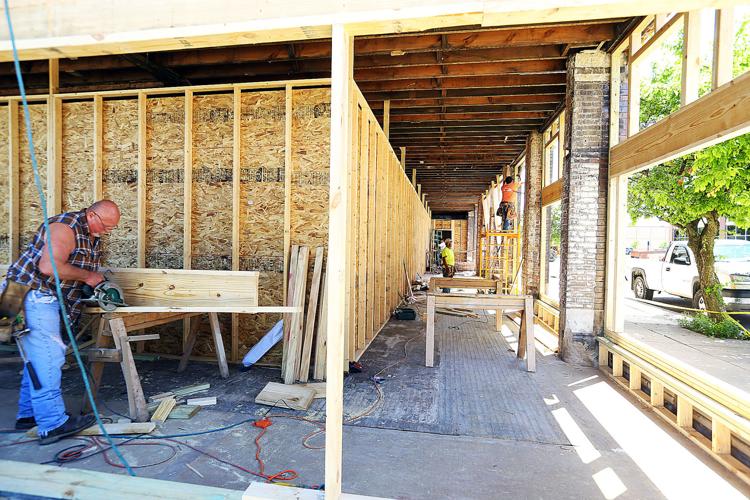 "We get calls every week from young people that want to live downtown, and we don't have the product for them," he said. "The people that say that don't answer our phones. They don't get the calls that we get from people wanting this space. Fourteen units, that is not a big number. And I'll guarantee in the next 14 days we'll get 14 calls.
"I don't get calls for $1,800 a month units. But I do get calls for entry-level units. And then a young person can decide: 'Well, if I live downtown I'll save money because I can walk to most places I need to go to.'"
Pitcher cited the downtown YMCA and similar developments as making it easier to attract millennials downtown.
"Walk right to the Y, walk right to the library, walk right to the restaurant. Young people like that," he noted.
It is not the first project involving Pitcher with a goal of serving young workers. 
Construction is underway on a 58-unit apartment development at the intersection of Sycamore Street and Apperson Way. The project includes three new buildings and the restoration of one historic building.
That market-rate housing project, headed by local investment group Four Star Partnership and being built by Fortune Companies, is meant to fill the same gap as the College Building. 
Pitcher said Tuesday that following rain delays the project is roughly 30 percent completed. He hopes to have the first two new buildings done by year-end and the third by the first quarter of 2020. 
"It's a gateway to the downtown, and we want to bring an asset that would enhance the downtown," said Pitcher to Kokomo City Plan Commission members
"These units are different from what's being built already. Some of the units are considered upper-end luxury, and some are tax-subsidized for low-to-moderate income people. This complex is being built for the people that kind of get left out in the middle."
Four Star Partnership, which has operated in Kokomo since 2006, "felt the location was ideal for the development," the group added previously, citing market studies that show a need for workforce housing, another term for affordable housing aimed at middle-income residents.