More than 7,000 miles and the Pacific Ocean separate Kokomo and Dongyang, China, but many in Howard County are hopeful the two cities' relationship could someday bring new jobs and a deeper global perspective to the local community.
Kokomo and Dongyang, paired as sister cities, have fostered an alliance that last month allowed some of Kokomo's most prominent officials to fly to China to explore varying business opportunities and even the possibility for a Dongyang-sponsored entertainment venue in Howard County.
The delegation, which spent roughly four days in the Dongyang area, included Kokomo Mayor Greg Goodnight, Howard County Commissioner Paul Wyman and Charlie Sparks, president and CEO of the Greater Kokomo Economic Development Alliance.
Since early 2013, Kokomo has cultivated a relationship with its sister city, when six representatives from the county-level city in Zhejiang province arrived in Kokomo. The formal sister city signing ceremony forged official ties between Kokomo, founded in the 1840s, and an area with an 1,800-year-old civilization.
KOKOMO – Local officials announced Friday a delegation of Kokomo representatives will travel…
Wood carving, a film studio called the "Hollywood" of China, a tradition of folk arts and a strong industrial growth pattern distinguish Dongyang. It is both a city and a geographic area about 2.5 times the size of Howard County.
Then, in October 2013, Goodnight headed a delegation of 12 local residents in a trip to Dongyang. The group included Wyman, current Kokomo Common Council member Steve Whikehart, IU Kokomo Chancellor Sue Sciame-Giesecke and others.
And now, local officials seem as committed as ever to reaping the global relationship's possible benefits, which they believe include various cultural and economic development opportunities.
On the most recent trip, in December, officials met with Zhejiang leaders and Dongyang representatives and visited the area's primary hospital – a broad, mutual concern about aging populations was discussed – and a local elementary school.
But most important were the roughly six company visits, including a magnetics factory and industrial businesses, and numerous plant tours.
Those interactions have prompted the question: Will China bring business to Kokomo?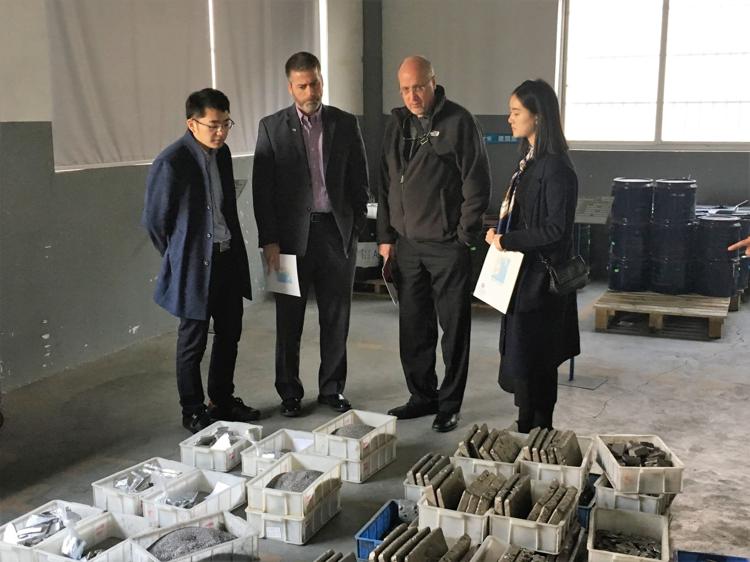 The Wall Street Journal in 2017 reported that a trend involving Chinese companies expanding in the U.S. is already well under way. The newspaper reported that "manufacturers in China face a host of pressures," including rising wages and land prices, and that many companies "have saturated their home market."
In conjunction, Goodnight – saying the relationship with Dongyang was always planned for more than a "one and done headline" – explained that Kokomo is putting its best foot forward.
"I can't emphasize this enough – it is long-term. It is building those relationships through cultural experiences, all those things," he said. "And then you hope that there are some economic benefits.
"Could it be some sort of distribution (center)? Because when we listen to presentations from all the businesses we sat in … they showed maps of where their customers are and the businesses that they sell to. Overwhelmingly, they are larger U.S. corporations that they do business with. And they're a supplier for that."
Additionally, Sparks said that at least two companies are expected to visit Kokomo in 2018. The companies, he said, are both automotive suppliers. One is involved in plastic injection moldings, the other in magnetics.
One company already had its visit planned, he said, but the Howard County group's visit to China achieved the goal of sparking additional interest in Kokomo.
"What we were able to do is get Kokomo added to the lists of communities [companies are] going to visit," he said, explaining that many foreign companies start with small U.S. investments before growing over time.
"There are some opportunities we have today that we didn't have…before the trip," Sparks added. He noted that local officials also met with a Chinese firm that discussed investing in Kokomo, even a specific facility, before the trip.
And Goodnight, speaking about a best-case scenario, highlighted the advancement of the technology sector and with it the possibility of Chinese companies locating a research facility or something similar in the Midwest.
It's important, he noted, to stay on the radar in China, a goal he and others believe can be boosted by in-person meetings and the growth of personal relationships that also foster the selling of Kokomo as a favorable economic landing spot.
The area around the city of Dongyang, China, is known as "The Land of Hills and Water," a fe…
One feature that makes Kokomo, long considered a manufacturing and industrial stalwart in north central Indiana, attractive to Chinese companies is the city's proximity to Chicago and its reputation as a "world-class city," he said.
Similarly, Kokomo is within one day's drive to 75 percent of the country's population, noted Wyman, and U.S. 31 is expected to soon provide a non-stop route from South Bend to Indianapolis.
"The location really makes sense," noted Wyman, later adding that "within the next five to 10 years, we really hope to start seeing the fruits of our labor."
Notably, Indiana Secretary of Commerce Jim Schellinger and Indiana Economic Development Corporation officials also traveled to China, specifically Zhejiang and Beijing, in December, visiting a variety of companies stationed in the country, according to the America China Society of Indiana.
"I don't want to mislead anybody to think that there's going to be a deal just from that visit. But I think that, coupled with the state following through, being a week or so behind us, kind of puts us on the forefront," Goodnight added.
The mayor later referenced the Chinese company Nashan Group, which opened a 435,000-square-foot aluminum extrusion manufacturing facility in Lafayette in 2012. The decision was made in part due to the Nashan president's experiences in Lafayette, which included earning his masters at Purdue University.
In conjunction, Wyman mentioned the nearly three decades of similar work done by officials in Columbus, Indiana, and the success they've had in bringing Japanese companies to their community.
Goodnight sees the same opportunities in Indiana University Kokomo and Kokomo High School's efforts in reaching out to foreign students, through exchange programs and more.
But easier to visualize is what Goodnight said he discussed with Dongyang's representatives, specifically "some sort of permanent presence in our community."
He noted that talks touched on the possibility of a future performance arts center in Kokomo, which could serve as a joint project between the two sister cities.
"We've talked about it. …We're throwing ideas around," said Goodnight, noting that Kokomo opened the related dialogue. He was clear, though, that discussions into a permanent project are far from definite.
"I don't want to get ahead of myself. That may or may not happen," he said about the idea of a Dongyang project of any sort in Kokomo.
Goodnight later said Kokomo would consider something similar in the Chinese city.