When Susan Puranen walked into St. Vincent Kokomo's Cancer Center three years ago, she noticed patients sitting in the waiting area who had lost their hair due to chemotherapy treatments.
And that gave the 77-year-old Wisconsin native an idea.
"I started thinking, 'Well, in Milwaukee, they always complained about being cold.' We had colder weather there, but we've got the same weather in Indiana," she said. "So I asked, 'Can I make hats and bring them in?' They said, 'Yeah, sure you can.' So I started doing it."
And for the last three years, she hasn't stopped.
Puranen has crocheted more than 600 stocking caps for any cancer patient at St. Vincent who wants one. Every hat is made from thick, soft yarn that can keep a head warm in the coldest weather.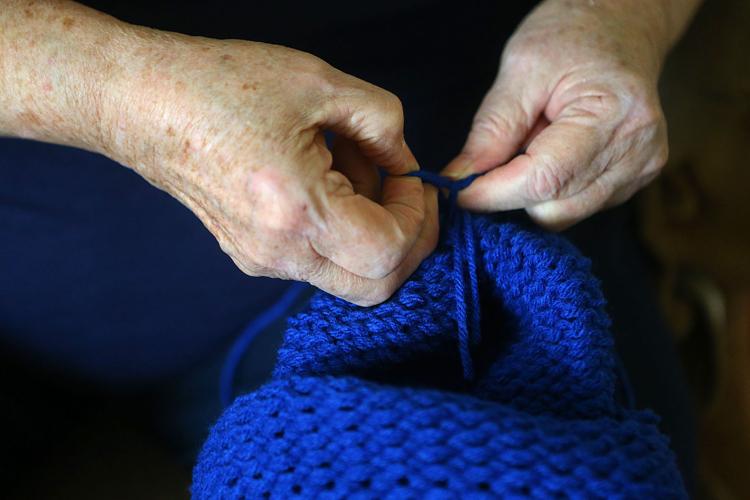 Puranen makes all the hats sitting in her living room recliner at her home on Marsha Drive, where her yarn, thread, hook and other tools sit neatly on the floor. Every other week, she makes the drive to the hospital to drop off seven or eight handmade hats.
And those hats mean more to the cancer patients than most people would think, said Kattie Crow, a scheduler at the front desk of the cancer center who knows Puranen.
"For a lot of them, getting something that someone actually took the time to make means so much," she said. "It shows that someone really does care about them and has a heart for them."
All the hats are in a basket in the lobby of the center for any patient to grab – no questions asked. Crow said that basket has now become a focal point of the lobby.
"The ladies love them," she said. "They take their time and go through each one and everyone comments how pretty and comfortable they are. Wigs, a lot of time, aren't comfortable. They can get hot and scratchy. But the hats give the women the ability to feel feminine even though they might not have hair."
Puranen is the only person doing what she's doing at St. Vincent Cancer Center. Crow said on rare occasions, people will drop of handmade items such as blankets or hats. But Puranen is the only one who consistently makes stocking caps for the patients.
Puranen said she has crocheted most of her life. When she lived in Milwaukee, Wisconsin, nearly 50 years ago, she made aprons for a cookie company. That's also when she started crocheting hats and blankets for residents at the nursing home where her mother was staying.
But when she moved to Kokomo 47 years ago with her husband, who took a job as an engineer at Delco, Puranen stopped making hats and turned her attention to raising her family.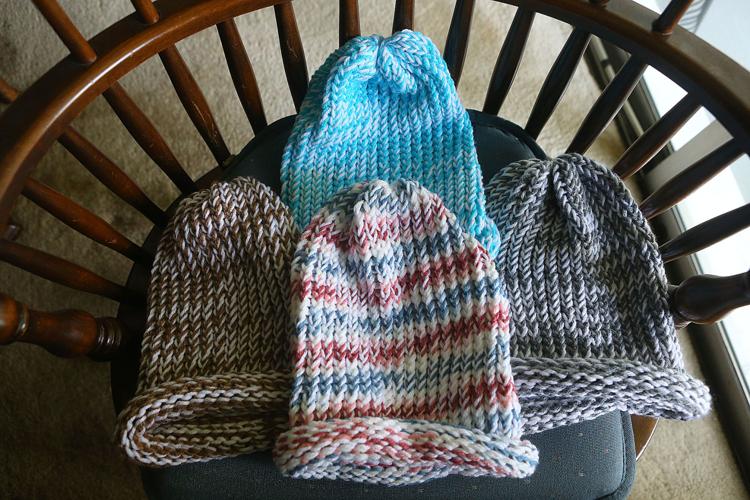 Even then, she never stopped crocheting. Carrie Janes, her daughter, said she always remembers her mom making something. When Puranen's grandkids started going to college, she crocheted them all blankets made with the colors of their alma mater.
But when she walked into St. Vincent Kokomo three years ago, she decided to turn her attention back to crafting items for people in need.
"I know there are churches and other places in town that probably do this, but I just decided to do this on my own," Puranen said. "Plus, I just needed something to do at night. I'm not one that can just sit there. So I thought, 'Well, maybe I can make hats for one of the hospitals.'"
What started as good-hearted outreach, though, quickly took on more meaning when her husband was diagnosed with lung cancer two years ago.
Puranen watched as he battled the disease with chemo, which left him weak and tired. In the end, her husband died from a perforated ulcer in October after 57 years of marriage.
Puranen said the experience strengthened her resolve to continue making more hats than ever. After all, she saw firsthand how much a free, handcrafted cap could mean for a cancer patient.
"I know my hats are going to a good cause," she said. "Chemo is expensive, let me tell you. After that, a lot of people can't afford to even buy a hat."
Although Puranen has been crocheting hats now for three years, she's only met a handful of the patients who are putting her creations to good use. But that's all right with her. She said she's not doing it for any kind of glory. She just wants to do something decent for people who are in a difficult situation.
"This little old lady once said, 'Will you take $2 for a hat?'" Puranen said. "I said, 'No, ma'am. I do this because I want to do it. You keep your money.' That little old lady just cried and said, 'I needed a hat so bad.' I figure if I can help somebody, then I'll help them."
And Puranen has helped more people at with her stocking caps than she will probably ever realize, said Crow, who has a front row seat to all the patients picking out hats from the lobby of the cancer center.
"Susan is very near and dear to everyone here at the cancer center, and it's written on the patients' faces," Crow said. "They can feel the love she puts into her hats."