Judi Townsend had goosebumps as she stood along Ind. 26 on Thursday watching a line of fire trucks, ambulances and police cars speed down the highway with their sirens blaring.
But it wasn't the sirens or the vehicles that gave Townsend chills. It was seeing the person riding in the silver van, waving to the crowds who stood by the road to greet her.
That person was Taylor Godfrey, the 18-year-old Western High School graduate who was seriously injured in a car crash in May and has fought for her life ever since in medical facilities in Fort Wayne and Michigan.
But after five months of surgeries, therapy and rehab, Godfrey returned home Thursday with a red-carpet greeting from friends, family and supporters, who lined up for miles along parts of U.S. 31 and Ind. 26 to cheer her on.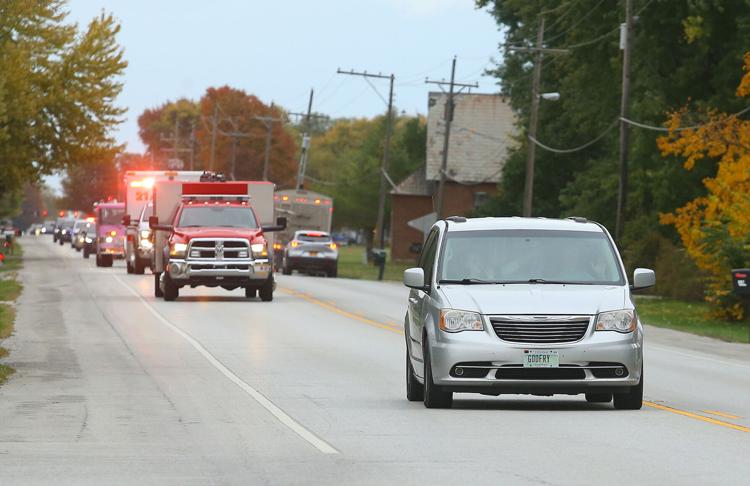 Townsend, a close friend to the Godfrey family, stood with a crowd of supporters near the intersection of Ind. 26 and Park Road as Taylor drove past surrounded by a full police escort. The crowd cheered and waved as Taylor smiled from the front seat of the van as it sped off toward home.
"It gives me goosebumps," Townsend said. "We weren't sure if she was ever going to make it home, so to see this today, it's like she's a living testament to the fact that if you fight and work hard, you can win that marathon of recovery."
That marathon started on May 11, when Taylor collided with a semi at the intersection of Ind. 26 and 400 West. The impact caused her vehicle to reduce to one-fourth of its original size, and left her with multiple external and internal injuries, including a severe head injury.
Taylor spent weeks in critical condition. By July, she had graduated to a regular wheelchair and her walking started to improve. In September, she successfully underwent a major head surgery that was the catalyst for her to return home on Thursday.
Through it all, thousands of people followed Taylor's journey on a Facebook group called Prayers4Taylor. The page has more than 9,550 followers, many of whom have shared thoughts, prayers and financial support with the family throughout Taylor's recovery.
On Thursday, the page was flooded with posts welcoming her home as people posted videos and pictures of the police escort.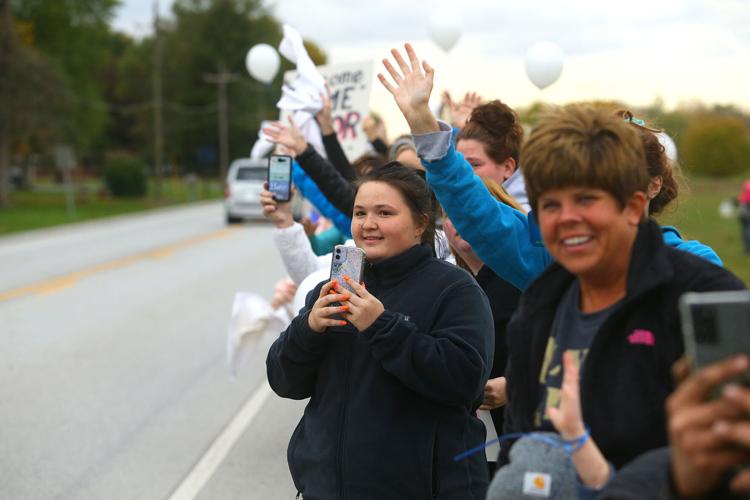 Bob Abresch, an occupational therapist whose granddaughter is Taylor's close friend, was one of the people standing in person holding a sign along the highway to welcome Taylor back. He said he has worked extensively with people with head injuries, so he knew what a miracle it was to see Taylor sitting comfortably in the van, alive and well and heading home.
"They'll have some up-and-down days, but things will start to level out," Abresch said. "Home is the best place for you if you can do it."
Her family agreed. Taylor's mom, Natalie, posted Thursday on the Prayers4Taylor page a photo of Taylor sitting comfortably at home on the couch, watching the family's dogs play in the backyard.
"We may have to get a hammer and chisel to get that smile off of her face!" Natalie wrote. " … Little sister is now asleep in bed, with a smile on her face!! I told her tonight, 'It was a good day!' and she replied with 'It was a very good day!'"
Townsend said it was a joy to see Taylor back in Howard County on Thursday, and although her road to recovery hasn't been easy, it's something everyone can learn from.
"She's an amazing girl and they're an amazing family," she said. "Taylor is an absolute miracle. She has shown us what fighting really is, along with her family."
But for the family, seeing the crowds line the road to welcome Taylor home showed them what it means to be truly loved by your friends and community.
"All of you that stood in the freezing, windy weather just to continue pouring out your love, and support to our girl, welcoming her home...it was absolutely amazing!!" Natalie wrote on Facebook. "I LOVE how in any level of need, this community really shows up and rallies, and rallies BIG!!
"There will NEVER be enough thank you's to express the magnitude of our gratefulness to each of you!!" she said.