Norris Jones, a Howard County Courthouse security officer and retired Kokomo Police Department official, filed his candidacy Thursday to run for sheriff.
Jones, a Democrat, will likely face off against current Howard County Sheriff's Dept. Capt. Jerry Asher, a Republican, in November's general election, unless a last second challenger to either candidate emerges before Friday's noon filing deadline.
Primary Election Day is May 8, followed by the general election on Nov. 6.
The two candidates have filed to replace Sheriff Steve Rogers. State law prohibits Rogers, in the midst of his second consecutive term, from running for a third term.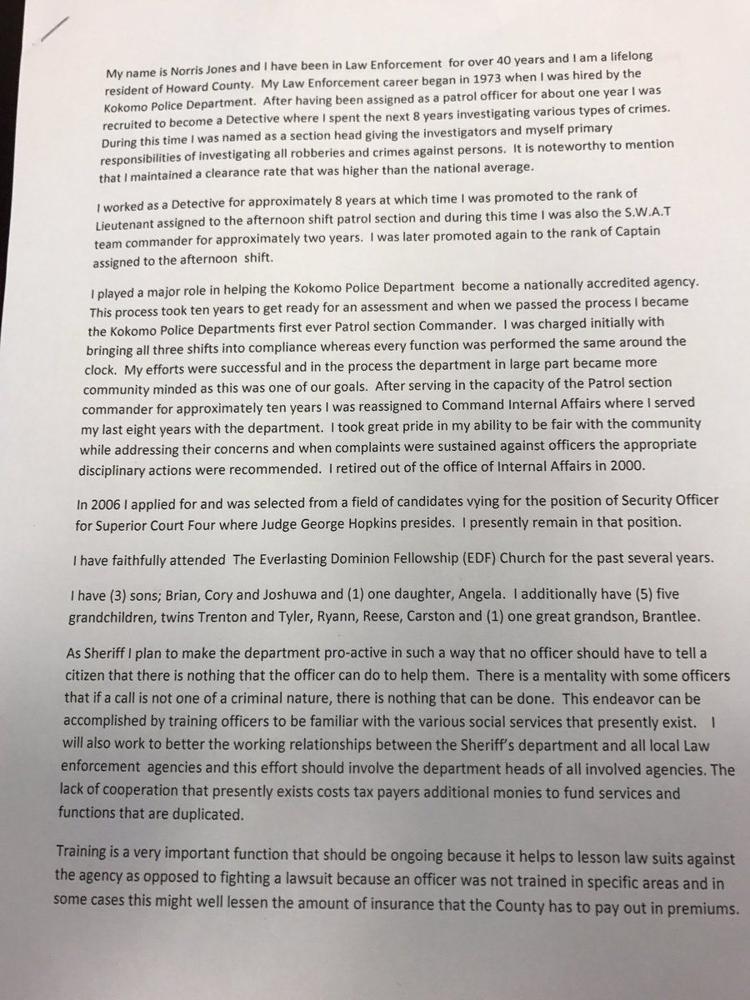 Jones has served as a security officer in Howard Superior Court 4 since 2006.
Previously, he worked as a patrol officer, detective, lieutenant, SWAT team commander and captain, and as the head of internal affairs before retiring from the KPD in 2000. Jones joined the department in 1973.
In fact, Jones also served as the department's first patrol section commander after the KPD became a nationally accredited agency. With the position, he was charged with ensuring all three shifts performed functions in an identical, compliant way.
In an interview after filing at the Howard County Clerk's Office Thursday, Jones said he felt obligated to run for sheriff.
"I feel like it's a calling that I have now," said Jones, whose campaign chair is KPD Capt. Kevin Summers. "I just feel like right now is the right time to do it. And that's been my driving force for actually going through with this."
Notably, in a release distributed to local media, Jones also said he would work to make officers more proactive in the local community.
"As sheriff I plan to make the department proactive in such a way that no officer should have to tell a citizen that there is nothing that the officer can do to help them," said Jones. "There is a mentality with some officers that if a call is not one of a criminal nature, there is nothing that can be done.
"This endeavor can be accomplished by training officers to be familiar with the various social services that presently exist."
Jones also explained the focus he will place on cooperation among the area's various agencies.  
KOKOMO – Howard County Sheriff's Dept. Capt. Jerry Asher declared his candidacy late Wednesd…
"I will also work to better the working relationships between the sheriff's department and all local law enforcement agencies, and this effort should involve the department heads of all involved agencies," he said. "The lack of cooperation that presently exists costs taxpayers additional monies to fund services and functions that are duplicated."
Jones noted he will place a premium on officer training as it helps to lessen lawsuits "as opposed to fighting a lawsuit because an officer was not trained in specific areas." He said such training could ultimately lessen the insurance payments made by Howard County.
Lastly, Jones said that running as a Democrat in a Republican-friendly county doesn't intimidate him. Instead, Jones explained, he will rely heavily on his reputation throughout Howard County.
"I actually feel like more so than not, I'm going to be running on my reputation," he said. "Not necessarily law enforcement, but the community in general."