KOKOMO — Teddi Creekmore, the nurse at Valparaiso High School, said many students and their parents go through their entire high school career without once talking to her or visiting her office.
But not this school year. This year, with the pandemic still going strong, Creekmore has become one of the most well-known employees in the district.  
"Everybody knows who their school nurse is now, because we've probably talked to you," she said. "We've definitely moved to the forefront."
It's the same at school buildings all across the state, where nurses have become the lynchpin in keeping COVID-19 at bay at the state's more than 290 school districts.
At the same time, the pandemic has fundamentally changed the role school nurses play in their district. No more is the job simply giving out medications and diagnosing day-to-day illness. Now, by default, they've become critical public health experts for their cities and counties.
That new role has brought on a historic workload and huge amounts of stress that most nurses never anticipated when they hired on to work in a school.
"It's not physically exhausting, but it is mentally," Creekmore said. "You've always got to be on top of your game. There's so much mental preparation every day to keep the school healthy. This is just a whole different ballgame for everybody."
And that new role has also highlighted a critical shortage of school nurses that have left some school districts scrambling to provide services during the first major pandemic in a century.
ELEVATED ROLE
Melissa Ream, a registered nurse at Hickory Center Elementary School in Allen County, said that before the pandemic it was rare to ever work outside the regular school day.
Now, she fields phone calls on the weekends and evenings from concerned parents whose child might have been exposed to COVID, and spends hours every day doing contact tracing to figure out who might have the virus.
"With school nursing, there's normally nothing I have to do outside the building unless I choose to, but now we have to make sure kids aren't coming to school if they get infected over the weekend," Ream said.
Every student who needs to stay at home or quarantine requires a 20-minute phone call to parents explaining protocols and policies, she said, and there have been lots of those phone calls made since the school year started.
Ream said she's also taken her job outside her school clinic and into the classroom to check on kids showing COVID symptoms, and to ensure her area stays clean and virus-free for kids who need to come there.
"I need to keep this clinic clean for our asthmatics and those who take medications," she said. "I'm just trying to keep those two worlds separate."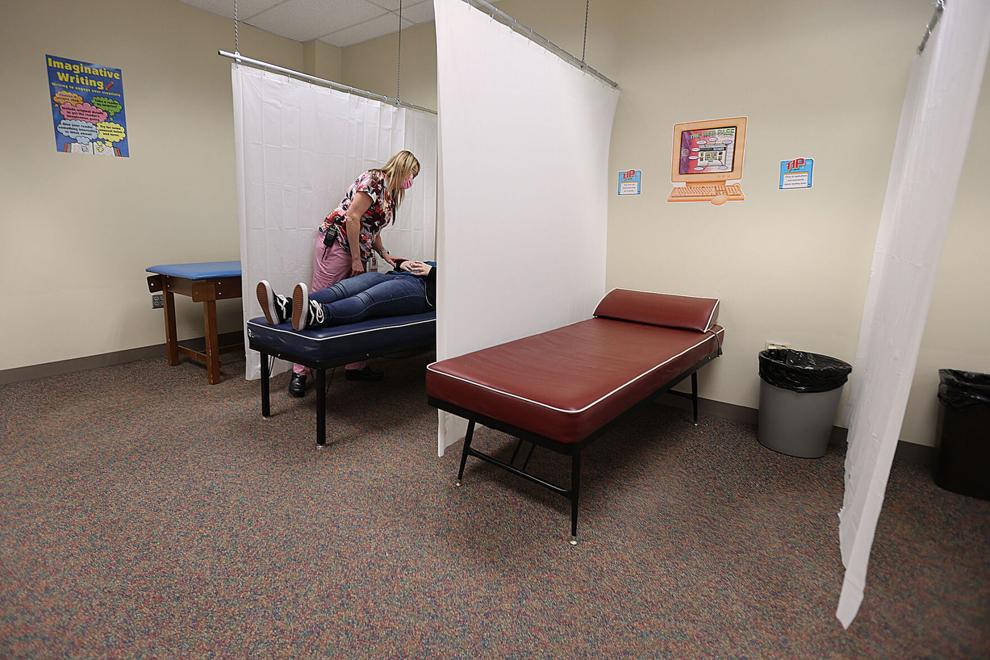 Deb Robarge, executive director of the Indiana Association of School Nurses, said that same story has played out for every school nurse during the pandemic.
"It's been very, very busy for school nurses," she said. "They're working way more hours than they normally would. It's lots of paperwork and lots of phone calls and lots of angry parents."
But the biggest challenge brought on by the pandemic has been simply trying to figure out which students are safe and which pose a threat to the health and safety of the building.
Robarge said for most school nurses, it's a daunting task to be the go-to COVID expert in their building, in charge of making difficult decisions about students' education.
"Among the myriad of symptoms that could be COVID, they're trying to decide if it could be the virus or allergies or just Johnny trying to get out of class," she said. "I know it's been really stressful for a lot of school nurses."
That's been the case for Valparaiso nurse Creekmore, who said taking on the role of COVID expert for the school has been the most crucial, and exhausting, part of the job.
"It's a lot more pressure," she said. "It's mentally exhausting, because you've got to be mentally on your game to decide who can come back to school or who should stay at home."
But without those nurses, school districts would be in dire straits on keeping COVID out of their buildings.
Christopher Smith, superintendent of Taylor Community Schools in Kokomo, said his district has a nurse for each of the district's buildings, and those nurses have been critical in advising the schools and serving as a liaison to the county health department during the pandemic.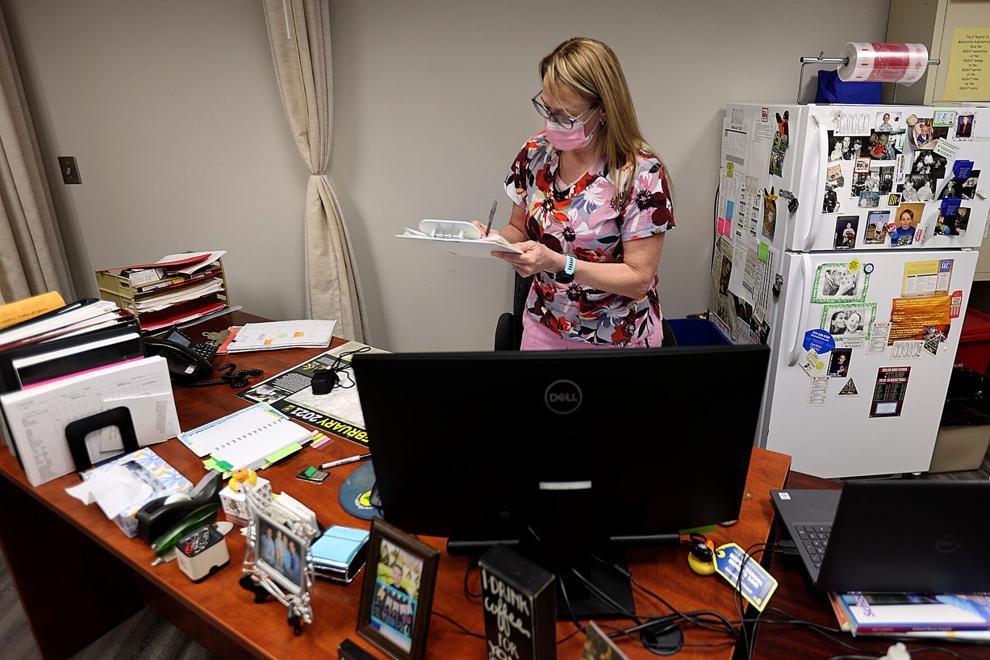 "I'm blessed to have two amazing nurses that are at the top of their game," Smith said. "They have been our life support. They've been working on weekends and helping principals make calls to parents." 
FALLING BEHIND
The pandemic has brought school nursing to the forefront, but it's also put a spotlight on the critical shortage of school nurses that has plagued Indiana, and other states, for years.
The National Association of School Nurses (NASN) said in regular years, there should be one one school nurse to every 750 students in a healthy student population.
When districts need daily professional nursing services, like during a pandemic, the association recommends one nurse per 225 students, and one nurse per 125 students in districts with complex healthcare needs.
Indiana law only requires school districts to have a nurse coordinator, not a nurse in every school building, which means many districts fall far short of NASN's recommended staffing levels.
At Fort Wayne Community Schools, the largest district in the state, more than half of the 34 nurses there are in charge of two buildings, according to its website.
Hickory Creek nurse Ream said given the amount of extra work and stress she's had from managing one building, it seems nearly impossible that nurses be required to handle multiple buildings.
"I can't even imagine," she said. "I know what it takes for me every day just to cover one building, so I can't imagine what it takes covering two or three buildings."
Robarge said it's even harder for districts that may only have one nurse for all their buildings during a time when contact tracing is essential for keeping COVID out of schools.
"It's definitely got to be harder for schools that don't have a nurse," she said. "I really don't know who would do that for schools without a nurse."
Robarge said the pandemic has also forced many nurses to put their traditional duties on the backburner as they deal with the imminent threat of the virus.
That means many districts across Indiana and the nation are falling behind on their regular vaccinations for measles and hepatitis A, which has raised concerns that those illnesses could hit schools hard later this year.
"We don't want measles, or any other vaccine-preventable diseases, to rear their ugly heads again," Robarge said. "Measles will easily rear its head again if we don't get our vaccination rates up to what they need to be."
Nurse Creekmore said that if nothing else, the pandemic has at least brought public awareness to the important role school nurses play in public health, and the importance of having enough school nurses to protect students and their families.
"I think school nurses are always important, but especially this year," she said. "I think it's essential to have a nurse in your school building. It would be detrimental not to."