A Dollar General is coming to Kokomo's north side.
Plans to bring a Dollar General to 1234 N. Washington St., at the southeast corner of Washington and North streets, were revealed this week during a Kokomo Board of Zoning Appeals meeting.
The site formerly housed a branch of Worldwide Jewelry & Pawn and was once home to Doc's Restaurant. The existing building is slated to be torn down as part of the project, although a timeline has not yet emerged.
Dollar General's corporate offices did not return a request for comment. Todd Wallace, director of engineering at Fishers-based Hamilton Designs, presented the case to the BZA Tuesday, confirming plans to build a Dollar General.
"The proposed project will improve the existing lot from a dormant, under-utilized property to a substantially improved lot," read Wallace from a findings-of-fact document.
"As a result, the value of the subject property is anticipated to substantially improve and adjacent property values similarly."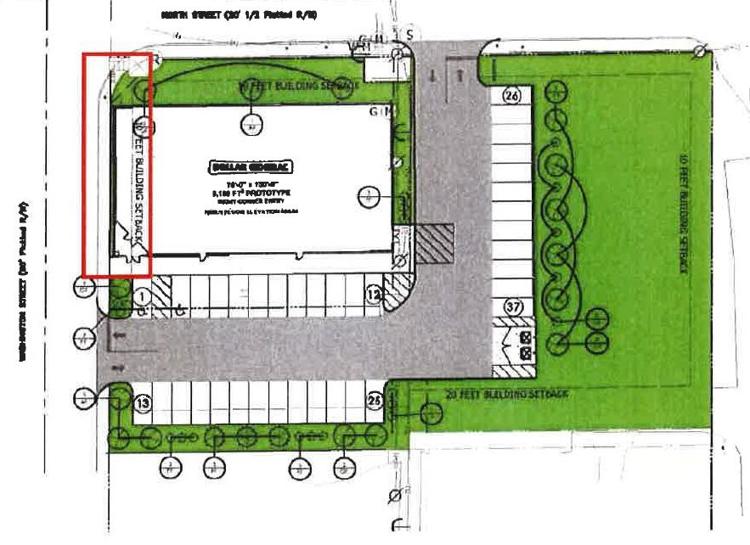 Site plans show the structure will sit close to Washington Street, a fact that necessitated a minimum front-yard setback variance approved Tuesday by the BZA. Parking is expected to be included along the building's south and east sides, along with swaths of green space.
Specifically, the development is slated to have only a one-foot setback along Washington Street, although BZA Executive Director Greg Sheline said it is not anticipated to block traffic views at the intersection, as it will be out of the "vision clearance triangle."
The City of Kokomo zoning ordinance typically requires a 10-foot front-yard setback.
The need to wedge the building into its planned location was necessitated by an abundance of utilities at the site, along with the placement of existing overhead powerlines, according to officials.
A staff report read by Sheline said "removing the old building and replacing it with a new (structure) will raise the value of the property and have a positive impact on this area."
The project still requires development plan approval from the Kokomo City Plan Commission at a later date.
Dollar General most recently opened its sixth location in Kokomo at 211 W. Markland Ave., the former home of Family Video.