Despite the emergence of construction plans at a public meeting this month, Dollar General says it has not yet made a formal decision on whether it will locate a store on Kokomo's north end.
A corporate official told the Tribune in an email that "we are currently in due diligence phase for a new Dollar General in Kokomo, Indiana that would be located at 1234 N. Washington St."
"This means we are reviewing the opportunity to add a new store in the area, but we have not committed to doing so just yet. Based on our current timeline, we anticipate to have a final decision on this by summer 2020," said Angela Petkovic, a public relations official with Dollar General Corp.
Her comments follow a Kokomo Board of Zoning Appeals meeting in early January, during which Todd Wallace, director of engineering at Fishers-based Hamilton Designs, said plans are to build a Dollar General at the site.
The site formerly housed a branch of Worldwide Jewelry & Pawn and was once home to Doc's Restaurant. The existing building is slated to be torn down as part of the project.
Property records show the site is owned by SLM Management LLC, which is registered to Daniel Mackowiak, based out of Bristol. The case was presented on the BZA agenda, however, as being headed by Second Circle Acquisitions LLC, a Carmel-based company registered to Joseph Leonard.
In conjunction with Wallace's comments, a rendering presented to the BZA shows the Dollar General logo at the corner of North and Washington streets.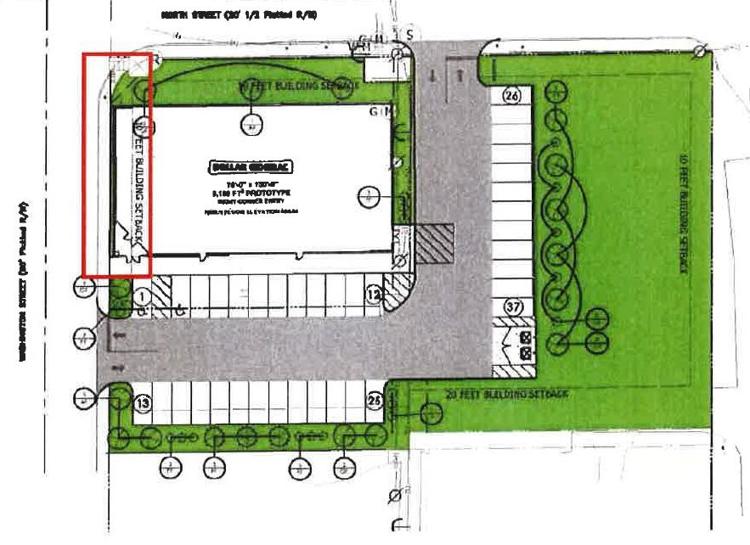 Site plans show the structure would sit close to Washington Street, a fact that necessitated a minimum front-yard setback variance approved by the BZA. If built, parking is expected to be included along the building's south and east sides, along with swaths of green space.
Dollar General most recently opened its sixth location in Kokomo at 211 W. Markland Ave., the former home of Family Video.
"The company looks for places where we can offer customers an easy and convenient shopping choice as we generally serve customers within a three to five mile radius, or 10-minute drive. We also take competitive factors, traffic patterns and community concerns into consideration," said Petkovic.
She noted "the store would employ approximately 6-10 employees, depending on the individual needs of the store."
The project would still require development plan approval from the Kokomo City Plan Commission at a later date.
"The proposed project will improve the existing lot from a dormant, under-utilized property to a substantially improved lot," read Wallace from a findings-of-fact document at the BZA meeting.
"As a result, the value of the subject property is anticipated to substantially improve and adjacent property values similarly."
A staff report read by BZA Executive Director Greg Sheline said "removing the old building and replacing it with a new [structure] will raise the value of the property and have a positive impact on this area."