U.S. Sen. Joe Donnelly, hitting the home stretch in one of 2018's most closely watched campaigns, made a pit stop Thursday at Main Street Café in downtown Kokomo before heading to a Fiat Chrysler Automobiles plant to greet workers during a shift change.
Donnelly, running for his first Senate re-election, is in a tight race against Republican challenger Mike Braun. The contest has been followed intently as Donnelly is considered one of the Senate's most vulnerable Democratic incumbents.
That vulnerability has left Donnelly running a centrist campaign inside a red state, criticizing the "radical left" and "socialists"  and pleding his support for ICE and an expanded border wall in one TV ad while highlighting his legislative work alongside President Donald Trump.
But on Thursday he received a ringing endorsement from Democratic Kokomo Mayor Greg Goodnight, who spoke to a crowd of supporters, elected officials and local candidates inside the café following Donnelly's arrival.
Goodnight referred directly to Donnelly's backing of the auto bailout during his time as a U.S. congressman. Since the bailout, FCA, formerly known as Chrysler Group LLC, has invested billions into Howard and Tipton counties.
.@GregGoodnight speaks today at a @JoeforIndiana campaign stop inside @MainSt_Cafe, crediting Donnelly for his support of the auto bailout. pic.twitter.com/xuOTuthZBe

— George Myers (@gmyerskt) October 25, 2018
"I know some of the polls showed that the public was against saving the American automobile industry," said Goodnight. "There were people that said, 'Let it close, let it go dark, let it go into foreclosure.' And he could've made the easy decision and said, 'This is what's popular.'
"And you didn't," continued Goodnight, pointing at Donnelly and generating applause. "It wasn't his faith in the polls, it was his faith in the American worker and in the American economy and cities like Kokomo. … When the chips were down and in our darkest hour, you were there for us."
After Donnelly finished greeting supporters, taking pictures and holding at least one baby – while sipping a Main Street coffee with "A Cup of Joe for Joe!" written on the side – he stepped aside to answer questions from local media about the tone of his campaign, Wednesday's pipe bomb scares and a migrant caravan that's led to renewed controversy about America's southern border.
Highlighting his bipartisan bonafides, Donnelly pointed to legislation signed by Trump Wednesday intended to help tackle the opioid crisis.
The legislation adds treatment options and gets the U.S. Postal Service to screen overseas packages for a synthetic form of opioids called Fentanyl that are being shipped largely from China.
And, said Donnelly, it "had some of my legislative proposals in it to end the need for opioids and working together to have advanced FDA approval for non-addictive painkillers."
He later commented on the most disturbing news of the week, calling a wave of pipe bombs addressed to prominent Democrats – including Bill and Hillary Clinton, Barack Obama, Joe Biden and others – and CNN  "an incredibly dangerous situation."
"And, you know, my job is to bring America together," said Donnelly. "I've never been a partisan, one side or the other. I've tried to make it so that we can bring people together, that we can focus on growing our country and making life better for everybody."
"When we talk about good things that can move our nation forward, we don't wind up in these situations," Donnelly added.
When asked whether Trump's rhetoric could have contributed to the thwarted attacks – many of the targets, specifically Hillary Clinton and CNN, are consistently disparaged by the president at rallies and in tweets – Donnelly was noncommittal.
"All I'll say is harsh rhetoric never helps any of these situations," he noted.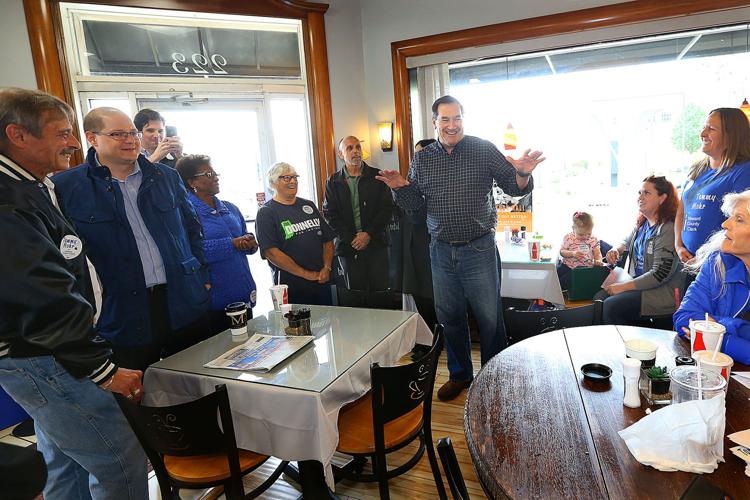 Donnelly stayed in the middle lane when answering questions about a caravan of thousands of migrants making its way through Mexico.
The Trump administration is planning to dispatch at least 800 active duty troops to the southern border, and Defense Secretary Jim Mattis is expected to sign an order sending the troops to the border, bolstering National Guard forces already there, an official told the Associated Press Thursday.
The action comes as Trump has spent recent days calling attention to the caravan of Central Americans slowly making their way by foot into southern Mexico, but still more than 1,000 miles from U.S. soil.
"We have to do whatever's necessary to protect our border," said Donnelly. "That entails whatever's necessary, whether it's military or whether it is border agents, whatever we need to do."
Trump has claimed that "Middle Easterners" are among the caravan, although the president admitted Tuesday: "There's no proof of anything. But there could very well be."
In response to a follow-up question about whether "Middle Easterners" are in the caravan, and whether it matters, Donnelly stayed focused on border security.
"Our job is to protect our borders, and that's what we're going to do."
Donnelly's challenger will also greet Howard County voters before Election Day.
Braun, the local GOP tweeted, is "making Howard County a priority" and will visit the party's headquarters at 6:30 p.m. Friday, Nov. 2, just days before the Nov. 6 election. GOP headquarters are located at 208 E. Mulberry St.
The Associated Press contributed to this report.