The downtown Kokomo post office is set to begin locking up overnight for the first time in its history due to ongoing vandalism and vagrancy that officials say have put the safety of customers and employees at risk.
The branch at 308 E. Sycamore St. has always allowed around-the-clock access to its lobby so customers could access their P.O. Box any time on any day of the week.
But starting Monday, the facility is locking up from 8 p.m. to 8:30 a.m. Monday through Saturday, and closing on Sundays.
Kokomo Postmaster Dennis Sweeney said the decision came after homeless people have been found sleeping in the lobby. There have also been incidents where people have urinated inside the facility or been found smoking, he said.
But the most serious safety concern came after officials found knives hidden behind posters hanging in the lobby.
"That put the cherry on top of the cake, so to speak," Sweeney said. "The incidents have just intensified this year."
Jon Eads, a retired Kokomo resident who has had a P.O. Box at the branch for more than 20 years, said he's definitely noticed more homeless people at the facility this year.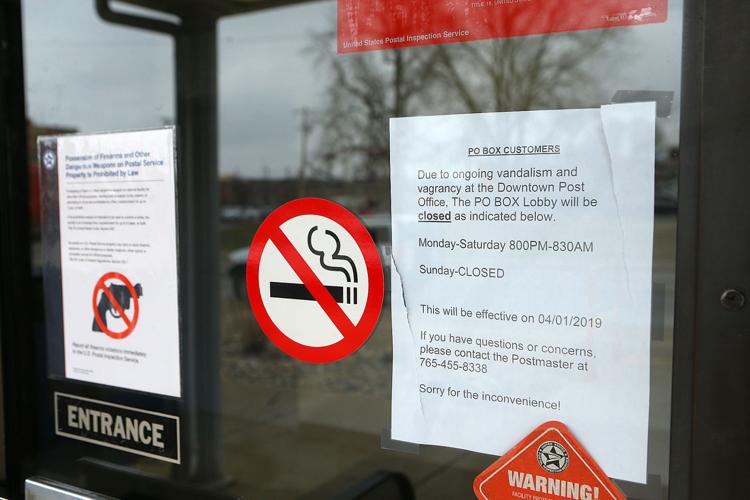 He said this winter he came in early to get his mail and found a man sleeping in a corner. It happened again when he found a woman sleeping on the floor.
"It was startling," Eads said. "The woman was startled, too, when I came in. It's just plain vagrancy. It's obvious they're having a problem there."
Eads said he was surprised it's become an issue considering the Kokomo Police Department is located a block away from the post office, and a parking lot for patrol cars sits right across from the branch.
Sweeney said the incidents are simply the result of a handful of people who choose not to go to the Kokomo Rescue Mission or other outreaches to find shelter, and instead abuse the post office's open-door policy.
"It's by no means a negative reflection on the city," he said. "It's just a group of people who are causing the problem."
For Eads, who usually picked up his mail during the times the office will now be closed, it's frustrating to see the branch close overnight because of vagrancy.
"Our lifestyle is being changed because of what's going on," he said. "It doesn't seem fair to me."
But, Sweeney said, once officials found knives inside the facility, the decision to lock up at night had to be made.
"Bottom line, it's about the safety of our employees and the customers who go there," he said. "We've got to have caution, caution, caution."
Sweeney said he doesn't think closing the lobby overnight will have a big impact on customers, who rarely stop by at night to pick up mail.
But, he said, he may consider re-implementing 24-hour access to the lobby at some point down the road depending on circumstances.
"We just have to see how it goes," Sweeney said. "Unless there's a reason to change it back, I don't see why we would. Right now, it's just a matter getting used to it being closed at night."
The change to lobby hours will not affect the retail hours at the facility, which are 8:30 a.m. to 5 p.m. Monday through Friday, and 8:30 a.m. to noon on Saturdays.
The lobby of Kokomo's main post office at 2719 South Webster Street will remain open 24-7 and has a self-service stamp machine.