Local skaters will get a kickflip to know the new skate park at Foster Park is nearing completion.
The skate park was designed and built by Bloomington-based Hunger Skateparks. Company owner, Bart Smith, said the project should be complete by Christmas.
The group has recently worked on skate parks in New Albany and Columbus as well.
Smith noted the project went off without problems and said the Kokomo Parks and Recreation Department was very helpful.
The city announced in June that an "Urban Plaza" skate park would be constructed in the park, near the existing playground area. The 12,455-square-foot skate park "will have a street skating feel and will be close to the Walk of Excellence," according to a media release.
"This additional amenity will be centrally-located and provide easy access to the trails, and other youth- and family-centered activities," said Kokomo Mayor Greg Goodnight in June. "We have noticed an increase in skating activity and a transition to a more street style of skating in Kokomo. Building this in Foster Park will provide a quality venue for those wanting a street-style skate experience."
The park is at Foster Park's east end, between the playground and Wildcat Creek, in an area that was a parking lot. Additional parking will be added near the playground to replace the outgoing parking availability.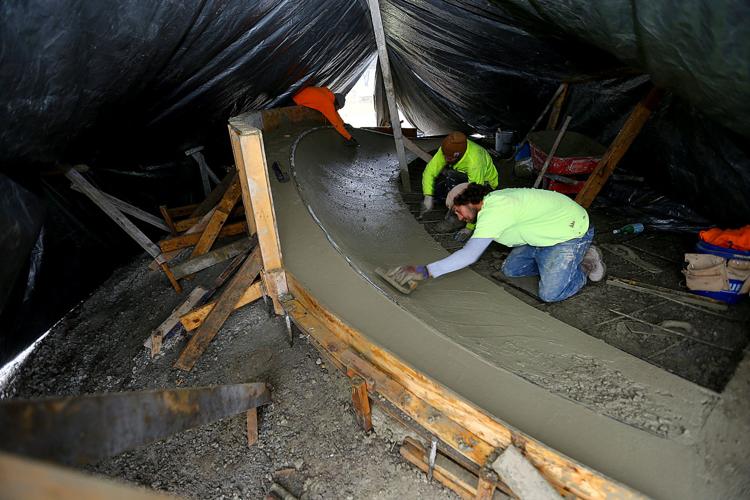 The city said the mayor's office and the parks department "worked closely with the local skateboarding community on design and location for the new skate park," specifically with owner Taylor Sherik and Matt Clark and the team at Mainstreet Skatepark, 1016 S. Main St.
Sherik is thrilled about the park's centralized location downtown, making it easier to access.
"Pipeline in Jackson Morrow is … on the edge of town down on the south side and it's so hard for kids to be able to ride there," he said. "I love that skate park. I grew up here, I was born in Kokomo and I've been skating that park my whole life, but it's nice to have a counteractive to it where it's a little bit more accessible ride-ability wise and also to get to."
The Mainstreet Skatepark group helped design the incoming Foster Park skate park and "identify what type of skate park our community needs and what skaters are looking for," according to city officials.
The park, which will be free, was designed for both beginners and expert skaters and will include bowls, ramps, handrail boxes and "a blend of varied skate terrain under LED lighting."
"I think it's going to pump a little bit of rejuvenation into the skateboard community here in town, and also I think it's going to encourage a lot more kids to want to get outside … " Sherik said.
Kokomo is currently home to two other skate parks – one near Jackson Morrow Park and another at Studebaker Park.
Mainstreet Skatepark
In July, Mainstreet Skatepark closed its doors after 20 years and began the transition to a shop selling skating supplies and merchandise.
The business opened in 1996 at 1016 S. Main St. It was the city's only indoor skate park and included two floors of half-pipes, ramps and rails.
Now, the business moved to a smaller space in the same building and became a shop-only operation, along with a single mini ramp and a performance area for bands. The former skate park area will be empty until the landlord can find another occupant.
The shop is located upstairs near where the park used to be located.
Mainstreet Skatepark's new location in the same building is now ready to open and has hosted some events. Normal operation hours have not yet been set, but Sherik said to check the Mainstreet Skatepark Facebook page for updates.
Sherik is glad to still have a skate shop open to the public and the direct route to the new park.
"You can actually take the trail under the bridge by the fire department, then cross the pedestrian bridge and continue down the trail and it takes you right to Mainstreet Skate," he said.
"Skate parks, skate shops and things like that for [the skateboarding] community are so huge. It's like a focal meeting point where everyone can go."