Kokomo's historic Tudor Building – sitting in a stretch of Buckeye Street that in recent years has seen a renaissance of food, drinks and shopping – will by the end of 2020 be home to a mix of retail and apartments.
The project will be undertaken by Kokomo attorney Sara Pitcher and her husband, Ryan Pitcher, who acquired the Tudor Building in November and have their sights set on a renovation that will include tearing down the structure's back side and revamping its interior.
Inside the now largely-gutted building the couple plans to develop three retail spaces on the first floor, along with five apartments each on the second and third floor, for a total of 10 market-rate apartments at 513 N. Buckeye St.
Following the demolition of the back, or west, side of the building – the area will be utilized for 14 parking spaces – the Tudor Building will include between 9,000 and 10,000 square feet of usable space, or around 3,000 per floor.
"We're going to go for nice finishes. With the building being gutted, it's really nice because we get to start from scratch on this project and pick all of our finishes and all of our layouts and everything," noted Ryan Pitcher, who said the work he and his wife did renovating her current law office at 209 W. Walnut St. inspired them to take on another, similar project like the Tudor Building.
"We've been looking for another project in downtown Kokomo because we just like Kokomo and the way it's growing, and the atmosphere, especially in this area that the Tudor Building is in. It's really nice."
Still up in the air is the type of retail that will inhabit the first floor and join what has become one of Kokomo's trendiest stretches and one of its most popular nightlife destinations, in large part due to the opening of places like Tin Man Brewing Company, Oscar's Pizza, Marble The Steakhouse, 3 Amigos and more.
"We are pretty open at this point about what we'll put in. We'll build it to suit the needs to whoever wants to be in it. There are boutiques coming into town, different restaurants, all kinds of different stuff popping up, so whatever would suit that area well," said Ryan Pitcher, a sales supervisor in Indianapolis for Interstate Batteries who was born and raised in Kokomo.
"We love that strip. We hang out down there all the time, eat down there all the time. And then we also were drawn to the Tudor Building. We like the history in it, being over 100 years old. We're really excited about bringing that back to life."
He added: "We think it's going to be a really cool project, as well. And it fits well down in that area already, so we don't want to change it a bunch. We don't want to change the look of it a bunch. We want to keep that history of that building intact in that area."
The west-side demolition, Ryan Pitcher noted, will take the Tudor Building back to its original size following an expansion that created around 8,000 additional square feet. It's unclear exactly when that expansion took place.
The building, meanwhile, first opened as a produce shipping and packing facility somewhere around the turn of the 20th century, called the S. Tudor and Co. Packing House.
Information provided by the Howard County Historical Society, and printed on the back of a Kokomo Daily Dispatch photo from 1902 or 1903, noted when describing the company's early stages at the site that "shipping and packing departments are located in the main section of the building, with the offices in front.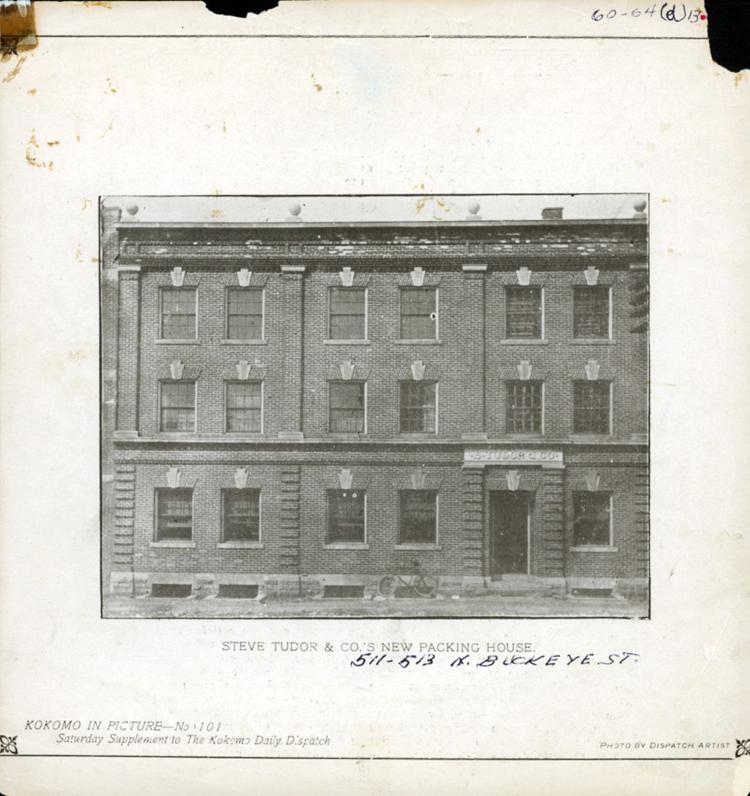 "The equipment throughout is of the best, and it is safe to say that no packing firm of the country is better situated to handle produce than the firm which occupies the elegant structure displayed."
Shipments sent from the Tudor Building traveled to New York, Philadelphia and Boston. The egg market was considered especially important, along with the butter trade and chickens and "other fowls."
"It is stable and solid. It is owned by Kokomo citizens, who have shown in the construction of the magnificent building that Kokomo is to be the permanent abiding place of the headquarters of the business," reads the document.
Howard County Historical Society Executive Director Dave Broman noted that over the years the building has served various purposes, like in 1950, when it was home to something called the Organized Reserved Corps, and in 1970, when it served as a storage area for Gentry's Furniture.
It has, however, sat vacant for decades; some have credited the heavy floor joists used back when it was built with keeping the walls from falling in.
But those walls, along with the rest of the building, ultimately drew the Pitchers' attention, said Ryan Pitcher, who noted that he and Sara Pitcher has been "shopping for a while" and looking at potential projects to reinvest in Kokomo's downtown.
"We just think it's a great market right now, and the Tudor Building came up, and we thought it was an awesome project. And the city's been really good to work with on it, as well," he said, acknowledging the reception of a city grant for the rehabilitation portion of the project.
He declined to say how much the grant was worth.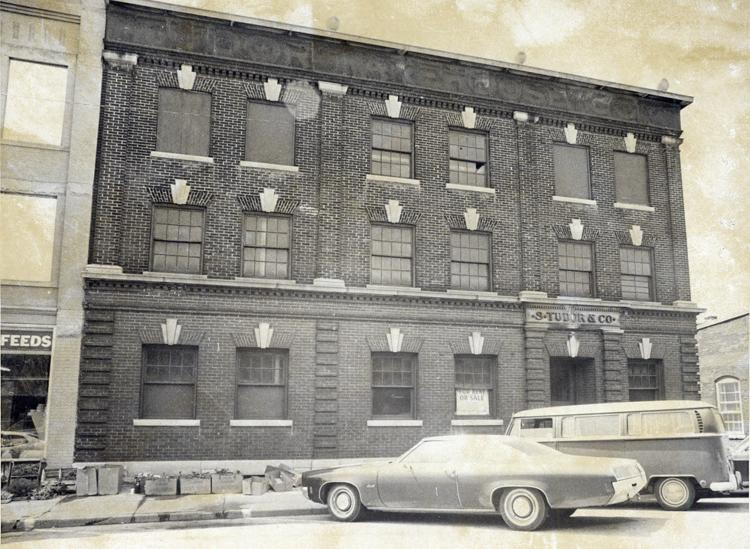 Property records show the building was owned by KipCor 513 LLC – a company associated with developer Jeff Broughton – before a change of ownership took place Monday involving 513 Properties LLC, a company registered to Ryan Pitcher, who is the nephew of developer Scott Pitcher.
The Tudor Building, prior to the Pitchers' purchase, had in recent years been the target of public speculation and various development ideas – none of which came to fruition.
As far back as 2014, Broughton was talking publicly about renovating the space as part of his work along Buckeye Street.
At one point, Broughton even told the Tribune he hoped to bring a brewpub to the Tudor Building. Although he invested resources into the building, including work on the roof, it still leaks and much of the new lumber seen inside the Tudor Building will be part of the west-side demolition.
"He put a little bit of flooring in, and there's a stairway or two, but we're going to be changing most of all of that up anyway to follow our vision," said Ryan Pitcher. "It's pretty much a complete start-over. We're going to save the exterior walls, but other than that we're going to be revamping it."
Plans also fell through in recent years for Boondocks Food and Spirits to open an eatery in the Tudor Building after its owner said in 2014 he would be opening in the space following a four-month renovation.
"The building is a blank canvas right now," Boondocks co-owner Steve Foht said five years ago. "When we're done, it's going to be beautiful. It's going to be an absolutely beautiful space."
Ultimately, Boondocks opened – and later closed – on the courthouse square at 115 W. Sycamore St.
Maybe the biggest disappointment, however, came after 2015, when Scotty's Brewhouse founder Scott Wise said he and Broughton were 85% done with a deal that would bring the restaurant to the Tudor Building.
"It's one thing to read things, but it's another to actually come physically see it, feel it and touch it," said Wise in 2015. "There is just so much happening in that downtown. I was pleasantly surprised and even more eager to get involved with putting a Scotty's in Kokomo."
That plan also failed to materialize, although the misfire maybe saved Kokomo from future heartache following a rash of closures of Scotty's Brewhouse locations this year across Indiana.
But the Tudor Building is now in safe and committed hands, believes Ryan Pitcher.
"We're very excited. When we first saw the project and saw it came up, the building, we were in love right away. We were hoping we could make something happen, because we'd been looking for a while at different stuff," he said. "A project of this size, you really got to love it to take it on."