A Facebook post has emerged showing Kokomo Common Councilman Greg Jones, R-4th District, calling Muslims "Goat-Humpers" and referring to Islam as "a Theocratic Moon Cult."
The post, made in June 2015, came during Jones' first, unsuccessful run for the council's 4th District seat, a position he now holds after a victorious follow-up campaign that ended in November with his win over a longtime Democratic incumbent.
Jones – whose social media presence during 2015 exhibited a bevy of anti-Muslim and anti-LGBTQ beliefs that included him calling homosexuality "a crime against nature" – told the Tribune in an interview Monday that he has evolved and no longer espouses his previous opinions.
Regardless, the emergence of Jones' incendiary comments presents the Kokomo Common Council, in the first weeks of a 9-0 Republican majority, with its first public controversy and shines a bright spotlight on Jones.
Making the situation even more poignant is the fact Jones represents the district containing the Islamic Association of Kokomo, underscoring the troubling nature of his prior comments.
The Tribune was first tipped off Monday to a post from Jones made on June 11, 2015. His comment came above a story from www.conservativeinfidel.com titled "FILTHY MUSLIM SUPREMACISTS Get Payoff From Empire State Bui…"; the rest of the headline is obscured, and the link is now dead.
"Islam is not a Religion it is a Theocratic Moon Cult," wrote Jones on his private Facebook page.
"We should not give anything, especially the right to enforce their laws, to these 7th Century Goat-Humpers who have not figured out it is the 21st century."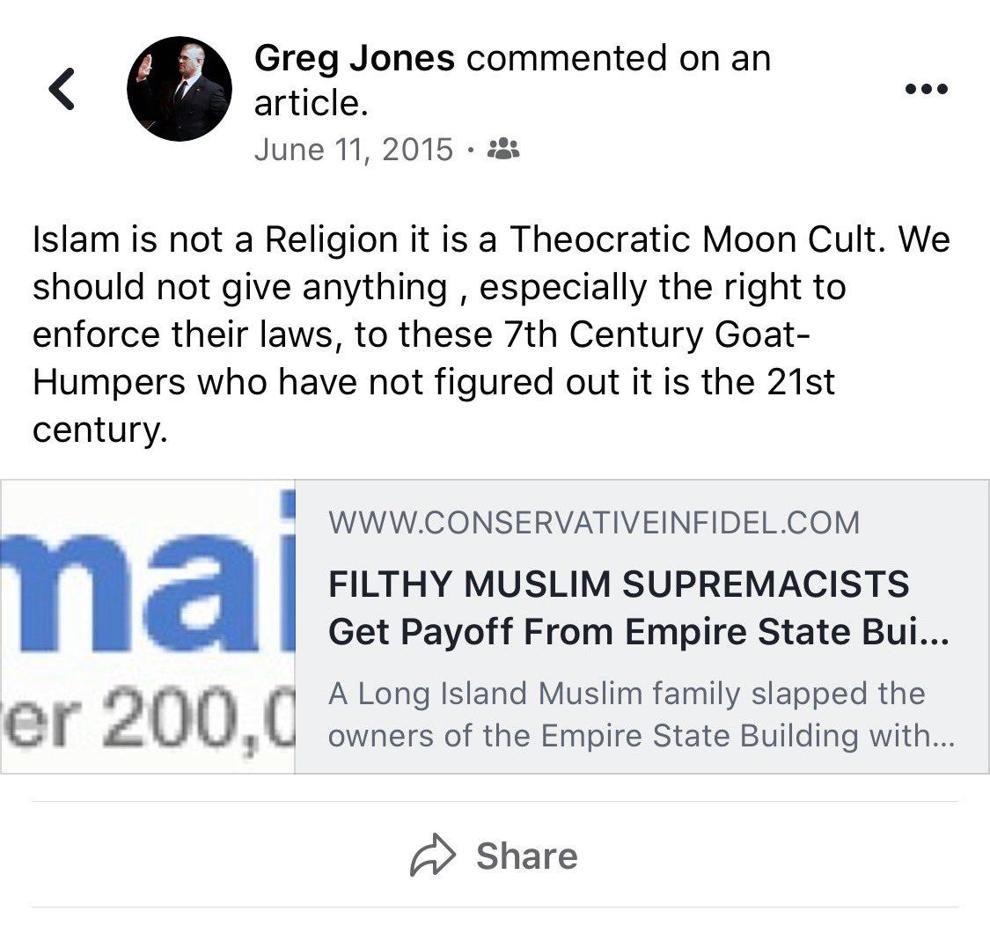 At the time, Jones was a Republican candidate seeking the Kokomo Common Council's 4th District seat; he had defeated opponent Darrell Karnes in the Republican primary one month prior. Jones would lose to incumbent Democrat Donnie Haworth in November 2015.
Jones, however, rebounded in 2019, returning to the electoral process and defeating Haworth for the 4th District seat with 54% of the vote in November. He was sworn into office New Year's Day.
Now, he is facing questions about his conduct on social media.
Other Facebook activity from Jones, in spring 2015, included him sharing an image of a person in a hijab standing before the American flag: "'barry' (Barack Obama) calls it Immigration ~ We call it Infiltration ~"
In an interview Monday, Jones said he did not remember making the post that called Muslims "Goat-Humpers" but said it came from "a lack of thinking before I wrote anything."
"Yeah, I see what I wrote there," he said after finding the post on his Facebook page.
"I think it probably had more to do – I didn't understand what Islam actually was, and I researched more into it since then, and all that, and I've kind of changed my opinion about this. … It is no longer my opinion of Islam on that, and at the time it was a bad choice to make a comment like that," noted Jones.
"I think that with education and maturity on my part over the years that I could represent the Islamic people within the 4th District quite well, understanding that, like I said, I was in error about my thoughts about them."
Jones said he has never had a conversation with anyone from the Islamic Association of Kokomo but would be open to meeting with the group.
"Well, since you've brought this up, I have not decided yet on anything; however, I probably will reach out to them and talk to them. … That is a distinct possibility," he noted.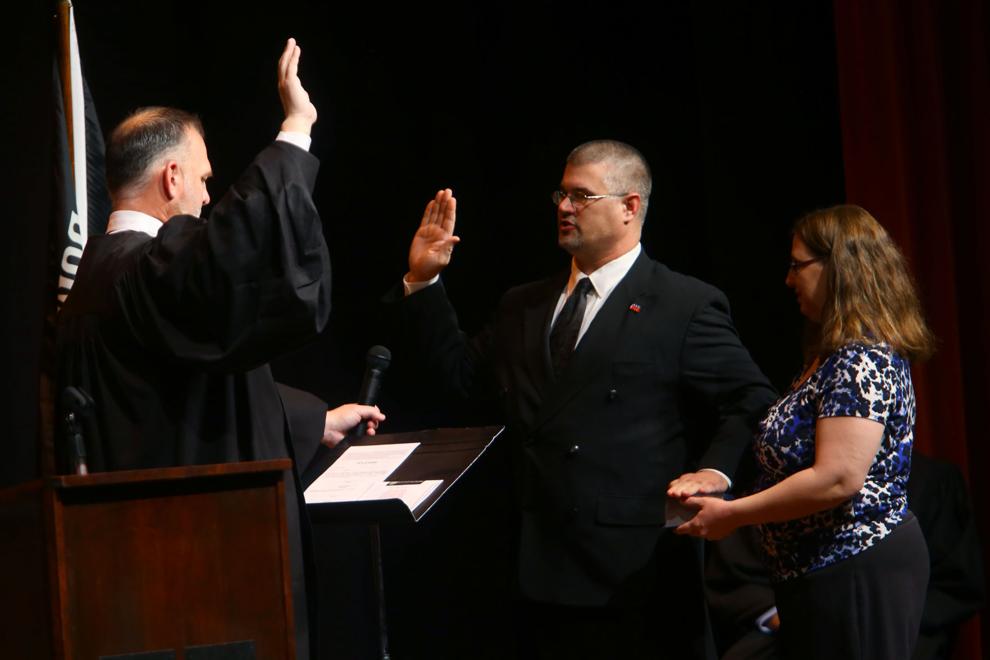 Jones regrets making insulting comments about Muslims, he remarked, and has since 2015 researched the history of Islam and read parts of the Quran.
"I do. I think it was in bad taste, and it was made in a sense of ignorance at that time," he said.
When describing his current opinion of Islam, Jones noted: "Like all religions in the United States, they have the right to practice their religion as long as it's not being forced upon anybody else. And basically as long as you are a peaceful citizen, you can believe as you see fit."
He added: "I think the biggest thing for me will be to make sure I … reach out to the community and let them know that everyone has the ability to change, to be part of the group and, too, that the sum of its parts can be greater than the whole."
Common Council President Lynn Rudolph said he was surprised by Jones' comment about Islam.
"My reaction to it was negative, obviously," said Rudolph. "I don't try to judge someone else's religion. That's not up to me to do. And, no, I was not aware that those were his beliefs. I've never, ever heard him talk about those kind of issues, really.
"As far as him being in office, he was elected by the 4th District. I guess we'll have to end up seeing what those folks think about it. ... I think that we need to know what they think. How come this didn't come out in '15 if he was running for election then? Who was doing the job of researching, you know? But I've got a negative response to it. Don't like it. But we'll have to deal with it.
"I'm sure we'll hear. I'm sure we'll hear what [constituents'] reaction is."
Rudolph said in the event of a highly negative reaction any scenario where Jones would be asked to resign would involve all council members: "The whole council would have to consider that."
Other Facebook postings in the same time period included comments about the LGBTQ community, ranging from: "No one needs to know your LGBT, keep it to yourself," to, "As for Homosexuality it is wrong, not for a religious reason but for a biological. The purpose of sex is for procreation, that is why the act is pleasurable. … You can not get offspring from two guy (sic) or gals. So it is a crime against nature."
Jones reigned in his position Monday.
"While I don't agree with homosexuality, it is a person's personal choice and I have nothing against anyone who wants to live that lifestyle," he said.
"It is everyone's individual right, and I would not stop anybody from seeking out life, liberty and the pursuit of happiness."
In late 2019, the Tribune asked all nine council members about the future of legislation approved in 2016 by the Common Council providing increased legal protections to lesbian, gay, bisexual and transgender citizens through the city's human rights municipal code.
Jones, similar to the rest of the council, said he would not introduce anything rolling back those protections and noted he had not discussed the idea with any other members.
Jones also addressed the legislation during a public forum in September, taking on a decidedly different tone than his comments on Facebook.
"As for the LGBT, everyone has the right to live their life as they see fit. No one has any right to tell you how to live your life as long as you're not harming anyone," he said.
"So, the passage of the ordinance itself, that – I didn't pass it. I didn't vote on it. It's here, and we're going to treat everyone with respect, the way we should, the way a lot of us have been taught."
The Islamic Association of Kokomo did not return a request for comment.
Tribune reporter Kim Dunlap contributed to this story.