This year's election cycle has inspired numerous questionable claims: Kokomo is being infiltrated by out-of-towners. Ambulances are getting stuck on narrowed streets. Crime has exploded.
The statements are at best misleading; at worst, blatant untruths.
Politicians and candidates have always used spin to sell themselves and their talking points. But as candidates, locally and across the country, become more willing to engage with troubling social media pages and embrace rigid political ideology, the problem has worsened.
So before voters head to the polls Tuesday, here are the facts behind three of the most common issues that have emerged during this year's municipal election cycle:
A supposed infiltration
For years, rumors have swirled – often on social media – that Chicago residents are infiltrating Kokomo in overwhelming numbers, coming here to commit crime and even, as the theory goes, vote in our elections.
One problem: No evidence has ever emerged proving these rumors.
In contrast, bundles of evidence have emerged showing they are unfounded.
Starting with the idea that Chicago residents are flooding into Kokomo, migration data compiled by the U.S. Census Bureau presents an interesting finding: More people are actually moving from Howard County to Cook County, Illinois, (where Chicago is located) than the other way around.
The latest available data presented on the Census Bureau's American Community Survey website details the time period 2013-2017. This means data can be interpreted, according to a Census Bureau official, as the "estimated number of movers … in a one-year period, based on data collected between 2013 and 2017."
Therefore, the latest one-year estimate given by the organization shows 26 people moving from Cook County to Howard County; in the same time, an estimated 90 people moved from Howard County to Cook County.
That means Howard County has a net estimate of negative-64 people in its migration relationship with Cook County. If anything, the numbers show Kokomo's proximity to Chicago is actually costing the local community residents.
In comparison, more people (93) are listed as coming to Howard County from Benton County, Minnesota, in the latest one-year estimate.
The rumor has emerged at everything from public meetings to political forums, when even ideas like limiting Section 8 housing vouchers to local residents have been brought up.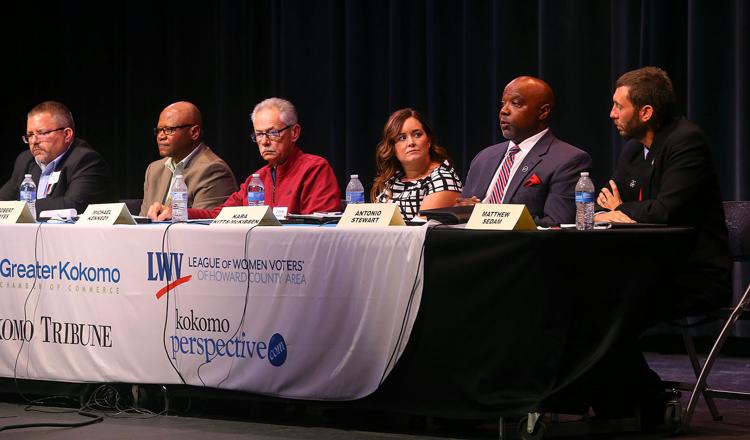 KHA CEO Deb Cook has noted that it's illegal to prohibit someone from obtaining a Section 8 housing voucher because of where they currently reside or previously lived.
Cook has also highlighted that "since the cities named, such as Chicago, Gary and Detroit have high minority populations, this seems discriminatory to suggest that we should not allow these residents equal opportunity to live in Kokomo."
And, again, there is no evidence an "influx" is even happening.
The issue recently arose at a Kokomo City Plan Commission meeting this fall when a Kokomo resident expressed concern about whether a small apartment project on Apperson Way would bring people to the city from Chicago.
Plan Commission Executive Director Greg Sheline responded by calling the notion "a rumor that is so far-fetched it's unbelievable."
Santos Salinas, a member of the Howard County Plan Commission sitting in on the city meeting, added an element often used to fight the fear-mongering associated with Chicago concerns: What is so inherently bad about people from Chicago?
"I'm from Chicago. I guess I could go back, I don't know," he said.
"It's just starting to kind of become one of those things where – these are rumors. And it's kind of starting to become almost an annoyance."
Meanwhile, no evidence outside specific incidents has emerged showing that out-of-town criminals or recently-relocated residents are committing crime at a higher rate than existing or longtime citizens.
The Kokomo Police Department, when asked whether there has been an uptick in the amount of people getting arrested from Chicago or other places outside Kokomo, said they do not have data available to provide a concrete answer.
Some people, including the Kokomo Fraternal Order of Police's Twitter account, have used recent anecdotes, like the arrest of three Chicago residents after a shooting near Studebaker Park last month, to say a problem exists.
Others have pushed back against the idea.
"The other thing is that I came from an area where there was crime. I came to this area, too, and there was crime. And I lived in Lafayette, and there was crime. That is everywhere," noted Salinas.
Crime in Kokomo
While Democratic and Republican candidates agree that Kokomo needs more police officers – reasons vary from officer safety to burnout and a need for proactive policing – some have gone a step further, saying the city is experiencing a violent-crime crisis.
Candidates have gone as far as to say people no longer feel safe in Kokomo, that residents are afraid to leave their homes and scared to sit on porches. Many have made crime major tenets of their campaigns.
Meanwhile, crime data from the KPD – including, in part, homicide, rape, robbery, aggravated assault, burglary and theft – is reported each year to the FBI for an annual crime report.
Data obtained by the Tribune detailing crime levels through August of this year shows the city is not experiencing a crime outburst significantly worse than previous years.
For instance, KPD reported 364 violent crimes in 2018; through August, the total was 252 violent crimes. That puts KPD on pace to report 378 violent crimes in 2019, although crime does tend to pick up during warm-weather months.
Violent crimes encompass homicide, rape, robbery and aggravated assault.
The KPD reported more than 400 violent crimes each year from 2015-2017.
As for homicides, Kokomo has had four killings this year, compared to four last year, six in 2017, four in 2016 and three in 2015.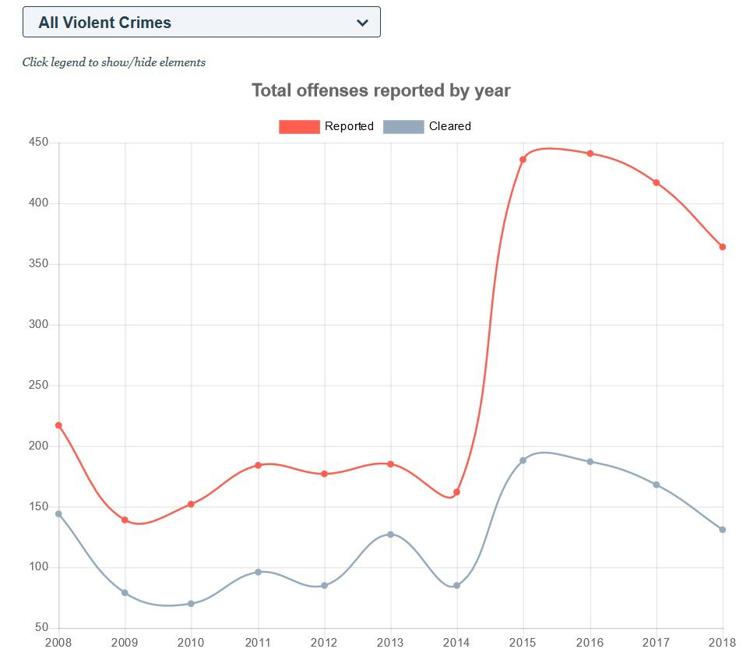 A look at the most common property crimes – burglary and theft – shows Kokomo could experience slight increases. The KPD reported 210 burglaries through August (it had 309 last year) and 741 thefts (it had 1,036 last year).
Notably, there are areas of concern within the city.
According to statistics supplied by the KPD, the number of reported shots fired has more than tripled from May 1-Sept. 30 on the northeast side of Kokomo this year, compared to the same time period in 2018.
There were 48 reports of shots fired in that period in the area of the Carver Community Center and Studebaker Park, as well as in the vicinity of East Mulberry, East Jefferson, East Jackson and East Taylor streets.
There were 15 reports of shots fired in those same areas in the same time span in 2018.
Also, many have argued that a reduction in cases across Kokomo is a direct result of the city's low police staffing. The numbers are down because there aren't enough officers to make the needed amount of arrests, say critics of the city.
The city has contested those claims.
Kokomo Mayor Greg Goodnight said in what is likely to be his final public speech last month that "there's been a substantial decline in the number of police calls, each and every year."
"And a lot of people say, 'Oh, it's busier, they're busier.' The truth is [police are] not."
He presented KPD calls-for-service data from May 1-Aug. 13 showing 12,593 calls for service in 2019; 13,422 in 2018; 15,325 in 2017; 17,335 in 2016; and 18,628 a decade ago, in 2009.
'Haven't reported any issues'
Expert accounts and available data show that road diets do not cause more accidents and have not slowed down large emergency vehicles.
But that hasn't stopped Kokomo's roads from becoming a huge issue in this year's election, with some candidates and volunteers saying it is the No. 1 thing they hear about from local voters.
In general, Kokomo Mayor Greg Goodnight during his three terms in office has adopted a philosophy of road diets and complete streets, installing bumpouts, medians and bike lanes across the city.
The approach has narrowed lanes and annoyed many in the city, including a vocal contingent of candidates.
City officials have argued the approach increases physical activity and slows down drivers, leading to fewer and less significant accidents.
Road diets have also been fully embraced by both the Indiana Department of Transportation and the U.S. Department of Transportation's Federal Highway Administration.
Here is what we know: Figures provided by the KPD show 3,027 accident calls for service and 2,069 accident reports in 2016. By 2018, those numbers dropped to 2,826 and 1,871, respectively.
This means that during a time when criticism of city roads was as loud as ever, Kokomo actually experienced fewer accidents.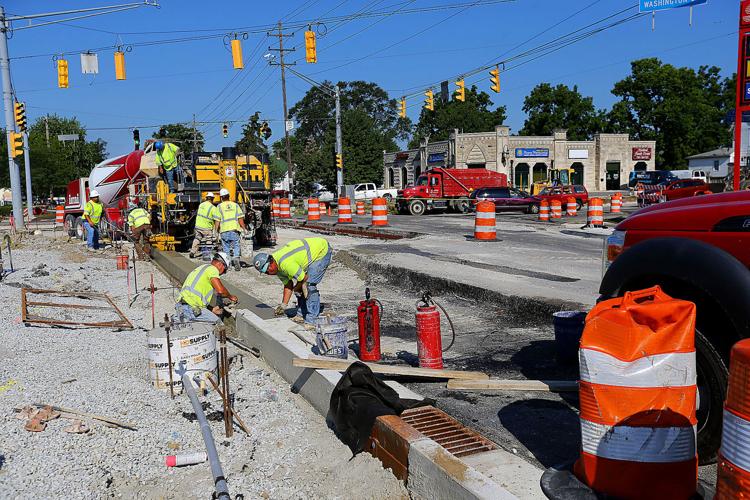 Meanwhile, Community Howard Regional Health Manager of Communications and Public Relations George Mast told the Tribune this spring that narrow roads have not obstructed the hospital's ambulances.
"I talked with our EMS manager and he is not aware of any issue with our trucks being stuck or delayed," he said.
Mast confirmed Wednesday that the hospital's EMS crews still "haven't reported any issues related to the road diets."
Kokomo Fire Chief Nick Glover has reiterated that position, telling the Tribune this spring, "Everybody is always saying, what about the fire trucks? What about the ambulances? We haven't had a problem." Glover did not respond to a follow-up request for comment last week.
If anything, the current administration's commitment to road diets and complete streets has yet to make the notable difference in local health many have hoped for.
A report released earlier this year ranked Howard County 80th out of Indiana's 92 counties in health outcomes, which measure how long people live and how healthy they feel. The county finished 81st in health factors, based on behaviors, clinical care, social and economic factors and physical environment.
So while we still all need more exercise, one thing is clear: Road diets haven't made the city less safe.