Many people would say they watch their spending on groceries and try to cut costs where they can. But it's different for Charlet Ayala.
This isn't just clipping coupons. It's something she's memorized, something she's studied.
She knows – off the top of her head – that milk is 20 cents cheaper at Aldi than at Walmart. She knows when Save-a-Lot is having a sale on meat, and she knows exactly how much the price of eggs has risen in the past six months.
---

"It's just managing with what you have. It's trying to find the biggest packages for the cheapest price."

---
"My secret to making my food stamps last is I budget shop," she said. "It's just managing with what you have. It's trying to find the biggest packages for the cheapest price and then you can split those up and make several meals out of it."
Ayala, 39, who has lived in Garden Square apartments since 2009, is not alone in her struggle to feed her family.
In January, 5,492 Howard County households utilized the Supplemental Nutrition Assistance Program (commonly referred to as food stamps), according to the most recent data from the Family and Social Services Administration's Division of Family Resources. That's a 10.7 percent decrease from the number of households using food stamps in January 2015.
Ayala knows when the nearest churches have free meals too, just in case she should ever need them.
"If you carefully, carefully budget, you can make it, but there's always going to be exceptions. If you run low [Kokomo Urban Outreach] is here and your kids can get something to eat. You can go down to the food pantry," Ayala said, adding she appreciates the meals the outreach serves every Sunday and on days children are out of school.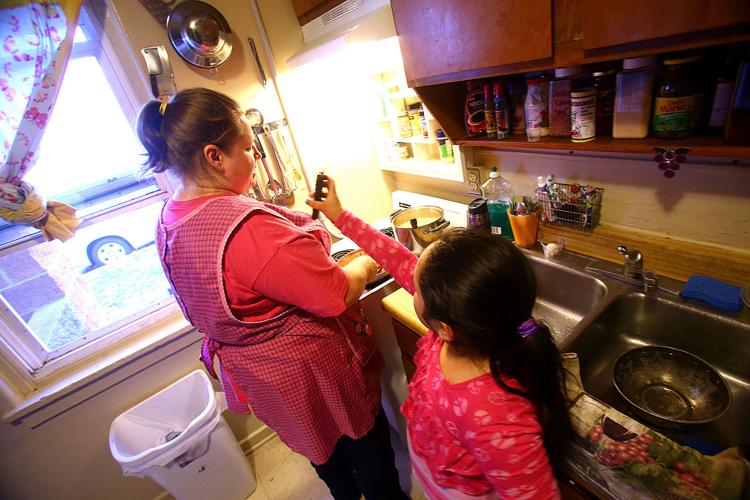 Ayala learned these skills from her mom growing up. Her parents had five children to feed; her dad was on disability, so her mom made it work.
"My mom stretched [the food stamps] as far as she could. Sometimes, the last week, we wouldn't have much so she'd have to go to friends or her family," she said. "My mom was a budget shopper. … I remember seeing her struggling trying to feed us, and I don't know why but I paid a lot of close attention to that."
Meal planning
Now, Ayala is doing her best to provide for her own children, Maria, 7, and Yanette, 3. Yanette has autism and special dietary needs, so Ayala spends more on gluten-free foods and the fresh fruits and vegetables her daughters need. She noticed her preschooler often cried after eating and had an upset stomach, so she began experimenting with her diet, cutting dairy and then gluten — getting rid of gluten made Yanette feel better.
"It's very hard to shop healthy when you have limited income," Ayala said, giving the example of pop being cheaper than juice. "A lot of people are like, 'They get food stamps, they can buy steaks.' No you can't. Not if you want to eat for the rest of the month."
---

"A lot of people are like, 'They get food stamps. They can buy steaks.' No you can't. Not if you want to eat for the rest of the month."

---
She tries to stick as closely as possible to the $338 per month from SNAP she has to feed her three-person household. That's a drop from what she used to receive before Yanette was approved for disability assistance for her autism.
To qualify for SNAP in Indiana, a three-person household's monthly income must be $2,177 or less, or $26,124 a year. The federal poverty threshold is $20,090 in annual income for a three-person household, but a 2014 report commissioned by United Way says a four-person family in Indiana actually needs $46,495 a year to afford basic necessities.
That gap between the poverty line and what's needed to afford the local standard of living leaves many local families food insecure, meaning they lack access to sufficient food or don't know when sufficient food will be available to them.
In 2013, 23.9 percent of Howard County children experienced food insecurity, according to the most recent Kids Count data. That's higher than the state average for child food insecurity, which was 21.8 percent in 2013.
Ayala has found it helps to cook larger meals ahead of time, making dishes that can easily be reheated. That works better with her class schedule too, as she's in her final semester of earning an associate degree in liberal arts from Ivy Tech Community College.
Ayala enrolled at Ivy Tech in 2012, attending classes part-time so she can spend more time with her daughters and participate in Yanette's therapy. Previously, she worked at the former Kroger store on Indiana 931 in Kokomo for almost 15 years before it shut down in 2009. In July of that year, Ayala moved into Garden Square.
Ayala is completing a concentration in foreign language as part of her degree. She'd like to teach preschool one day, or work with Spanish-speaking children with autism — a cause she's passionate about based on her daughter's experiences.
"I have big dreams," she said.
Family dinners
On Nov. 24, the day she and Maria both began their Thanksgiving break from classes, Ayala browned some ground beef and boiled spaghetti noodles on the stove before adding marinara sauce. She prepared much more food than her family could eat that evening, planning to freeze some of it and make baked spaghetti at a later date. She knew she could get three different meals out of the big "family size" package of ground beef she'd bought on sale, including Maria's favorite — the "rice stuff," a dish consisting of hamburger, rice, cream of chicken soup and crunchy chow mein noodles.
Her daughters popped in and out of the room while Ayala cooked, Maria enthusiastically asking about her college classes and Yanette alternating between hugging Ayala's legs and following her older sister around. Later, the girls pulled on their winter coats, hats and gloves to play outside with their Aunt Bobby Thieke and cousins, who also live in Garden Square and came across the complex to start a snowball fight with the remains of the snow that fell earlier that week.
Their laughter and shrieks from outside drifted into the kitchen, and Ayala occasionally called out the open window to make peace among the children or soothe Yanette's tears when a snowball came at her too hard.
Ayala says her daughters have been her motivation to earn a degree and make a better life for them. Jeff Newton and Kokomo Urban Outreach gave her the tools to make it happen.
---

"It's either they're going to learn from me or they're going to learn from the streets."

---
"It's either they're going to learn from me or they're going to learn from the streets," she said of her daughters. "I don't want to work three jobs making $8 an hour and never get to see my kids, just to have somewhere safe for them to sleep at night, food on the table and clothes on their backs."
Finally, dinner is ready, and they pull up stools in front of the couch and desk chair in their living room to balance their plates on. The extent of the first floor of their apartment, which can be crossed from front door to back door in about 14 steps, is the kitchen and living room. There's no room for a dining room table and chairs.
"That's my dream is to have a house with a kitchen that's big enough to put a table in there," Ayala said.