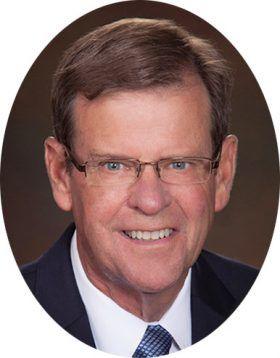 Gov. Eric Holcomb is directing flags in Tipton County to be flown at half-staff on Saturday to honor Tipton Mayor Don Havens, who passed away on Dec. 13 following a long battle with Crohn's disease.
Holcomb said flags should be at half-staff from sunrise to sunset on Saturday, when Havens will be buried.
In a statement issued last week, Holcomb said Havens was an "incredible public servant who was dedicated to ensuring his hometown was the kind of community where you would want to raise a family and grow a business."
Funeral services for Havens will be held at 11 a.m. Saturday at West Street Christian Church, 132 N. West St., Tipton, with the Rev. Linda McKiernan-Allen officiating. Burial will be at Fairview Cemetery in Tipton. Visitation will also be held an hour before the funeral service.
Tipton City Council President Brett Curnutt has served as the city's acting mayor since Havens died with around two weeks left in his term. Democrat Tom Dolezal will be sworn in as the city's new mayor on Jan. 1.
Havens was a U.S. Army veteran who worked as a residential real estate agent in Tipton County for around 40 years.
He was a founding member of the Tipton Economic Development Corporation, a group created to strengthen the city's business community. He spent a total of 20 years in elected office, including 12 years on both the Tipton City Council and the Tipton Utility Service Board before being elected twice as mayor.
Havens was also instrumental in attracting Fiat Chrysler Automobiles to invest $162 million in 2013 to establish an additional assembly site for the nine-speed transmission at the factory at the intersection of Ind. 931 and 28.
In a statement issued by FCA, company officials said workers were "deeply saddened" by Havens' passing.
"He was a tremendous champion for the residents of Tipton, and staunch supporter of the employees of the FCA Tipton Transmission Plant," the company said. "Our thoughts and prayers are with his family and friends during this difficult time."