Students of Central Middle International School came together to honor those who have served at this year's Veterans Day program.
Everything got underway as eight-grader Emma Fowler lead those in attendance in the Pledge of Allegiance, as a waving flag graphic was displayed on the new scoreboard at Memorial Gym.
Three students were selected to speak at the performance, including sixth-grader Mariah Reid, who read a military appreciation poem entitled "The Best on Earth." Seventh-grader Mailee Sewell read, "The Nobel and the Brave" for her part. Eighth-grade student Hopelynn Brown wrote a composition of her own to read, which focused on remembering America is known as the land of the free because of the brave.
"Veterans Day is a holiday to celebrate the U.S. veterans of all wars … Speaking on behalf of the students and staff of CMIS, I would like to give a big thank-you to each and every veteran who put all their time and dedication, holidays and time with their families to protect us," Brown said.
The program also featured two guest speakers from the community. For former Air Force tech sergeant Rick Filip, the sacrifice came from his family more so than himself. Such as his wife losing her grandfather right at the time Filip was supposed to be deployed. Other times included not being able to be there to comfort his son or missing five of his daughter's birthdays in a row.
"When people come up to me and say, 'Thank you for your sacrifice,' I'll say thank you. Behind that sacrifice from me came a greater sacrifice from my family," he said.
He doesn't call his service time a sacrifice, noting when you love what you do, it doesn't really feel like a sacrifice.
"It was the best thing I ever did," he said. "It brought out the best in me."
The second guest speaker was Angie Ciski from Jackson Street Commons. The Kokomo apartments that opened in May 2014 provide housing to chronically homeless veterans. The students of Central Middle School had a competition to collect paper products for the organization and presented Jackson Street Commons and three veterans with the many items collected.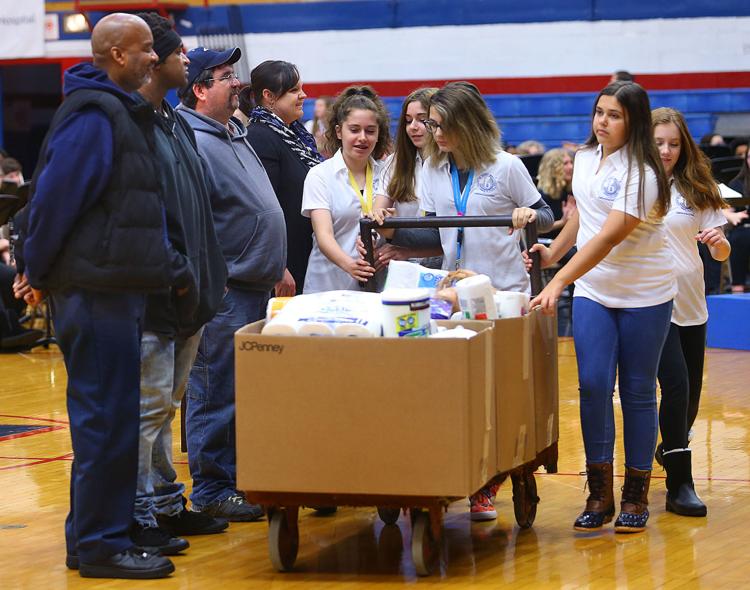 Principal Holly Herrera commended the humanities teachers at the school for preparing the students for the program with in-depth lessons about why they pay respects so they fully understand the message.
"We don't want this to be a one-time thing where they come for an hour and they understand that we pay respects," she said.
During Monday's program, names of veterans were read and were recognized by the community with thunderous applause. They were again recognized during a melody of all the armed services' anthems. Before a silent walk through the gym's Turner Memorial Room, a playing of taps was performed by band members Alejandro Reyes and Alona Smith to end the program.
"They are such a big part of our community ... the biggest part is the sacrifices they make and why we have the freedoms that we do," said sixth-grade social studies teacher Mary Page. "This is just the least we could do for them."