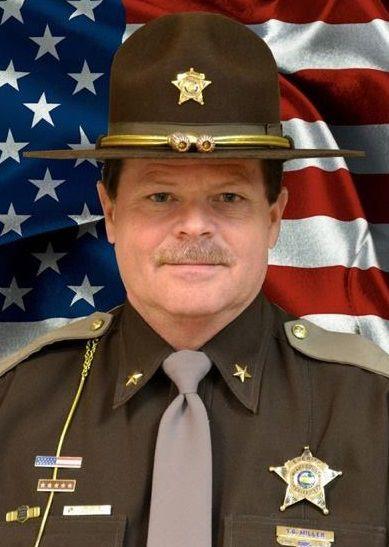 PERU – Former Miami County Sheriff Tim Miller has joined five other candidates vying to take the seat left vacant by Indiana Sen. Randy Head, who resigned earlier this month to become chief deputy prosecutor for Pulaski County.
The Indiana Republican Party has set a special caucus to replace the District 18 seat left empty by Head. District 18 serves Miami, Cass and Fulton counties, and portions of Carroll, Kosciusko and Marshall counties.
Miller is now the most recent Republican to throw his name into the ring. He said his long career in law enforcement makes him a unique candidate for the seat, and no former sheriff is currently serving in the senate.
Miller most recently served eight years as the Miami County sheriff. He is currently employed part-time as a court security officer for the federal building in Lafayette.
"With some of today's pressing issues such as school safety and funding, mass shootings, gun control, jail overcrowding and many more, I believe my experience in law enforcement … would be beneficial to representing our communities," he said.
Miller said he has started to reach out to different precincts to meet and hear from caucus members.
"If elected, I look forward to the opportunity to serve all of District 18 as their state senate representative with a servant's heart, integrity and professionalism and service to the communities," he said in a release.
Other candidates who have filed to fill the seat include Cass County Councilwoman Stacey Donato and Flora Town Councilman Jake Adams.
Jeffery Staker, a firefighter at Grissom Air Reserve Base and the founder of Hoosier Veterans for Medical Cannabis, and Amy Roe, a candidate who lost a run for an seat on the Rochester City Council, have also filed.
Head has endorsed Donato for the seat.
Interested candidates can file their intent to fill the position until 72 hours prior to the caucus vote at 6:30 p.m. Monday, Sept. 9. The meeting is being held at the Miami County 4-H Community Building, 1029 W. 200 N., Peru.
The caucus will be made up of eligible GOP precinct committee members. The candidate chosen by the caucus will complete Head's term, which runs until the November 2020 election.
Head was first elected to the Indiana Senate in 2008 and has been chairman of the Senate Judiciary Committee. He unsuccessfully sought the Republican nomination for state attorney general in 2016.