Kokomo Mayor Greg Goodnight has endorsed Democratic mayoral candidate Abbie Smith, calling her "the leader that Kokomo needs."
Goodnight, who announced he wasn't seeking a fourth term during a withering January speech that in part took aim at Republican mayoral candidate Tyler Moore, announced his endorsement in a letter distributed by Smith's campaign Thursday evening.
The endorsement, which comes just over two weeks before Election Day, credits Smith for her work in leading recovery efforts following the 2013 and 2016 tornadoes, along with her time at United Way of Howard County focusing on early childhood education, in large part through the organization's 75in5 initiative.
"I have worked with both candidates for years in their community roles. I can tell you exactly what Abbie stands for, even when we don't agree. I have seen her work with a diverse set of stakeholders and bring them together to move to action," he said.
"We have all directly benefited from her leadership at critical times. … Abbie understands the big, long term challenges that Kokomo is facing. That is why she lead (sic) key stakeholders to focus on early childhood education.
"She understands that we only have a limited amount of time to make a huge impact in our community. She doesn't passively sit on the sidelines. She leads."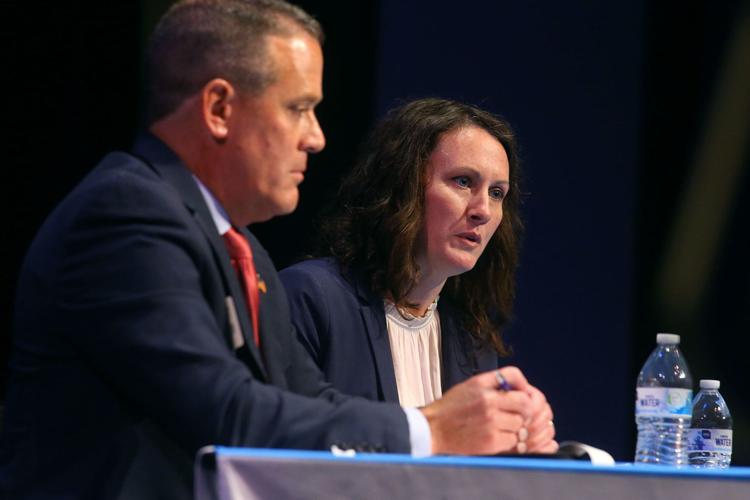 Goodnight also took shots at Moore, saying he has "done little more than quietly support a few City initiatives over the years, while not leading or taking action on anything."
"His time in office has overlapped with my time in office, yet I cannot tell you anything Tyler stands for. Look around and ask yourself an honest question: What has Tyler Moore accomplished in 11 years as an Executive in County Government?" asked Goodnight.
"He's attended a lot of meetings, but I haven't seen action. This doesn't mean he is a terrible person, I just cannot think of a single outcome that he produced."
He added: "I have watched Tyler's campaign team say disgusting, awful, misogynistic things about Abbie and her family. She never flinched or withered."
Goodnight's comments add to existing criticism of Moore and his campaign's relationship with incendiary social media pages, including his and his supporters' interactions with a page, Kokomo Brief, that has, for instance, criticized Smith for not taking the last name of her husband.
Democrats have often pointed out that Moore, using his personal Facebook page, was in Kokomo Brief's comment section thanking people for their support following the primary election and later coordinating campaign T-shirt distribution.
Moore responded to the Tribune's request for comment by calling Goodnight's endorsement and the criticism "not surprising at all," but said in an email that he did not have a "formal response."
Read Goodnight's full endorsement here: