The Hobson stood nearly still Monday evening, a smattering of shocked faces and stolen glances, and the arm of Kelli Goodnight wrapping itself around her daughter Ava, the only discernible movement.
Nearly everyone seated and standing in the cavernous ballroom, with its soaring white walls and long black drapes, had expected to hear one thing: I am seeking a fourth term.
Instead, they got the biggest political surprise to come out of Kokomo in decades – possibly ever.
Kokomo Mayor Greg Goodnight, 53, considered one of the most powerful Democratic mayors in the state, is not seeking re-election.
That decision will bring the tenure of Kokomo's longest-serving mayor to an end at the conclusion of 2019.
And it will open the door to a new era inside Kokomo City Hall, led by a mayor who will either continue Goodnight's community-development philosophies or move the city away from the downtown growth, road construction and public-safety structuring that have defined his three terms.
In a speech, Goodnight made reference to his status in Kokomo as a political lightning rod who in many ways has begun to overshadow the decisions made by his administration.
Those projects and initiatives, he believes, are being opposed by some residents and various elected officials not on their merits but instead because his name is attached to them.
"We have all seen politicians hang around too long and become stale," said Goodnight, who was vague about his future but clear that he will not work for the city of Kokomo in any capacity.
"Often, important issues become more about personality conflicts. That is never good for a community."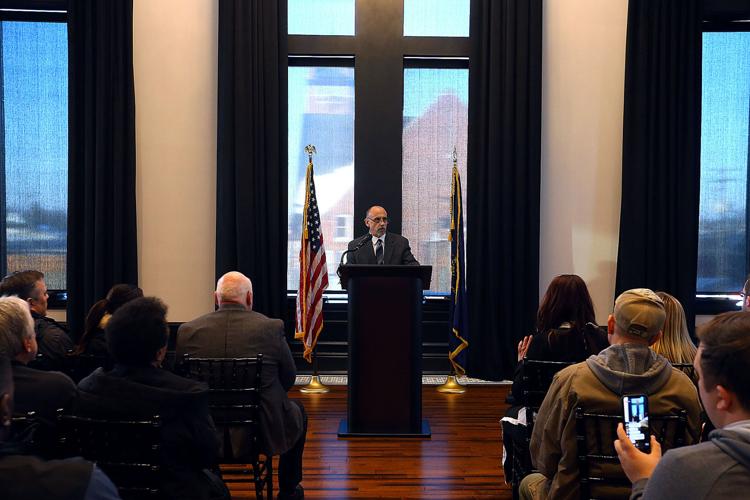 Stale or not, Goodnight had become a political force rarely seen in Kokomo.
He won his most recent race in 2015 when he defeated Republican challenger Martha Lake by a margin of 55 to 44 percent. He won his first re-election campaign in 2011 by defeating Republican Scott Kern with 70 percent of the vote. 
In 2007, Goodnight, a former Steelworkers union president who also served two terms on the Common Council, won the mayor's office by defeating Republican Rick Hamilton by tallying more than 60 percent of voters.
His remarks Monday pointed toward many of his accomplishments, including free public transportation, still-growing private business investment, increased housing development and a city in comfortable financial shape.
But it wasn't his accomplishments that left an impression on those gathered at The Hobson.
It was the scorched-earth speech that they accompanied.
Known as a combative political operator, Goodnight embraced a tone early in his comments that, despite his reputation, sparked an air of unease throughout the crowd.
The attacks were personal, and they were flung untempered toward Democrat Kevin Summers and Republican Tyler Moore, the only two mayoral candidates to emerge so far.
Goodnight, accusing both "feckless" candidates of corruption and ineptitude, called on them to step down from the race.
It's time, he said, for new blood.
"The future of the city of Kokomo is far too crucial to be fought over by feckless candidates such as those two," said Goodnight. "The same old, tired, worn out, retread campaigns and political fights should have no place in our mayoral election this year.
"Their announcements confirmed my belief that this election needs to be about the future of Kokomo. This election must transcend the same old fights, with the same old players."
Goodnight, piggybacking off accusations already made by the Howard County Democratic Party, which disowned Summers when he announced his intent to run in December, said the former police captain only decided to run after the mayor refused to violate KPD procedures and hire his son.
BREAKING: GOODNIGHT IS NOT RUNNING FOR RE-ELECTION pic.twitter.com/dV9mUocfnk

— George Myers (@gmyerskt) January 14, 2019
He followed that by highlighting a 2009 controversy that involved Summers clashing with Kokomo School Board members and the high school's head basketball coach after the same son was cut from the team. 
"It is an unfortunate truth that Summers has no guiding principle other than his own immediate self-interest," said Goodnight. "I had been warned about that over the years, but I didn't fully grasp it until the last few months.
"Summers became a Democrat in order to get a city street department job under [Mayor Bob Sargent]. He became a Republican when [Mayor Jim Trobaugh] hired him as a police officer. He then switched parties a couple of years ago to get political campaign help from me and the Democratic Party."
Goodnight then accused Summers of supporting his administration's "entire" agenda until "the moment I refused his demands to hire a police applicant (Summers' son) who repeatedly failed the longstanding requirements."
When reached by phone after Goodnight's speech, Summers was brief.
"My campaign was moving forward despite what Greg decided one way or the other. I wish him and his family good luck in their future endeavors," he said.
After a pause, Goodnight took his political axe across the aisle to Moore, a Howard County commissioner currently in his third term.
Moore, who said during his campaign announcement that he would increase city police and fire staffing numbers, also works for the family-managed Moore Title & Escrow.
"Moore wants to talk now about public safety," said Goodnight. "Again, where was he for the last 10-plus years? If he is really concerned, then today he can reinstate the county drug task force.
"Like many other counties have done, he could start a countywide fire district and hire full-time firefighters. … He chooses to do nothing. He chooses to say nothing."
Then came the insults.
"Tyler Moore's decade of elected office amounts to little more than a cynical joke, played at taxpayer expense," said Goodnight.
Even more provocatively, he asked Moore, who has also called for increased transparency of city finances, to disclose "how much county taxpayer money gets funneled to Moore Title & Escrow."
"Tyler Moore and Kevin Summers are two long-time, self-serving politicians with personal agendas that are cut from the same cloth," said Goodnight.
"If these two couldn't accomplish anything in all of these years, does anyone in Kokomo believe they can really accomplish them if given more time?" he added, also referencing Summers' time as a Common Council member.
Goodnight's call for both Moore and Summers to step out of the race was quickly disregarded by Moore in an interview Monday night.
"Absolutely not," he remarked.
"As a public servant of the city of Kokomo and Howard County, I'm just starting to get momentum."
Moore, who said he was bombarded with texts and phone calls after Goodnight's announcement and accusations, declined to comment on the mayor's most specific barbs, saying he wanted to view the video before making an official statement.
It's doubtful, however, that the fence will ever be mended between Goodnight and the two mayoral candidates that fell into his crosshairs Monday night.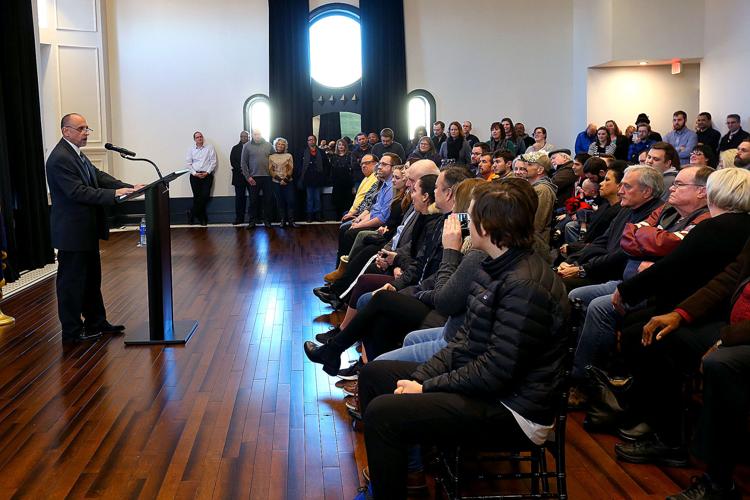 "For the past few months, I have been going back and forth about running again," he said. "Tyler Moore and Kevin Summers helped me decide. Thanks to both of them for illustrating the point that it is time for all three of us to move on.
"I am making this announcement today to give Kokomo time to find a mayoral candidate who can leave the petty fights, the self-serving acts and the fear-mongering behind. Kokomo needs a mayor with a servant's heart, not a self-serving agenda."
He added: "Kokomo needs some fresh blood in the mayor's office. It starts with me, but it doesn't end with me. The Democratic Party can do better. The Republican Party can do better. I personally know Kokomo's business leaders, civic leaders and community leaders. I know Kokomo can do better."
Candidates have until Feb. 8 to file.