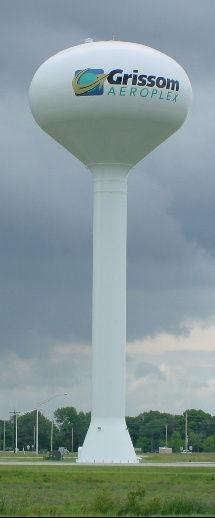 BUNKER HILL – A new law will allow the business park around Grissom Air Reserve Base to renew a special economic-development status that officials hope will attract new business to the area.
Senate Enrolled Act 554 allows inactive or closed military bases, including Grissom Aeroplex, the opportunity to renew its status as an enterprise zone.
Jim Tidd, executive director of the Miami County Economic Development Authority, said the business park around Grissom received the status automatically from legislation passed in the mid-1990s after the base was realigned as an Air Force Reserve Base.
The move shed more than 800 acres from the installation and opened it up to private and public development.
The business park was able to renew that status around 2005, but the designation expired at the end of 2015. Now, under the new legislation, Miami County officials can once again request to renew the status for Grissom Aeroplex.
Tidd said businesses inside enterprise zones automatically receive tax abatements, and employees who live, and work at a business, in a zone receive tax deductions. Financial institutions also can receive a tax deduction on the interest they collect from loans to businesses inside an enterprise zone.
Tidd said having the status in the past at the business park has been beneficial, and having the chance to renew the designation four years after it expired will give the county more options to attract businesses.
"It's an additional tool in the economic-development tool box," he said. "It gives us more tools that help us structure incentives that are truly what's best for the company. It helps us structure something more competitive when we're looking to attract or retain companies in the community."
Around 15 businesses would be included in the enterprise zone around Grissom if the status is renewed, Tidd said.
The bill was co-authored by Sen. Randy Head, R-Logansport, and sponsored by State Reps. Ethan Manning, R-Denver, Mike Karickhoff, R-Kokomo, and Heath VanNatter, R-Kokomo.
Manning said Grissom Aeroplex is a valuable resource in Miami County, with more than 200 acres certified as "shovel ready" by the state, and deeming it an enterprise zone will attract economic-development opportunities to the area.
VanNatter said on average, enterprise zones create 3,000 jobs, and nearly half of those positions are filled by people living in the community where the zones exist.
Karickhoff said that leads enterprise zones to create unique opportunities for the communities in which they are located.
"Offering job creators these incentives to locate and grow in Indiana means more opportunities for hard-working Hoosiers," he said in a release.
Other former military installations in Indiana eligible to renew their enterprise-zone status are Fort Harrison near Lawrence, River Ridge Development Authority just north of Louisville and Vermillion Rise Mega Park near Newport.