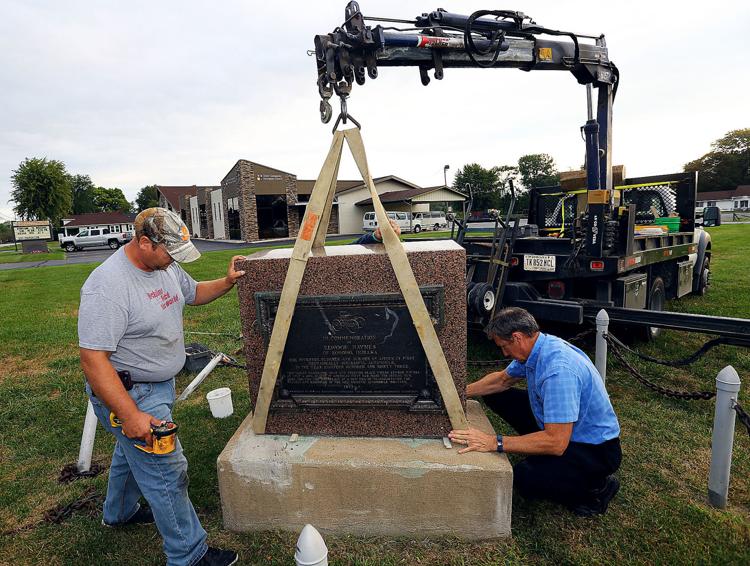 The nearly 100-year-old Elwood Haynes memorial marker at the intersection of East Boulevard and Goyer Road was reset Friday morning after police say a Kokomo man caused another driver to smash into the monument nearly three weeks earlier.
Scott M. Smith, 39, 1100 block of Miller Avenue, has pending charges of leaving the scene of a property damage accident and habitual traffic violator-life after police say he swerved around traffic on Goyer Road and ran a stop light at around 4:40 p.m. Aug. 19.
Police say Smith caused a woman with two children in her vehicle to careen off the road and smash into the monument, causing it to flip off its foundation. The woman sustained injuries and was treated at the scene.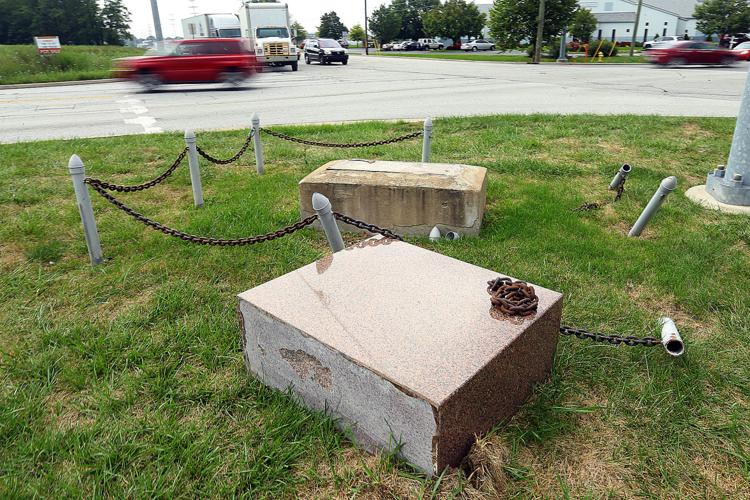 Smith then drove his SUV through a yard and parked in a church parking lot before fleeing the scene on foot, according to a crash report. Police say the SUV was severely damaged and the passenger side was caved in. Several windows were shattered.
Police said it appeared Smith had to climb out of the passenger side door because there were small, bloody fingerprints there.
Kokomo police said Friday Smith is still at large.
The monument lay in the grass for over two weeks until the Kokomo Parks and Recreation Department, which maintains the memorial, called Troy Caldwell, owner of the Caldwell Monument Company, on Wednesday to reset the stone.
On Friday morning, he brought a small crane to lift the monument and set in on the foundation before resealing it. The monument marks the spot where Elwood Haynes started the test drive of one of America's first cars 125 years ago on July 4, 1894.
Caldwell said the monument was not severely damaged, but there were chips on the bottom that likely came from the crash. He said this is the third time he has had to reset the monument after it was hit by a vehicle.