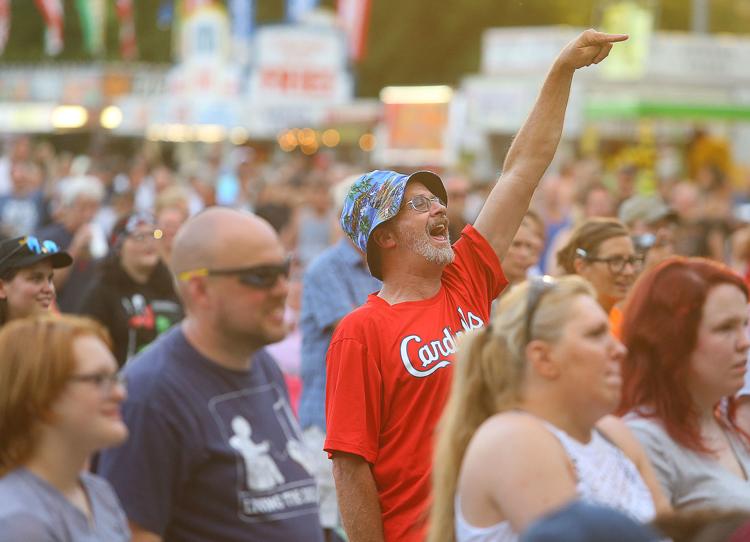 Jeff Griffin got a call out of the blue two years ago from a doctor in Georgia who knew he collected old cars. The doctor said he had a 1917 Haynes Touring car that was made in Kokomo, and asked if he wanted it.
"I said, 'Sure,'" Griffin said. "I drove down to Georgia and I brought it back."
Fast forward to Thursday, and that car made it's first public appearance in the most dramatic, and appropriate, way possible:
Leading an entourage of around a dozen historic cars to Foster Park to kick of the Haynes Apperson Festival on the 125th anniversary of when Elwood Haynes took the first test drive of America's first car down the very same streets.
That historical serendipity wasn't lost on Griffin, a board member of the Kokomo Automotive Museum and the Howard County Automotive Heritage Hall of Fame.
PHOTOS: Haynes Apperson Festival
His car, painted green with no power steering and maxing out at around 50-mph, led the other historic vehicles on the festival's annual commemorative run. The cars drove past Elwood Haynes' home near Highland Park and the former home of the Haynes Automobile Company factory at the intersection of Main and Defenbaugh streets.
"This is the first time this car has been out in public," he said. "I think it's pretty neat we could have it out for the first time on such a historic occasion. It's kind of thrilling to be driving in the town where the car was made, and now it still running the streets. If you're into history, that's pretty great."
The Haynes Apperson Festival is digging deep this year into that history. 
The festival officially kicked off at 5:30 p.m. Thursday at Foster Park, where a ribbon cutting opened a special traveling museum called "History on Wheels."
Housed inside a 53-foot double-expandable semi-trailer, the exhibit highlights the state's far-reaching and personal connections to the auto industry.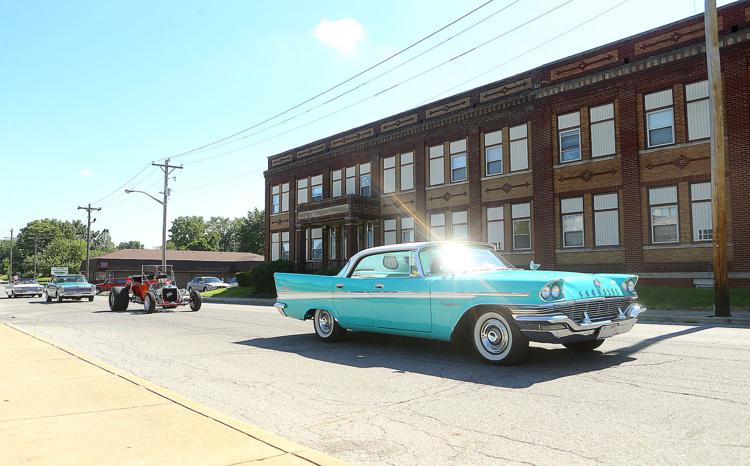 The exhibit touches on the history of more than 100 Indiana automakers and manufacturers. But the very person the museum highlights is Elwood Haynes, the Kokomo inventor and industrialist who who made the first commercially successful gas-powered car in America.
On July 4, 1894, Haynes test drove that car, called the Pioneer, down what is now near the intersection of East Boulevard and Goyer Road.
Paul Wyman, a Howard County commissioner and president of the festival board, said that event makes this year's event more special than ever.
"It's incredible when you think about it - 125 years ago America's first car was test driven right here in Kokomo, Indiana, on what was then Pumpkinvine Pike," he said during the opening ceremony. "What an incredible milestone and piece of our history. We're excited to take that history and tradition into this year's festival."
That included installing a replica of that first Haynes car right outside the traveling museum for anyone to jump on board for a picture. The car is normally housed in Artist Alley in the city's downtown.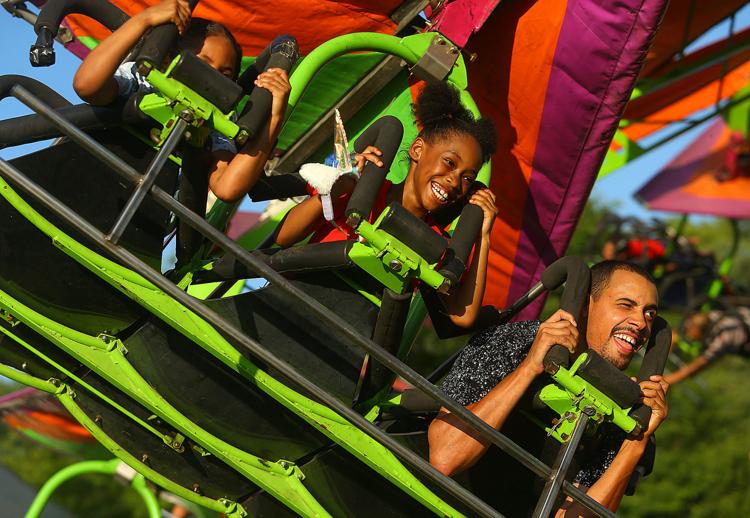 Mark McNeese, the coordinator for "History on Wheels," which is operated by the Indiana Historical Society, said add it all up, and the Haynes Apperson Festival was the place to be this year.
"I can't think of a more fitting place to be on the Fourth of July than Kokomo, where the very first car was driven exactly to this date 125 years ago," he said. "I hope everyone enjoys the exhibit and the festival."
Early arrivals to the festival seemed to be doing just that. A crowd piled into the museum right as it opened to check out the interactive exhibits, such as exploring under the hood of a car modeled after a 1914 Marmon Touring Car.
There was also a mini IndyCar that kids could climb into to imagine what it would be like to cross the famed Yard of Bricks.
Outside, people meandered the food booths and hopped on the rides waiting for the big event of the night - a performance by the 1970s heavy-metal band Quiet Riot.
But if it weren't for Elwood Haynes, there wouldn't be a festival, and Kokomo wouldn't be anything like it is today, Griffin said.
"It's fun to see all the people out here enjoying themselves, because I wonder what we'd be doing in Kokomo if it hadn't been for Haynes and the Apperson brothers," he said. "Kokomo might not be here. But I think Haynes would be happy to see what's happening right now at this festival."