Howard County is now requiring essential businesses to stop selling nonessential items.
According to an ordinance passed by the Board of Commissioners of Howard County, stores that sell both essential and nonessential products will now have to ban customers from purchasing those nonessential items.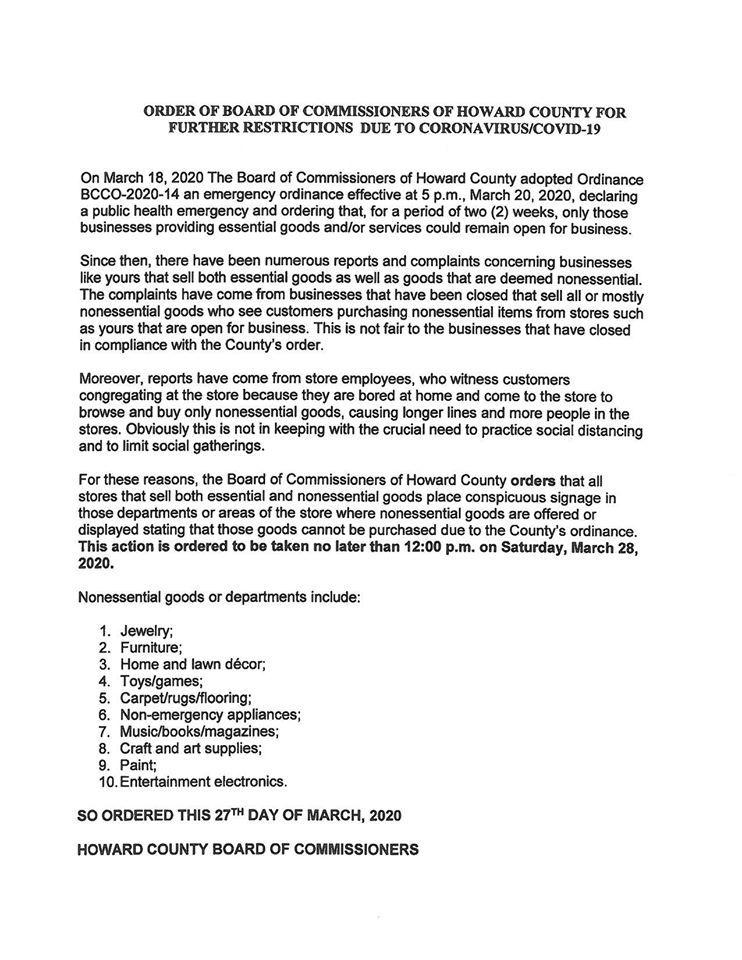 Nonessential items include jewelry; furniture; home and lawn decor; toys and games; carpets; rugs and flooring; non-emergency appliances; music; books and magazines; craft and art supplies; paint; and entertainment electronics, the ordinance indicates.
The commissioners note that the reason for this change is due to numerous reports and complaints by businesses that are currently closed but that would normally sell those nonessential items if opened.
"This is not fair to the businesses that have closed in compliance with the County's orders," the ordinance states.
The commissioners also noted that there have been reports from store employees who have witnessed customers congregating in the store because they are "bored at home and come to the store to browse and buy only non-essential goods."
This practice causes long lines and an excessive amount of people inside the store, the ordinance wrote, hindering social distancing practices.
So beginning at noon on Saturday, March 28, 2020, stores like Walmart, Meijer and Kroger, will have to place signage in departments that sell the aforementioned nonessential items stating those goods will no longer be allowed to be purchased until further notice.
Howard County has been under a two-week emergency ordinance since March 20, 2020, and officials have not stated at this time whether that ordinance will continue past those two weeks.