Kokomo School Corporation, along with the majority of school districts in Howard, Miami and Tipton counties, are set to close on Nov. 19 due to the huge number of teachers planning to attend a union-organized Statehouse rally to fight for higher wages and other school issues.
School districts that are canceling for the day say with so many teachers requesting personal time off for the rally, they decided to shut their doors because they wouldn't be able to find enough substitute teachers to cover classrooms. But superintendents also say they support the push by teachers for a bigger boost in school funding.
In Howard County, Taylor Community School Corporation and Western School Corporation are set to close along with Kokomo schools.
Kokomo Superintendent Jeff Hauswald said Friday afternoon in a letter to parents and students the district was closing due to the "excessive number of staff absences that have been requested for this day."
"While I regret the disruption this may cause for students and families, student safety is of utmost importance, and our schools cannot operate safely without an adequate level of staff members present," he said.
However, Hauswald went on to defend the Statehouse rally and its goal to get legislators to approve more funding for schools and better pay for teachers.
He said Kokomo schools are receiving less funding per pupil than a decade ago, when adjusted for inflation. State funding is lower than every bordering state and Indiana teacher salaries have increased at lower rates over the last 25 years than salaries in all other 49 states, Hauswald said.
"This problem is caused by unwise and erroneous legislative funding decisions at the State level," he wrote in the letter. " … Tell your elected legislators to sufficiently fund public education."
Kokomo Teachers Association President Nicki Mundi said Friday afternoon over 100 teachers out of the nearly 400 in the district have so far signed up to attend the rally.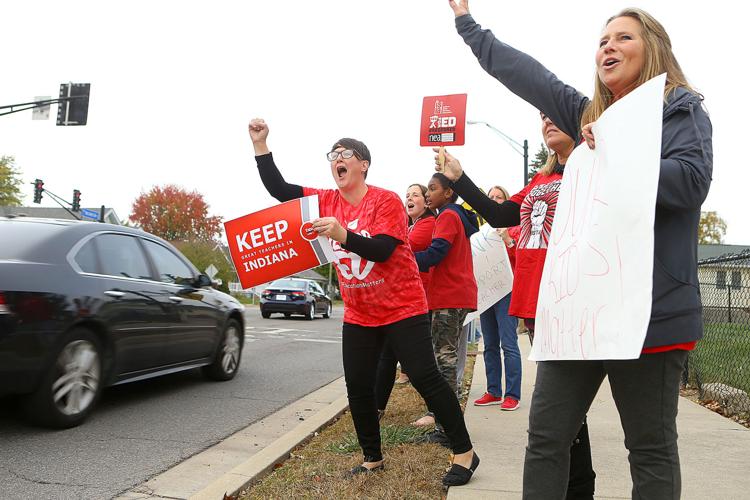 Western Superintendent Randy McCracken said in a letter to students and parents that the rally was intended to "convince our legislators that what they have done and are currently doing to public education is not in the best interest of our students, the future of public education, and ultimately our society.
"As a public educator, I, as well as our school board, support the efforts of our teachers," he said.
Taylor Superintendent Christopher Smith said in a letter the rally stems in part from "evidence that Indiana teacher salaries and budget allocations to districts are in the bottom three in the United States."
Northwestern School Corporation and Eastern Howard School Corporation will not close their doors on the day of the rally.
Eastern Superintendent Keith Ritchie said only around 10 teachers have taken the day off, which will allow the district to find enough substitutes to cover them. He said he has also received calls from some parents who were concerned about closing because they wouldn't have a place to take their child.
But, Ritchie said, he supports the teachers who are going to the rally and is considering attending it himself.
"I'm very much in support of the teachers and what they're doing," he said. "The closure would be a burden on parents, so it goes both ways, but we're very supportive of the teachers. We're just not planning on closing."
Northwestern Superintendent Kristin Bilkey said she also supported teachers attending the rally, but her district should have enough substitutes to cover the around 18 teachers who will attend the event, allowing the schools to stay open.
In Miami County, Peru Community Schools, Maconaquah School Corporation and North Miami Community Schools are all closing due to the number of teachers taking the day off.
Tipton Community School Corporation is also closing. Tri-Central Community Schools Superintendent Dave Driggs said he anticipates the district will close since over half of the teachers are attending the rally, but said he couldn't say for sure until later in the week.
Leaders of the state's two main teacher unions project that 7,000 or more teachers could attend the Statehouse lobbying effort on the day that members of the Republican-dominated Legislature are gathering for organizational meetings ahead of their 2020 session that starts in early January.
Districts which have canceled school range from large urban districts in Indianapolis, Evansville, South Bend and Hammond to small rural districts.
Indiana State Teachers Association President Keith Gambill said many of the union's members are frustrated because they have seen little or no pay raises in a decade but face additional demands from the state. He said this is despite them writing letters, attending hometown meetings with lawmakers and holding Statehouse rallies on Saturdays.
"For too many legislators that message just hasn't gotten through to them," Gambill said. "In a state where over 90% of Hoosier families send their child to a public school, we have to do better by our public schools."
Mundi said she agreed. She said she was attending the rally to fight against what she called "toxic testing," the lack of teacher resources and the stagnant pay that hasn't kept up with the cost of living.
"The heart of the matter is that as teachers, we've been ignored," Mundi said. " … At the end of the day, what effects kids are teachers in the classroom and building relationships with an adult who cares about them. We've got to get back to recognizing that the job we do is important."
Indiana Democrats and teacher unions have slammed the new state budget approved by Republicans in April that boosted base school spending by 2.5% each of the next two years.
Republican Gov. Eric Holcomb and GOP legislative leaders touted the plan as making strides toward improving teacher pay. But they faced criticism for not directing some of the state's $2 billion in cash reserves toward schools and for a funding distribution plan that increased traditional school district funding by about 2% a year, while charter schools saw 10% more money and private school voucher funding increased 9% the first budget year and about 5.5% the second year.
School districts canceling classes will have to make up the school day to meet the state's 180-day requirement, with some already saying they will have classes on a day set aside in case of a snow day.
State schools Superintendent Jennifer McCormick, who has split from many fellow Republicans on education policy issues, is backing the rally dubbed "Red for Ed Action Day."
"Their mobilization effort demonstrates the need for legislative action in regard to adequate and equitable K-12 funding impacting educators and support staff compensation, as this is an issue that cannot be solved at the local level alone," McCormick said in a statement. "Being the 50th state out of 50 in salary increases since 2002 is not acceptable."
The Associated Press contributed to this story.