TIPTON – The Indiana Department of Transportation has begun purchasing houses along U.S. 31 in Tipton County in preparation for making the road a limited-access highway.
Property records show the department has purchased 12 properties, totaling more than 17 acres, in about the last year along the section of road between Ind. 28 and the Howard County line.
Mallory Duncan, media relations director for the INDOT Greenfield District, said the department has been purchasing the properties as they become available to limit access to the four-lane road. She said INDOT will continue to buy properties that have access to the highway as they go on the market.
"We're not going to go through and bulldoze them," she said. "As they become available, we have our eye on them and will make that purchase when we can."
Duncan said the immediate goal of the purchases is to make U.S. 31 safer by limiting the number of vehicles pulling out on the highway from driveways. The long-term goal, however, is part of the plan to turn the road into an interstate-like freeway.
That has been INDOT's goal for years, and the agency has slowly taken steps to limit access to the highway.
The most recent news about implementing that plan came last year when Gov. Eric Holcomb announced two intersections on U.S. 31 in Miami County, where there are currently stoplights, are set to be transformed into full-on interchanges.
Holcomb said in a previous interview the state in total plans to install new interchanges at four intersections along U.S. 31 from South Bend to Indianapolis where there are currently stoplights. Only six stop lights are currently located on that stretch of road, he said.
Once the four interchanges are complete, only two stoplights will remain on U.S. 31 from Indy to South Bend. Those stoplights will be Division Road in Tipton County, and Ind. 218 West near Grissom Air Reserve Base in Miami County.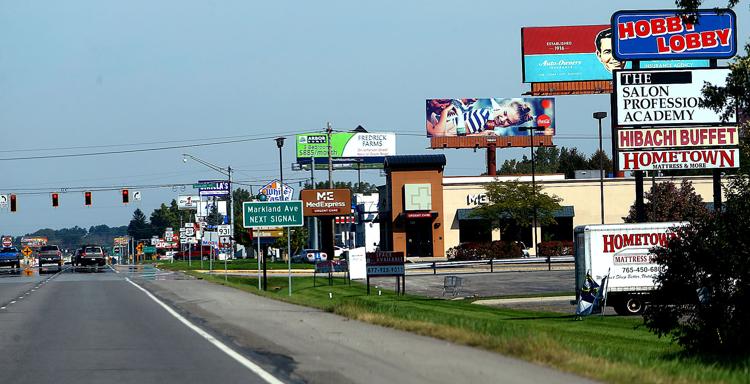 "We're not going to stop until drivers don't have to stop from South Bend to Indy," Holcomb said. "The plan is to make a true freeway so you don't have to stop anywhere in between."
Duncan said INDOT hasn't set a firm timeline on when the highway will become a full-on freeway, but the agency is "actively thinking about and actively taking steps to move toward that goal," including purchasing the properties in Tipton County.
"It's a work in progress," she said. "For now, we're in no hurry."
Duncan said what INDOT will do with the houses it purchases is yet to be determined. She said the agency will try to salvage as many properties as possible. If houses have other road access besides U.S. 31, the agency would consider selling them.
The state also purchased nearly 8 acres of land in 2012 just south of the U.S. 31-Ind. 931 split. Duncan said that purchase was also made anticipating the road becoming a freeway.
The most recent land acquisitions come on the heels of other major upgrades to the highway in Howard and Tipton counties.
In November 2013, the new $155 million bypass around Kokomo opened to traffic. The 13-mile project included six new interchanges and bypassed old U.S. 31, which is now Ind. 931.
Three years later, the new U.S. 31 interchange at Ind. 28 in Tipton County opened, including two roundabouts to accommodate agricultural equipment and large trucks. The interchange project also included direct access to the Tipton Transmission Plant and a looping ramp for traffic entering southbound U.S. 31.
Another major step towards a freeway-style highway came in 2015, when a 13-mile stretch of U.S. 31 in Carmel opened after four years or renovations. The project eliminated 13 stoplights on that section of road.