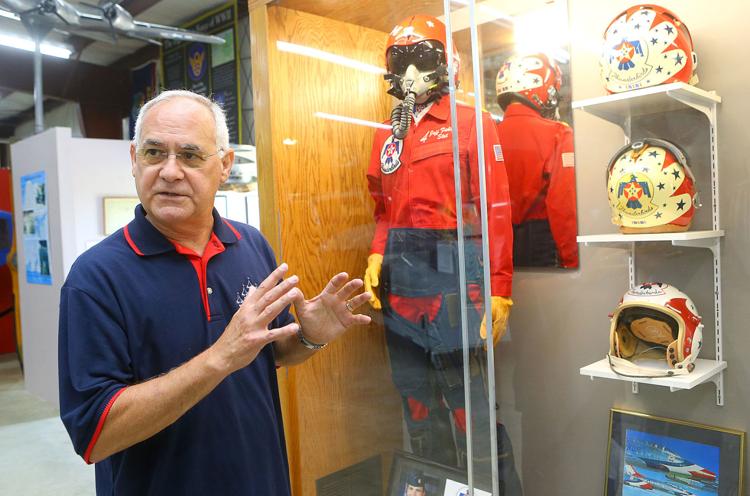 BUNKER HILL – Jeff Guidry runs a private museum housing rare and irreplaceable items from the Thunderbirds – the U.S. Air Force's premier aerial demonstration team.
The collection is housed inside a small building in the small town of Bagdad, Kentucky. Some items date back to the very beginning of the military group, which was founded in 1953.
Guidry has been collecting Thunderbird artifacts for 35 years. And in all that time, that collection has been private and closed to the public.
Until now.
Last week, Guidry for the first time set up a temporary exhibit inside the Grissom Air Museum displaying some of the rarest items from his museum, called the Baghdad Aero Club.
The exhibit comes just two months before the Thunderbirds are set to perform as the headlining act at the Grissom Air and Space Expo on Sept. 7, which will be held right outside the museum doors at Grissom Air Reserve Base.
The event is anticipated to bring up to 90,000 people to the military installation for the two-day flying extravaganza.
Now, museum visitors can get an up-close look at some uniforms, helmets and G-suits worn by Thunderbird pilots in the months leading up to the show, in which a squadron of F-16 Fighting Falcons pilots will put on an hour-long demonstration of the Air Force's premier multi-role fighter jet.
The exhibit gives an historical look back through those uniforms and how they have evolved over the years.
One of the suits is an exact replica of the original flight suit the aerial team would have worn during their first year as a demonstration group. Guidry said he had to put together a replica because there are literally no suits left from the original team.
Even so, it's as close to the real thing as possible. Guidry said the helmet on display is an actual Air-Force issued one from 1953 that was worn by a pilot.
One of the rarest items in the collection is a helmet from the era starting in 1956 when the Thunderbirds flew F-100 Super Sabre jets. It's an original helmet on which he placed authentic decals that would have been placed on the Thunderbird helmets at the time.
Guidry also has patches from the same era that were actually worn by Thunderbird pilots and are equally as rare as the helmet.
"Those are hard to come by," he said. "The Thunderbirds don't like releasing those too much. They're very rare, as are all the patches on all the uniforms. Typically, they don't like to let them loose, because they like to keep them special. So it's always exciting when you find a Thunderbird patch."
Guidry has spent more than three decades collecting and studying all things Thunderbirds. Now, he's using that expertise to write a book dedicated to the history of the team that includes interviews with pilots who flew the first year the group was founded.
It all begs the question: Why the obsession with the Thunderbirds?
Guidry, who worked as a police officer in Louisiana before landing a job with Chevron and moving to locales across the U.S., said it's about filling a void left inside him when he realized he could never fulfill his dream of becoming a fighter pilot.
"I'm red-green color blind," he said. "It disqualified me, both from the military and flying commercial planes. Wanting to be fighter pilot was a passion that always stayed with me. Collecting the flight gear filled the void. This bridged that gap for me, and it just grew from there."
Grissom Air Museum Director Tom Jennings said they're thrilled to be the first public facility to now have access to the collection that's been Guidry's passion.
Guirdy said he agreed to bring up the collection after hitting it off with museum board member and volunteer Tom Kelley, who reached out to him to see if he'd be willing to lend his Thunderbird items for a temporary exhibit.
"I said, 'We can talk,'" Guirdy said. "I was a little bit apprehensive in the beginning, because of all the things in my museum this is pretty near and dear to my heart. Some of this stuff is irreplaceable."
That's because many Thunderbird pilots and personnel keep their suits, patches and other items associated with the team, he said. If they don't, the items likely end up with close family members or in other museums.
"There's stuff out there that anyone can collect that's easy to get and it's not too expensive," Guirdy said. "This stuff, I've only been able to collect later in life, because it's so rare and so expensive when you do find it."
Now, those items are the perfect way to give visitors to Grissom Air Museum a unique glimpse into the Thunderbirds leading up to the air show, Jennings said.
"We wanted to have something here to draw people to the museum besides the air show," he said. "With this, we have a quality exhibit that focuses on this group."
The exhibit is open now until Oct. 1.