Despite schools closing on March 13 due to the COVID-19 pandemic, Kokomo High School senior Asijah Miller has learned a lot of new things since then.
She adjusted to the new three-day-a-week e-learning schedule, a new concept for Kokomo Schools students who have never had to do remote learning before.
And she's also managed to hold down a job that's not only teaching her a new skill, but also helping the nation during the outbreak.
In April, 18-year-old Miller got a job at General Motors in April as part of a historic effort to build ventilators to support COVID-19 patients around the country.
When she saw GM was hiring, she thought about it for a while. She talked to her mom, who urged her to go for it, saying it would be a good first step in a potential career path.
"I thought it would be a good idea to get my foot in the door at GM just in case I needed a job when I came back from college," Miller said. "I thought it would be a good way to start out."
Plus, Miller knew GM was hiring quickly and the pay would be pretty good.
On her first day of her job, Miller was nervous. She thought the work was going to be a lot harder than it actually was.
"I feel like when you get a new job it's always going to be hard at first," she said. "But I think I've gotten a hold of it. It's really not that hard, it's just a long process of stuff you have to do and you have to make sure everything's in check and you have everything perfect."
When she gets to work, there's usually a line where she waits to get her temperature taken. After that, she puts on her face mask, and heads to her station in the pack-out room.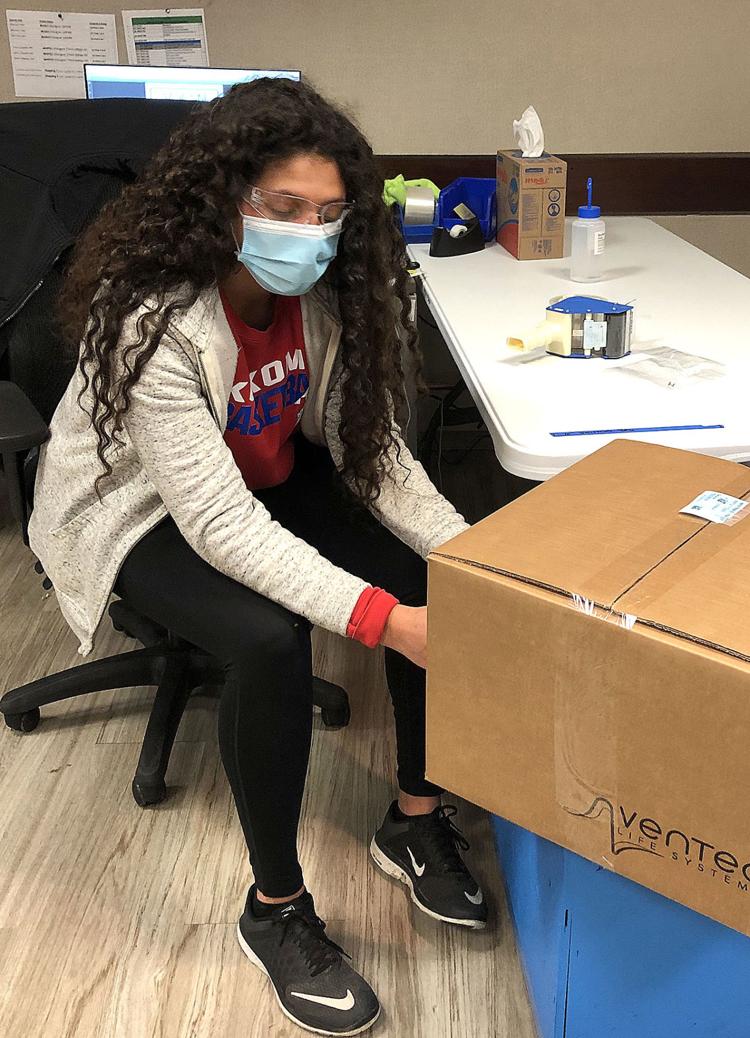 After the ventilators are put together, Miller and the rest of the pack-out team wear gloves as they put the ventilators in the box with all the things it comes with. Then they send it to be shipped to hospitals across the country.
"Asijah is a good worker," JC Barnett, Miller's group leader, said. "Quiet, but she gets her job done. She shows initiative in moving product through her area both physically and on the computer. She's a great team member."
For Miller, being part of a historic effort feels great. She never thought she would be part of anything like it.
"It makes me feel like I'm doing something and helping," Miller said. "A lot of people who work there look at it like it's something special. They really take pride in making sure everything is perfect and making sure the ventilators are good and everything is fine and shipped and ready. I feel like they take pride in the job. I take pride in it."
Kokomo High School Principal Angela Blessing said it's just another way Miller — an honor roll student, National Honor Society member and student mentor at the Technology Academy at Pettit Park Elementary — continues to set an example as a role model for younger students.
"Asijah demonstrated outstanding character while a student at Kokomo High School, so it comes as no surprise that she chose to work in a position that allows her to save lives," Blessing said.
According to Kokomo High School volleyball coach Jason Watson, Miller has not only always been a hard worker, but she's always possessed a servant's heart.
"I had the honor of coaching Asijah for four years," he said. "Not only was Asijah a three-year starter on the varsity volleyball team, she also was an outstanding student. During the past four years, Asijah often was the first person to lend a hand to help coaches or teammates. Asijah is a special person, and one I would tell young girls to emulate."
But mastering a new, full-time job, and still adapting to the new style of finishing her high school education required a careful balancing act for Miller. And it was a lot to handle in the beginning, especially waking up at 5 a.m. so she could be ready by the time work started at 6:30 a.m.
"At first it was really rough because I was working eight hour days and I would come home and I'd be tired and didn't want to do anything," she said. "But I think now that I've been working there for a little bit, I come straight home and then I start working on my schoolwork, because I know if I don't start working on it I'm probably not going to do it."
But maintaining that balance was nothing new to Miller, who is used to splitting her time between academics, sports, and other extracurriculars during her high school career.
"Asijah's ability to adapt to this new type of learning, while also working at this new job is a credit to how motivated she is," said Nick Sale, Kokomo Athletic Director. "I cannot wait to see all the wonderful things Asijah accomplishes in the future."
Miller's plans for the immediate future is to attend Kokomo High School's currently ongoing virtual graduation, where she will take part in an individual diploma presentation.
She plans to attend college, although she doesn't know where yet, and she's undecided on what she wants to study.
But her time working at GM has sparked an idea.
"I think it would be cool to do management or something," she said. "I don't know where that would go, but considering I already work [at GM] and if I went to college for management I could come back. It would be cool to do something like that."