KOKOMO – Ivy Tech Community College has named Dean McCurdy, associate vice president for instruction at Kalamazoo Valley Community College in Michigan, to serve as chancellor of the Kokomo Campus, effective Monday, Dec. 18. The appointment comes as a part of the college's new organizational structure announced earlier this year to better align with the community at the campus level and empower campuses to be responsive and nimble in meeting local needs.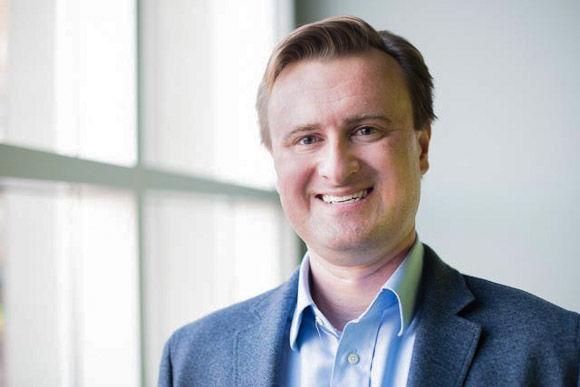 "I am excited to be joining the Ivy Tech team representing the Kokomo Campus," McCurdy said. "What impressed me most during the interview process was the high level of commitment to Ivy Tech Community College I found within the faculty, staff, and in the community. I look forward to helping our campus and region grow, and supporting the development of new facilities that match the high quality of our programs."
McCurdy comes to Ivy Tech from Kalamazoo Valley, where he has served as the chief academic and administrative officer for the college's Bronson Healthy Living Campus – a campus built in partnership with two regional health care systems, since 2014. Prior to assuming responsibility for this campus, he served as dean of instruction for math and sciences for all campuses of Kalamazoo Valley.
He also brings to the job 18 years of additional experience from roles of increasing responsibility at four-year liberal arts colleges and universities, including Carleton University in Ontario, Bates College and Bowdoin College in Maine, and Albion College in Albion, Michigan, where he served as director of a large honors program, department chair and faculty member.
"Over my career, I've had opportunities to work with different types of institutions and travel all over the world as a teacher, researcher and administrator," he said. "The community college model is one of the greatest competitive advantages we have, and I'm excited about the prospect of helping to keep that mission relevant to our communities for years to come.
"During the interview process, I spent time in Kokomo, Logansport and Peru," he continued. "Nearly everyone I talked with had a story about how Ivy Tech had helped make a difference in her/his life or that of a family member or friend. That says a lot about the value of Ivy Tech in our communities."
McCurdy's work over the last two years including developing and operating a new college campus and programs, including a sustainable brewery where students learned the craft of brewing.
McCurdy also has led institution-wide efforts across all four of Kalamazoo Valley's campuses related to "Guided Pathways," designed to improve student success and completion rates. A proponent of "experiential learning opportunities," McCurdy developed partnerships between the community college and area employers to provide students opportunities to make informed career decisions and employers with opportunities to contribute directly to the education of students.
"We are very pleased to welcome Dr. McCurdy to the Ivy Tech family," said Ivy Tech President Sue Ellspermann. "With his experiences at Kalamazoo Valley, he's well-prepared to take the reins of all the exciting changes coming to the Kokomo Campus."
Ellspermann also thanked Kim King for her service as acting chancellor of the Kokomo Campus since June.
"We are grateful to Kim for her work in moving the Kokomo Campus forward during this time of transition," Ellspermann said. "She will continue as vice chancellor for Academic Affairs, and her wisdom, experience and dedication will be invaluable going forward."
McCurdy holds a bachelor's degree with honors in biology from Acacia University in Nova Scotia and a doctoral degree in biology from Carleton University in Ontario and completed a post-doctoral fellowship with the Natural Sciences and Engineering Research Council of Canada. 
McCurdy has received several honors, including the National Chapter Citation Service Award for mentoring students by the Delta Sigma Phi service fraternity and the national William Hoar Award and national Cas Lindsey Prize from the Canadian Society of Zoologists.