A Kokomo business owner is facing accusations of voter fraud for improperly registering to vote using the address of his Apperson Way business, a move that could result in criminal charges.
Allen Wilson, who owns Competition Auto Body at 1101 S. Apperson Way, was the focus of an email sent to the Howard County Election Board Monday describing his "fraudulent vote" cast in the Democratic primary election.
The Election Board, in a meeting held one day later, on Election Day, formally challenged Wilson's ballot.
Board members converted his ballot from absentee to provisional, meaning a ruling will be made in coming days about its validity; provisional-ballot rulings must be made within 10 days after the election.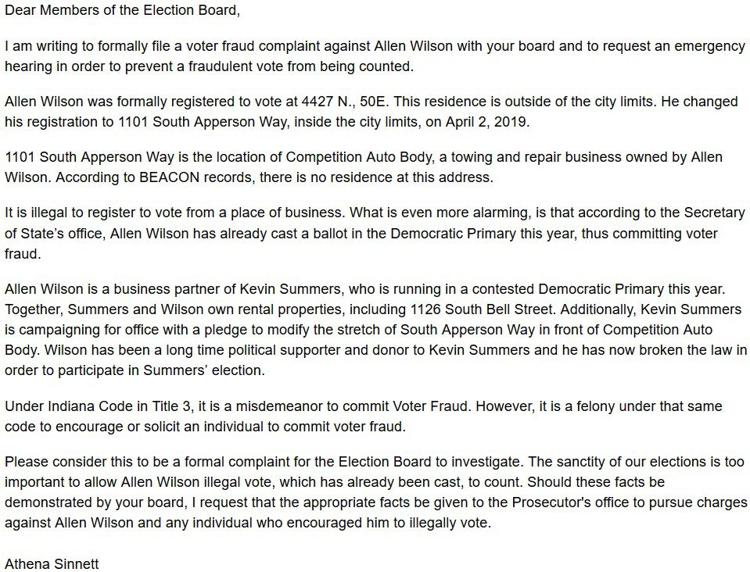 The email alleges that Wilson changed his voter registration on April 2 to the business' location inside city limits in order to vote in this spring's municipal primary election.
He was previously registered to vote at a Howard County address outside city limits, although that registration was cancelled three years ago. 
It is illegal in Indiana to register to vote at a place of business. Knowingly submitting a fraudulent application for registration can be charged as a crime, according to Indiana state code.
Documents provided by the Howard County Voter Registration office show Wilson nearly sparked a similar scenario in 2016 when he also attempted to register at 1101 S. Apperson Way.
That year's registration effort, however, was rejected.
Records show the 2016 application was rejected because the Apperson Way site "is a BUSINESS. … NOT a residence." A letter explaining the situation was then sent to Wilson, telling him that "a voter may not register to vote at a place of business" and explaining what constitutes a residence.
Wilson, nonetheless, registered to vote this spring at the same address that was rejected just three years earlier.
This time, however, his registration was approved using the Apperson Way site.  
An official within the county's voter registration office declined to comment on why Wilson's registration was handled differently this year compared to 2016.  
"The Election Board has this under review and until they have made a determination, we will refrain from any communication pertaining to this matter," said Debra Rahe, the office's Republican department head, who processes applications from M to Z.
Election Board member Derick Steele said during Tuesday's meeting that "there is nothing I'm aware of that makes 1101 S. Apperson a residence instead of a business," meaning it would be an illegal location at which to register to vote.
"I mean, I own a business here in Kokomo and I would love to vote in the mayor race," said Steele. "But I live in Greentown; I can't vote in the mayor race. I own a business and property in the city, but that doesn't change my ability to vote in this election."
He added that he has "concerns with how this registration was approved through the voter registration office this current year. That gives me pause and concern."
"I would think that unless [voter registration office officials] are familiar with the address, they should at least verify that the address is a valid address. And I would think verifying that the address is a valid address would have shown that it was a business to begin with," Steele continued.
"Otherwise, what's to prevent me from registering at 123 West whatever street, and if they don't know that that address, without doing a cursory search of what that address is, that it even exists? So that's more my concern. That there should be at least a very cursory review and my belief would be … a cursory review would have shown that address to not be an appropriate [location]."
Steele later said the Election Board has the "authority and responsibility" to investigate allegations of voter fraud.
If an allegation "warrants it," he noted, the board can turn over the allegation and members' recommendation to the county prosecutor or Indiana attorney general.
Wilson – public records show he submitted an early vote in Kokomo's Democratic primary on April 30 – did not return a request for comment.
The email sent to the Election Board was written by Kokomo resident Athena Sinnett, who said the "sanctity of our elections is too important to allow Allen Wilson an illegal vote, which has already been cast, to count."
It is unclear where exactly Wilson lives; the address listed in Sinnett's email and shown on previous registration documents is no longer owned by Wilson and was sold in 2015, according to property records.
"Should these facts be demonstrated by your board, I request that the appropriate facts be given to the Prosecutor's office to pursue charges against Allen Wilson and any individual who encouraged him to illegally vote," added Sinnett.
She did not return a request for comment.
Sinnett noted in her letter that Wilson owns a property on South Bell Street with Kevin Summers – a Democratic mayoral candidate who was defeated in the party's primary by Abbie Smith – and called the two business partners.
"Additionally, Kevin Summers is campaigning for office with a pledge to modify the stretch of South Apperson Way in front of Competition Auto Body," stated Sinnett in the letter distributed to the Election Board, media members and political officials one day before Election Day.
"Wilson has been a longtime political supporter and donor to Kevin Summers and he has now broken the law in order to participate in Summers' election."
In 2016, the first time Wilson attempted to register at 1101 S. Apperson Way, Summers ran for the Howard County Board of Commissioners' 2nd District seat. Competition Auto Body sits within that district.
Although commissioners are elected in a countywide vote, it is unclear where Wilson lived at the time. 
In response, Summers said Sinnett's email was underhanded and politically motivated, citing a picture on her public Facebook page that says: "I VOTED EARLY FOR ABBIE."
"You only have to look at her Facebook page photo to see who she supported for Mayor," said Summers in a statement to the Tribune.
"She has additional photos with ranking Democratic Officials. I don't believe it is a coincidence that a person I have been friends with for 40 years is the person that gets his ballot pulled and looked into. Kokomo you need to be concerned about the players behind the dirty politics!!"
A similar situation in Clark County this week resulted in felony charges for a laundromat owner.
John D. Croucher, 60, was arrested by the Indiana State Police on Monday after an investigation that began in mid-April. Croucher faces three felony charges: perjury, ineligible voter and voting outside precinct residence.
An ISP investigator discovered that in November 2018 Croucher went to a Bureau of Motor Vehicles branch and changed his address to the site of his coin-operated laundromat in Charlestown.
Croucher's actual residence sits outside Charlestown city limits, meaning he is not legally eligible to vote in the city's elections. The laundromat, however, is within city limits.
The improper registration allowed Croucher on April 10 to visit the Clark County Courthouse and use his new driver's license to cast an absentee ballot in the Charlestown municipal election.
The ISP's investigation was handed over to the Clark County Prosecutor's Office and a warrant was subsequently issued, according to a media release.
This story has been updated to more clearly reflect the particulars of Wilson's voter registration timeline.